I'm back to making monsters this week and since I missed a Starfinder creature last week, I'm doing one now. My previous krogan write-up has left me wanting to keep working with the species of Mass Effect. As I based the krogan entry on one of the game's party members, I figured I would follow that format. That means I have asari, turians, and quarians left to do. Without any particular preference to any, I went with quarians. So, let's take a look!

Quarian Engineer CR 1
XP 400
Quarian mechanic
N Medium humanoid (quarian)
Init +2; Senses Perception +5
DEFENSE
HP 17
EAC 11; KAC 12
Fort +3, Ref +5, Will +2
Weaknesses immune system
OFFENSE
Speed 30 ft.
Melee slam +6 (1d4+2)
Ranged pistol +6 (1d4+1)|
Offensive Abilities target tracking
STATISTICS
Str +1, Dex +2, Con –1, Int +4, Wis +2, Cha +1
Skills Computers +10, Engineering +10, Perception +5, Piloting +10
Languages Common, Quarian
Other Abilities artifical intelligence (exocortex), custom rig
ECOLOGY
Environment any
Organization solitary, pair, or squad (3–6)
Gear Aldrin Labs hydra armor I (treat as second skin), Haliat Armory stiletto I (treat as azimuth laser pistol) plus 3 batteries
Quarian Machinist CR 9
XP 6,400
Quarian mechanic
N Medium humanoid (quarian)
Init +4; Senses Perception +17
DEFENSE
HP 135
EAC 22; KAC 23
Fort +10, Ref +12, Will +10
Weaknesses immune system
OFFENSE
Speed 30 ft.
Melee slam +19 (3d4+11)
Ranged pistol +19 (2d6+9)
Offensive Abilities overload, override
STATISTICS
Str +2, Dex +4, Con +0, Int +6, Wis +4, Cha +2
Skills Computers +22, Engineering +22, Perception +17, Piloting +22
Languages Common, Quarian
Other artificial intelligence (drone), expert rig, mechanic tricks (ghost intrusion, repair drone), miracle worker 1/day, remote hack
ECOLOGY
Environment any
Organization solitary or pair
Gear Sirta Foundation phoenix armor III (treat as gold travel suit), Kassa Fabrication razer V (treat as aphelion laser pistol) plus 5 batteries
The quarians are a humanoid species native to a planet known for its limited pathogenic microbes. This lack of natural pathogenic exposure caused the entire species to require sophisticated environmental suits to protect from disease once the species became spacefaring. Outside of this weakened immune system, quarians are a notably resilient species, more so than humans, though not as resilient as krogans. Centuries ago, the quarians used their notable technological prowess to create a race of artificial intelligences to serve as a labor force. Over time, this race achieved sentience and rebelled against the quarians, exiling them from their home planet. Now, the quarians live among a large fleet of starships known as the Migrant Fleet and commonly referred to as the Flotilla. Limited resources makes for a difficult life on the Flotilla and all quarians are tasked with partaking a Pilgrimage outside of the Flotilla to find knowledge or supplies to help the Fleet. Once a quarian finds something of worth, she returns home to rejoin the Flotilla and help with life among the Fleet.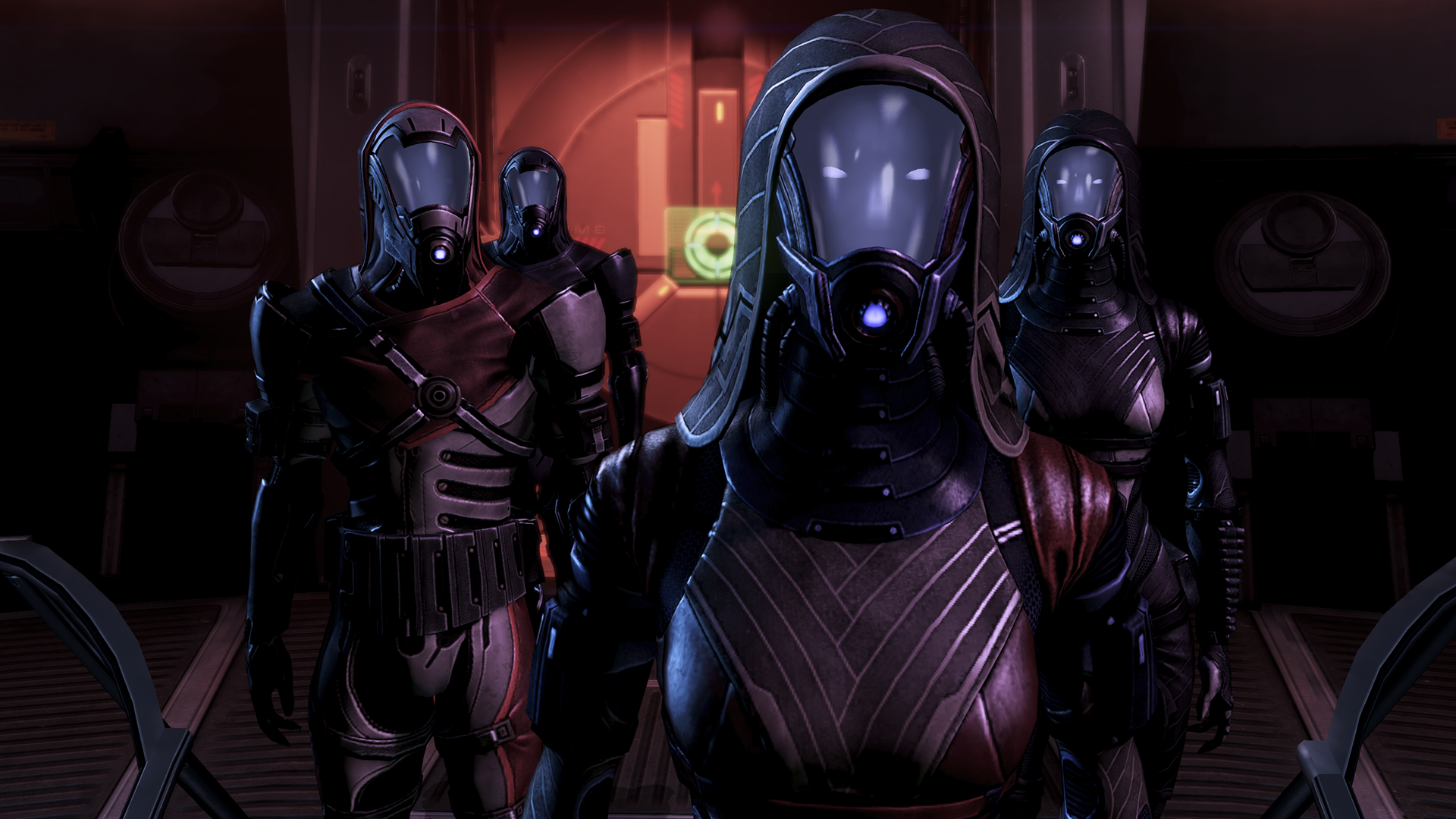 QUARIAN RACIAL TRAITS
Ability Adjustments: +2 Int, +2 Wis, –2 Con
Hit Points: 4
Size and Type: Quarians are Medium humanoids with the quarian subtype.
Immune System: Quarians have a very weak immune system, requiring them to wear specialized suits at all times. Any light or heavy armor a quarian wears also counts as having the required sterilization systems needed for survival. If a quarian ever leaves her suit, she is at increased risk for infection and takes a –2 penalty to saves against disease and poison. When a quarian fails her initial save against a disease or poison, the quarian automatically progresses to sluggish or weakened on the appropriate disease or poison track.
Quarian Ingenuity: Quarians spend most of their lives working with technology and are technologically inclined. Quarians receive a +2 racial bonus to Computers and Engineering checks.
Robotics Proficiency: Quarians receive a +1 racial bonus to attack and damage against creatures with the technological subtype.
Search for Knowledge: Quarians are constantly on a search for ways to improve the lives of their species. They receive a +2 racial bonus to Culture and Diplomacy checks to gather information.
Monstrous Origins
The quarians are one of many species that are part of the Mass Effect universe. One of the main party members is Tali'Zorah nar Rayya (later Tali'Zorah vas Normandy), a quarian engineer with a knack for technology and a drone named Chatika vas Paus. As with the krogan, there aren't any real mechanical aspects to port over from the game to a new species. The first notable feature of the quarians is their unique appearance. This is due to the environmental suits they require because of their weak immune systems. I wanted to replicate this without causing it to be a nightmare for a player to catch a disease. I think I have a good mechanic figured out with the "fast tracked" disease and poison track. I interpreted their history with the geth, the servitor AI race, in the form of a bonus to Computers, Engineering, and against robots. I added the bonuses to Culture and gathering information to tie to the quarian Pilgrimage. Finally, regarding stats, a bonus to Intelligence and a penalty to Constitution seemed obvious. I went with Wisdom as a way to represent quarians' innate need to help each other out and know what's best for the Fleet.
That's it for this week! If you end up introducing quarians into your game or you have any request for a future Monstrous Physique, please drop me a line at KnowDirection@hotmail.com.