The new site for the Know Direction Pathfinder Podcast, the Private Sanctuary Podcast, and the Geek Together Podcast is online! We've got some exciting changes coming, and we hope you enjoy the new digs as much as we do. Your feedback and suggestions are extra welcome, especially considering the special nature of this launch.
We really wish there were better circumstances for us to launch the page, but we're glad to get it out the door. Many of you may have noticed that the site has been down and / or lost quite a bit of data the last couple of days. That was due to a hosting error beyond our control, and it has urged us to launch our new site a little ahead of schedule. So expect things to change here fairly rapidly as we keep putting in place features that are on the wish list.
The first most obvious change that you'll notice is the name. Because Know Direction has been the flagship podcast of our network for some time, we thought it appropriate that it should lead the brand from here forward. But do not worry, Private Sanctuary fans, the original show will continue to be released on its regular schedule. With this change comes a change in our URL. KnowDirectionPodcast.com will now be our primary URL, but again don't worry, 35PrivateSanctuary.com will continue to function as it always has.
We're also mulling over a logo change for Know Direction. You may notice the 'New' logo up top of the site now, but we're still mulling things over there. So your opinions on that are especially welcome as well.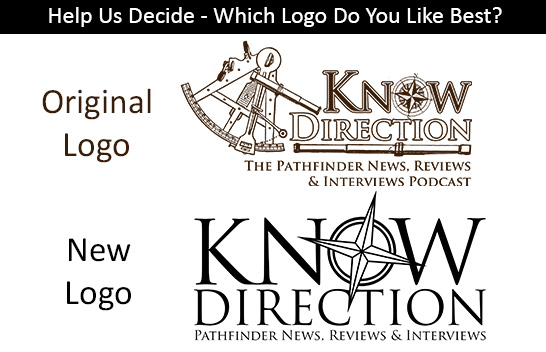 The forums also crashed when the rest of the site did awhile back, and we've lost about a month's worth of Show Notes for the episodes posted in June – July.  We'll bring the forums back up as soon as we can, so hang tight.
So explore the new site, have fun, and remember: If you want to find the path, you need Know Direction.
– Jefferson Jay Thacker (AKA Perram)