We made it! The Endgame has come and gone and the winner is… us, the fans! The movie was a blast! With many of you having caught the movie, maybe it's time to talk about the elephant in the room. Did anyone else find it weird that the heroes won when Thanos was swarmed by a mob of squirrels. It was awesome, but kind of out of left field. Well, regardless, I think that hero commanding the squirrels, Squirrel Girl, was super cool! So, to celebrate her amazing victory over Thanos (the fourteenth victory, I believe), I statted up Squirrel Girl!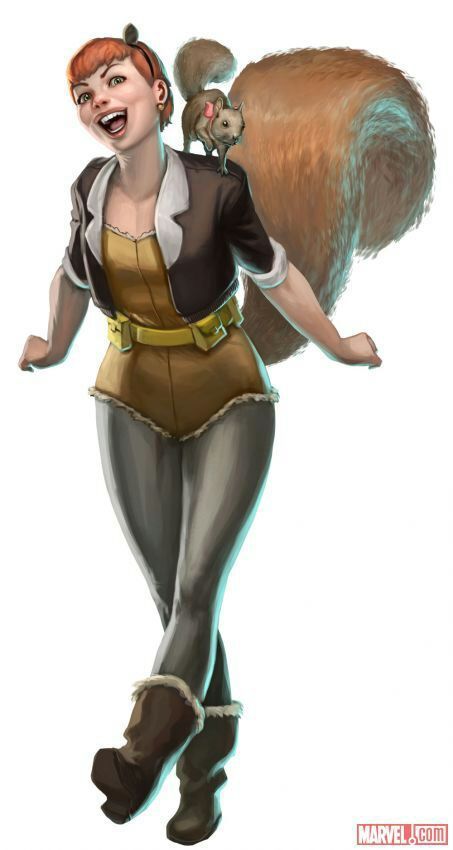 Squirrel Girl                     CR ???
XP ???
NG Medium humanoid (human, mutate)
Init +2; Senses darkvision 60 ft.; Perception +19
DEFENSE
AC 22, touch 22, flat-footed 19 (+2 Dex, +9 deflection, +1 dodge)
hp 102 (12d8+48); fast healing 10
Fort +12, Ref +13, Will +6
DR 10/—; SR 24
OFFENSE
Speed 30 ft., climb 60 ft.
Melee bite +14 (3d12+14) or
2 slams +14 (2d6+7)
Special Attacks powerful jaw
STATISTICS
Str 25, Dex 20, Con 19, Int 12, Wis 14, Cha 21
Base Atk +9; CMB +14; CMD 36
Feats Dodge, Great Fortitude, Iron Will, Mobility, Point-Blank Shot, Precise Shot, Shot on the Run
Skills Acrobatics +18, Diplomacy +22, Fly +12, Intimidate +22, Perception +19, Sense Motive +16, Use Magic Device +22
Languages Common
SQ prehensile tail, squirrel communication, unbeatable
ECOLOGY
Environment any
Organization solitary
Treasure none
SPECIAL ABILITIES
Prehensile Tail (Ex) Squirrel Girl has a long, powerful tail that she can use to carry objects. She cannot wield weapons with their tail, but her tail does allow her to retrieve small objects stowed on her person as a swift action.
Powerful Jaw (Ex) Squirrel Girl applies twice her Strength modifier to her bite damage. Her bite can ignore up to 15 points of damage reduction and hardness.
Squirrel Communication (Ex) Squirrel Girl can speak to squirrels as if she were constantly under the effects of speak with animals.
Unbeatable (Ex) So long as she's not in active combat and seen by players (off-screen), Squirrel Girl cannot be defeated by any means and will always win any fight in which she is a part. Even when "on-screen," Squirrel Girl is still pretty neat and probably wins.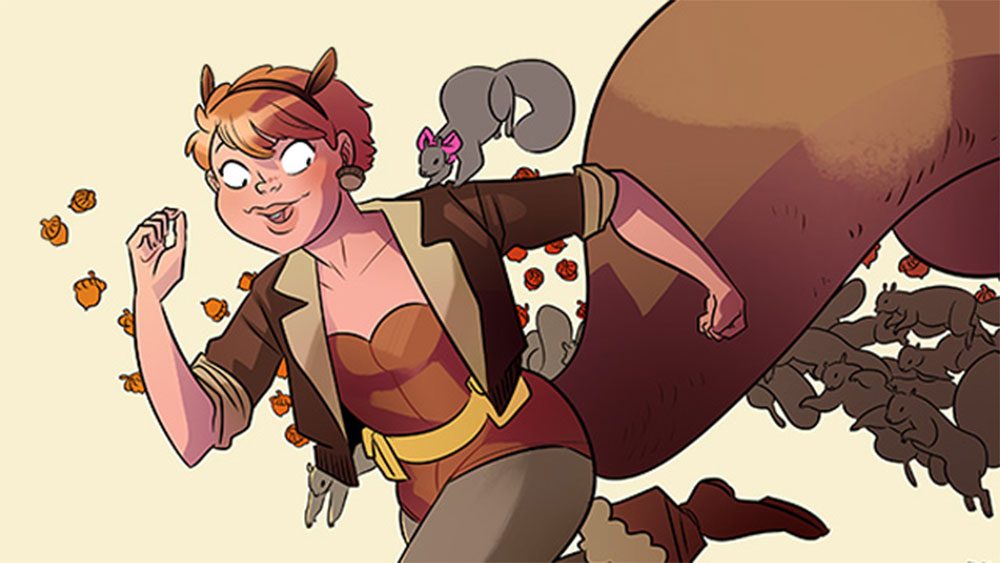 Doreen Green was born with a unique modification in her genes that gave her several squirrel-like abilities. This was most obvious with the large, prehensile, squirrel tail that she grew. Later in life, Doreen learned that she was able to communicate with squirrels. After saving the life of local squirrel Monkey Joe, Doreen believed she would grow to become a superhero. After an encounter with Iron Man where Squirrel Girl rescued the iron-clad hero from the likes of Doctor Doom, she started on the proper course to becoming a true superhero. Years later, Squirrel Girl joined the Great Lake Avengers and went on to tussle with such villains like MODOK, Terrax, and Thanos. Since then, she's continued her heroics as the Unbeatable Squirrel Girl with the help of her squirrel friends like Monkey Joe and Tippy-Toe. Doreen remains a peppy and energetic hero that is always ready to help others and save the day!
That's it for this week! If you end up introducing Squirrel Girl into your game or you have any request for a future Monstrous Physique, please drop me a line at KnowDirection@hotmail.com.