PaizoCon Online returns May 26th!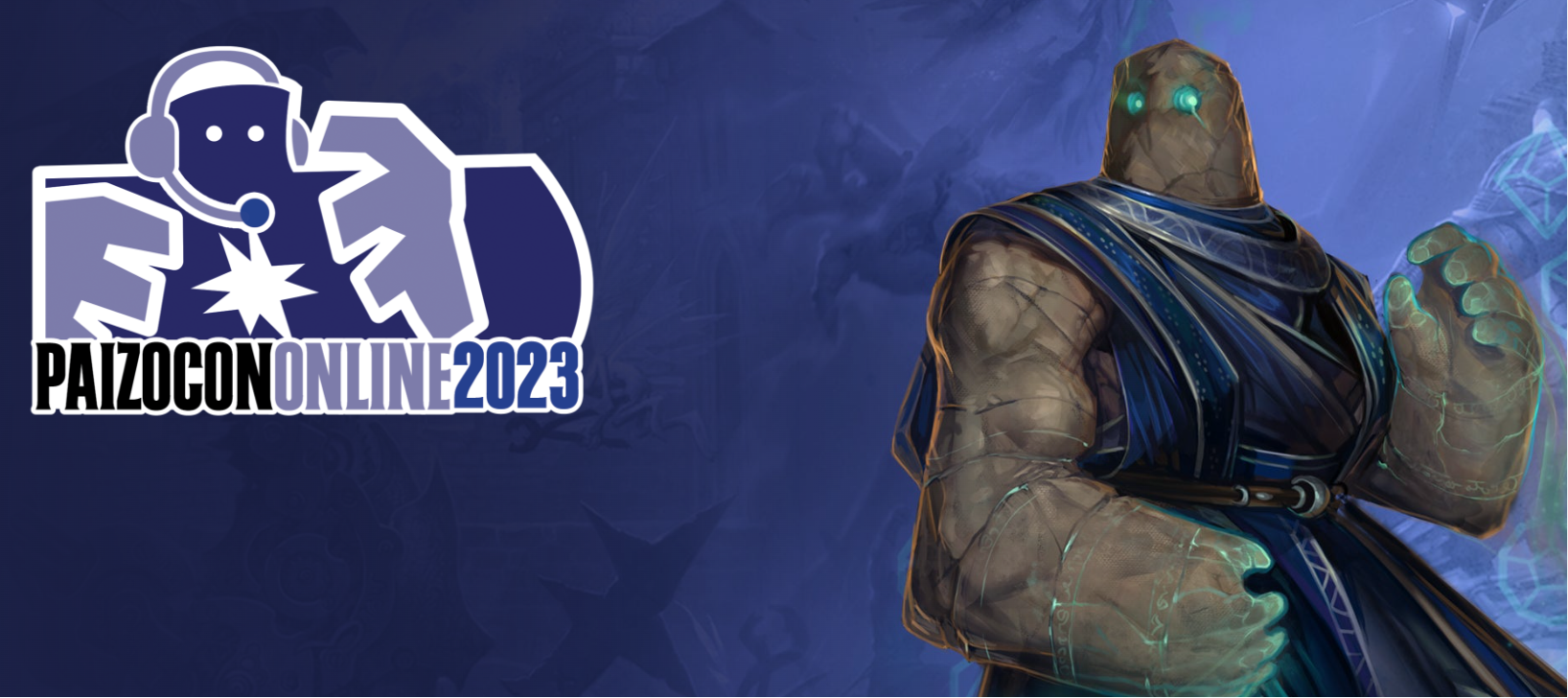 PaizoCon started in 2008 as a fan event, but it's grown tremendously since then and has come to be a beloved, favorite convention for many. I've never made it to an in person PaizoCon. For a while I didn't know about it, and then by the time I'd made plans to get there, well it was 2020. Thankfully they've made the convention increasingly accessible and affordable by leveraging the growing medium of digital and online play. PaizoCon Online is here to stay, and I'm ever so thankful for it. I figured I'd share in typical fashion what I'm excited for based on what we might see and hear!
The past six months have seen some tumultuous topics in the TTRPG space, resulting in a number of new players and GMs for Pathfinder. Record sales of the core rulebook, a flood of new content from creators, videos explaining the rules, and of course record high Pathfinder Society game numbers too! Well, I think we can expect to see many new faces at PaizoCon Online. Let's be sure to greet them with open minds and warm hearts. This game is about adventure for everyone and this year's one of unfettered exploration after all! Hopefully these details can help those new and experienced with the game.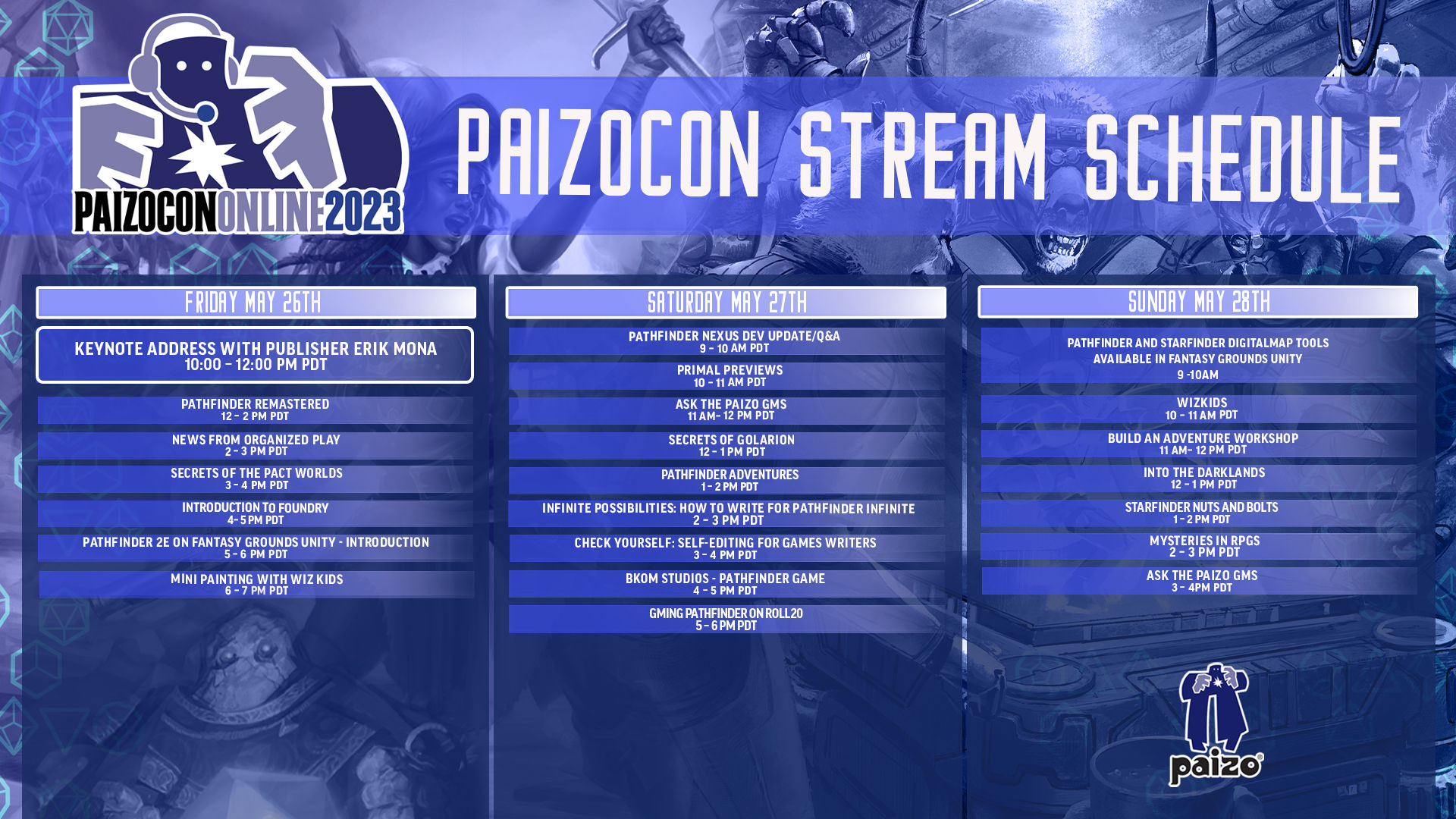 The streaming schedule was announced last week. If you missed it, check out the blog but I've brought some details here for you! First and foremost is that keynote with Erik Mona at 10 a.m. Pacific / 1 p.m. EST! That's the place to learn of new content coming like new books for Pathfinder and Starfinder. Of course, I expect we'll hear about the record breaking sales, the welcome to new players, and efforts with the United Paizo Workers union.
There's so much news though too! We've got more coming out with virtual tabletops like Roll20, Foundry, and the new Alchemy system! We'll definitely get updates on ORC (Open RPG Creative) after the first draft came out last month. The releases coming for Tian Xia will certainly get some time; I definitely want more preview into that Character Guide but the World Guide will have the lore I crave. The adventure path Season of Ghosts starts in October too. I'd be shocked if we don't get a little more about the Remaster project. Witch updates you say? Can you imagine what's going on that we haven't even heard about yet?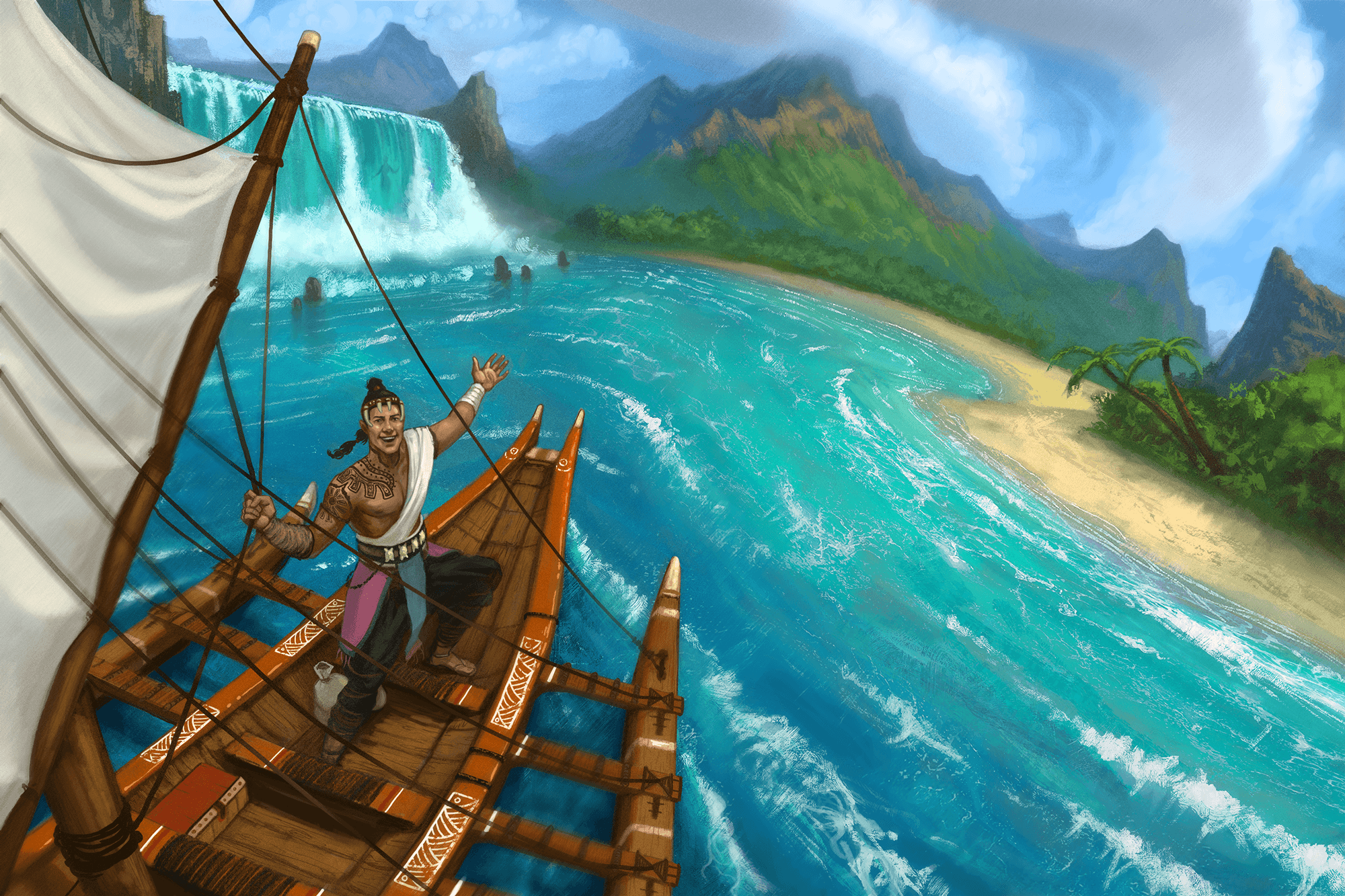 It's a new year for the Pathfinder Society, hence the Unfettered Exploration reference above and the year of Fortune's Fall for Starfinder Society. The "News from Organized Play" will certainly cover such on Friday. Also on Friday is a focus "Introduction to Foundry," which I could benefit from especially as I'll be playing a game or two on Foundry during PaizoCon Online. I'm glad Fantasy Grounds gets an hour on Friday and Roll20 gets one on Saturday.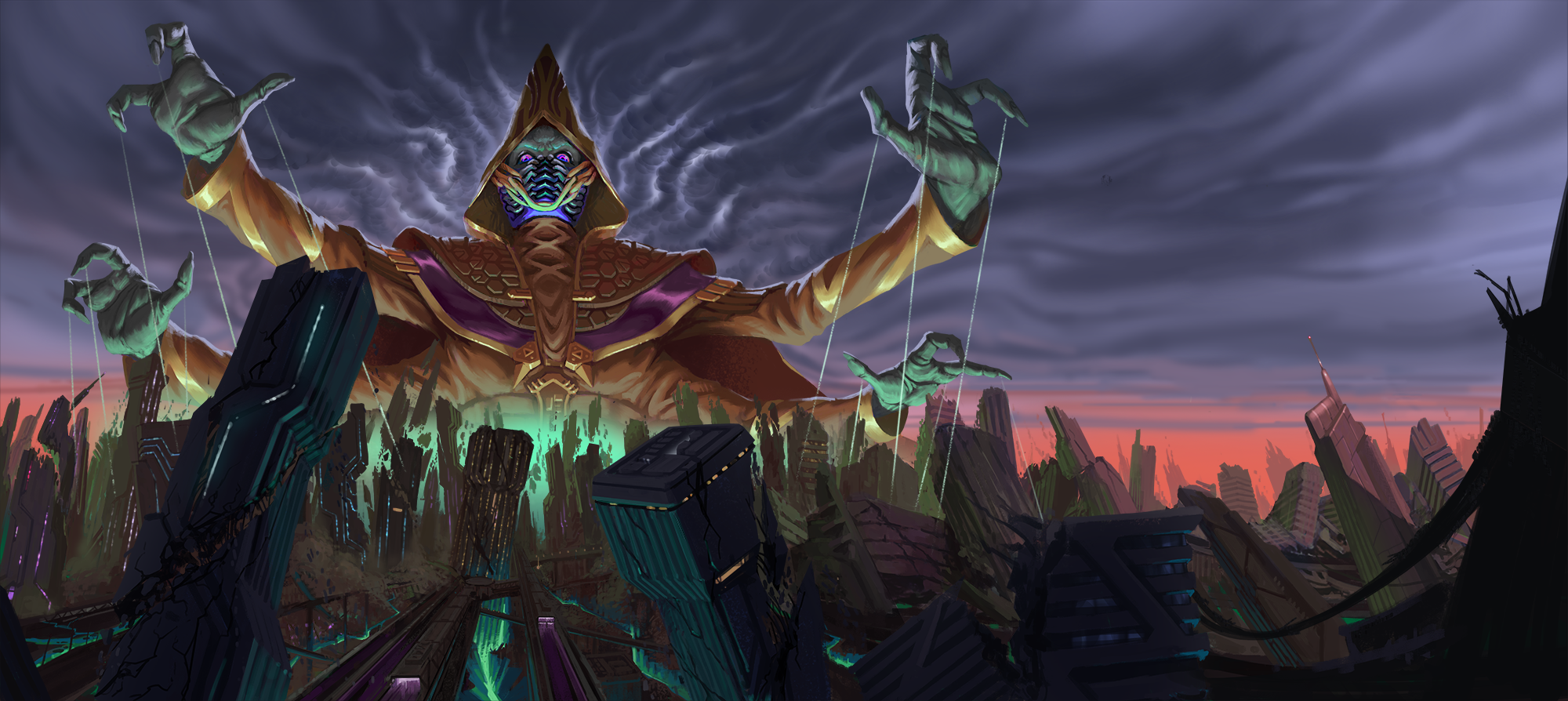 Also on Saturday there's "Primal Previews," which I think might give us some Rage of Elements that's releasing later this summer at Gen Con! The Lost Omens lore lover in me always looks forward to Secrets of Golarion. There's also a seminar for writing for Pathfinder Infinite. Bkom Studios has the Abomination Vaults hack and slash games kickstarter and a livestream on Saturday too. You can sign up for the kickstarter notification here and I suggest doing so. They started showcasing some of the iconics you can play, like my main man, the mighty mage Ezren! I and Order of the Amber Die as discussed last week are increasingly watching for Abomination Vaults content like many others. I love Diablo so something in that style but for Pathfinder is so exciting! I can't wait to see how they weave in different abilities.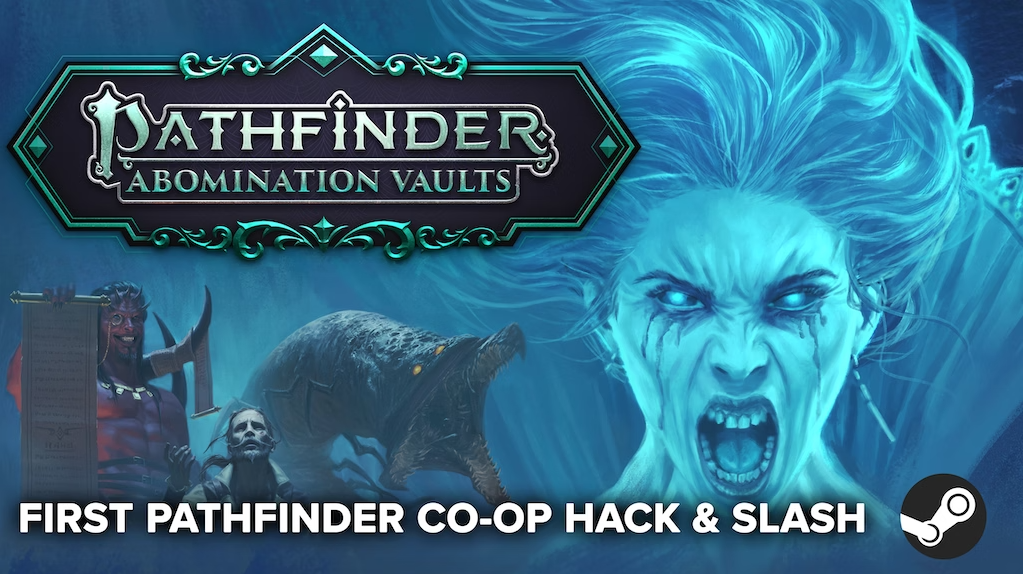 Now Sunday I'm likely to be busy with some local social activities but "Into the Darklands" intrigues me. Is this because we're hearing of a focused path during the Pathfinder Adventures on Saturday? Or maybe there's some other books featuring that area? There's a lot of mystery here and woven into recent adventure paths, which is why a seminar for such "Mysteries in RPGs" makes sense. I plan to play at least one game that evening so I can probably catch Mysteris and maybe "Ask the Paizo GMs" too. Jason Bulman always has new information to share and I hope Luis Loza is there too!
Of course it's not just seminars. Games will be held via Discord and a few mediums like Fantasy Grounds, Foundry, and Roll20. You can sign up for them at Warhorn once you have your event ticket. Want to try the new Elemental Stones (product link here)? I'm excited for more short-term games for a quick pick up or something to do while chatting. Want to flex those Beginner GM skills with Alex? Of course there's Pathfinder and Starfinder Society play galore. Abducted in Aether sure looks interesting. There's non-society games too like The Beast That Came to Bresham. And don't worry, if it's not society play then pre-generated characters are provided. 
I hope you have a great PaizoCon Online and remember to invest in friends (old and new) and fun while doing so! Remember to share consideration of pronouns or safety tools with your group, and respect those of others. As I mentioned earlier you could be meeting many people new to Pathfinder who will ask questions in context to D&D. We need to embrace the fun and be welcoming. I'm actually enjoying watching the Activity on Warhorn as people choose characters and the like for their games. I'm glad to see the hype. If you're looking to discuss PaizoCon further, there's the PaizoCon forums as well as the Discord space with us here or Paizo's. 
Investing In:
I wasn't quite sure what to name my article series when I first started but the idea of showcasing or discussing things that make me excited, that I find new and interesting, or maybe I'm otherwise passionate about seemed to fit with the idea of Investing In something like the Pathfinder 2E mechanic. To use some magic items you have to give that little bit of yourself, which helps make these things even better. I like the metaphor of the community growing and being strengthened in the same way!
I also want to hear what you're Investing In! Leave me a comment below about what games, modules, systems, products, people, live streams, etc you enjoy! You can also hit me up on social media as silentinfinity. I want to hear what excites you and what you're passionate about. There's so much wonderful content, people, groups (I could go on) in this community of ours that the more we invest in and share, the better it becomes!
Sources
Banner – PaizoCon Online 2023 logo and stylized background, Paizo