It's Gen Con again!
I'm absolutely thrilled to be in Indianapolis again after three years. I'm thankful too that due to ongoing health concerns that Gen Con is requiring vaccinations and masks. PAX Unplugged was successful back during December so I'm hoping we'll see continued success with these policies. It'll be great to reflect back and I'll be sure for my next article to recap what Gen Con brings me. In convention tradition, there's a number of things I'm hyped to see and do so I thought I'd share! I'll get to see some friends, visit with some of my favorite gaming companies, and of course get to see cool exhibits, try new games, and watch some actual plays!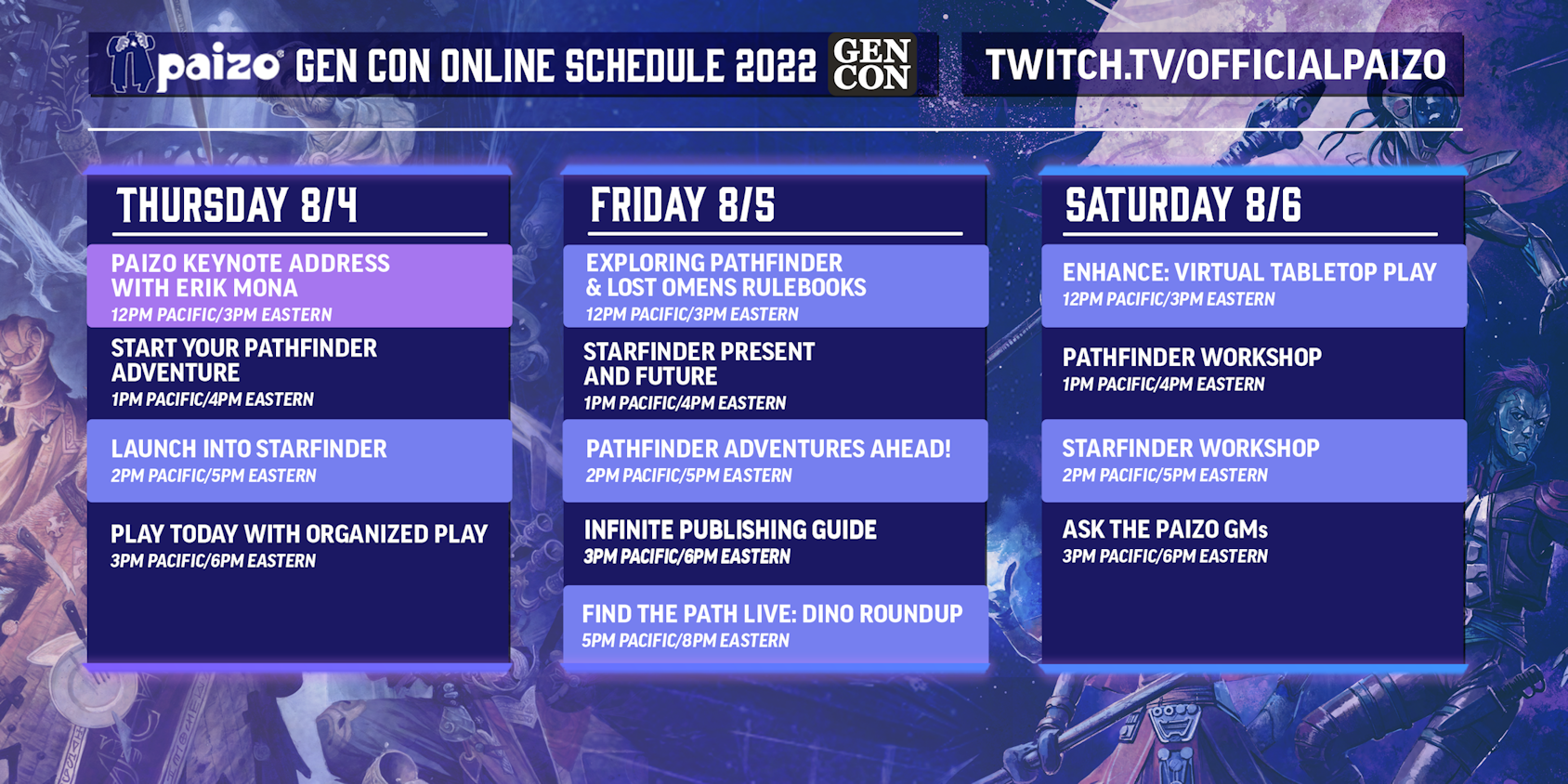 My first stop will be the Paizo booth, 203! It's brand new in design and I've it on good authority that the goblin and kobold statues will be on display! Oh and in case you need a map of the con, Gen Con has one hosted here. Paizo's focusing on gaming with various organized games and showcasing at the Sagamore along with a few other companies running workshops. You get your vaccination check in part of the Sagamore as well, so it's a key area for the Con overall! The keynote from Erik Mona is pre-recorded and will be shown as part of Paizo's Gen Con Online and I've posted their pic from that blog post above. I'm psyched to see what sourcebook is coming next and I'll tune in Friday as well for Logan Bonner, Avi Kool, Eleanor Ferron, and Michael Sayre talking Lost Omens because I love that lore! Earlier this week they announced Pathfinder Lost Omens: Firebrands! You can find more of Paizo's Gen Con plans and events both in person and online on their site.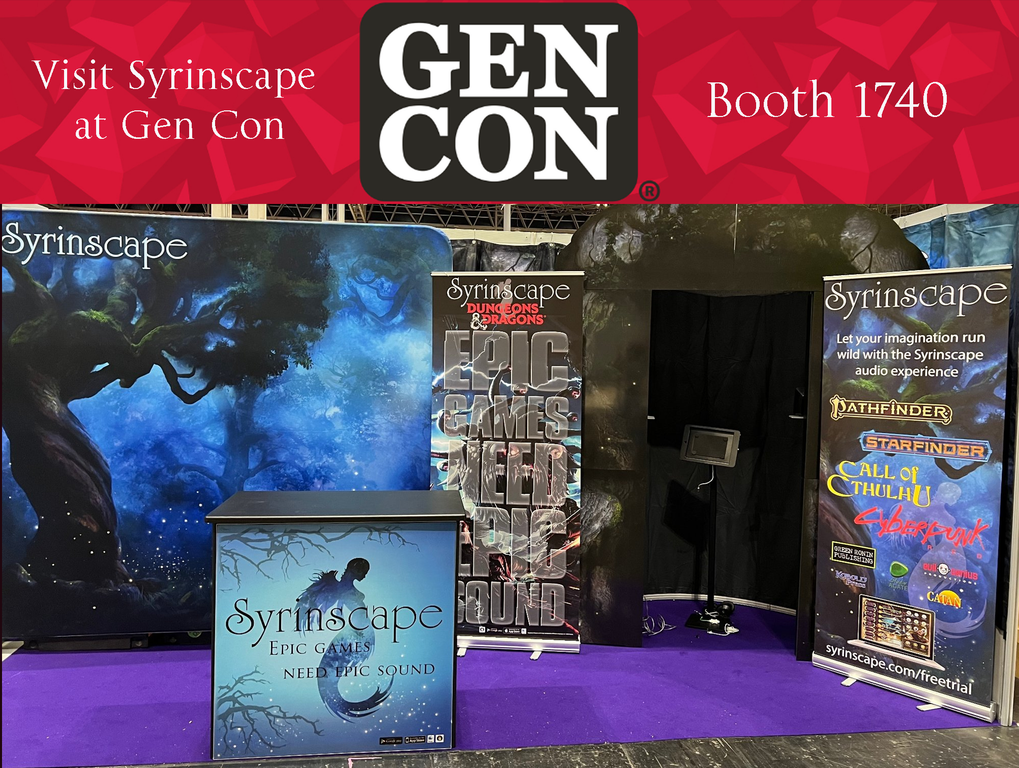 I'm eager to go by Syrinscape, booth 1740! I first started using Syrinscape when I kicked off Strange Aeons for my gaming group and I use their sounds throughout exploration, combat, or just shopping sessions. My brother's started using it as well for the game he runs! Well, Syrinscape has some EXCITING NEWS as Gen Con begins, unveiling today (yes Thursday!) at 10 a.m. EST. You might want to check back here for a press release then. Otherwise, be sure to follow Syrinscape on twitter. Maybe follow a couple hashtags like #Syrinscape and #WebPlayer. I certainly appreciated hearing the news and soon it'll be easier to hear more from Syrinscape…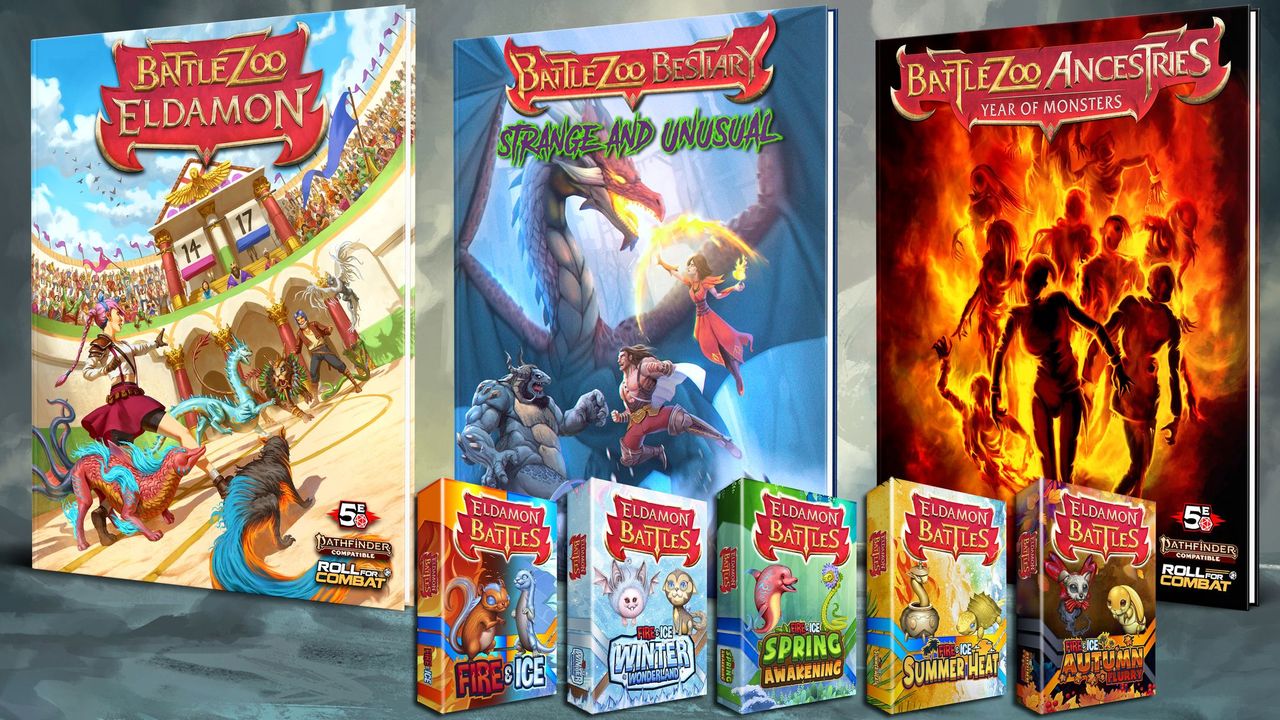 You may have caught the preview interview of our own Vanessa Hoskins and Luis Loza talking with Stephen Glicker and Mark Seifter about Battlezoo Eldamon from Roll For Combat. As of this writing, the kickstarter has just over 190K as it was funded within the first day with stretch goals now the target. If you're excited about befriending, training, and fighting with the over 160 monsters provided in this Pathfinder and 5E supplement and you'll be at Gen Con, then you'll want to check out the Battlezoo Eldamon and Monster Ancestry Spoilers and Q&A session on Saturday at 1 p.m. EST! Hopefully we can get some details on some of the powerful evolutions or the options to channel and transcend the power of these new friends and battle buddies!
https://twitter.com/Gluttonous_Geek/status/1532786764569526273
I'll be stopping by Dinner and Dice Rolls from the Gluttonous Geek, whom I met at Gen Con Online back in 2020! Catherine's cooking is wondrous so I encourage you to check out the free panel as well as all her recipes and videos! You can also find people like Aabria Iyengar as well as Laura Jerdak and Jesse Jerdak, all three you might recall from my PRIDE and community article, will be at Gen Con! It's Laura's birthday today so wish her a Happy Birthday on twitter!  I'm excited to stop by Funko Games, Booth 1811, and see Jason Marsden and Bill Farmer, the actors who lent their voices to Max and Goofy in A Goofy Movie. You might also know Jason as the voice of Thackery Binx in Hocus Pocus, Dash X from Eerie Indiana, a number of voices for Young Justice, and many more Disney and DC pieces over the years! Bill is also a mainstay of Disney because of his work as Goofy and Pluto, and lending his talents to the new Chip 'n Dale: Rescue Rangers film, Kingdom Hearts, Sing, and numerous other voice roles! There is a special VIP event and showing of a Goofy movie, though it's sold out so make sure to swing by that booth or watch for tickets to become available.
The voice actors behind the Goof family, @goofybill and @jasonmarsden (Max Goof), will be at #GenCon in the #FunkoGames booth all day Saturday and Sunday, and a special VIP event Saturday Night! https://t.co/2Ne8L3vJE5@gen_con #AGoofyMovie #AGoofyMovieGame pic.twitter.com/FgvdrUUPH4

— Funko Games (@FunkoGames) July 20, 2022
There's so much to do and see at Gen Con and with Gen Con Online so I encourage you to make a schedule so you attend what you want, but make sure you leave time for playing new games, exploring the exhibit hall, and leave yourself time to be social with friends old and new as well get some rest! Look for events with Gen Con's site and peruse their program book! If an event is sold out I'd recommend checking back over the course of the day or stop in to see if there's availability or a wait list. I'll be posting up content to twitter and instagram as I traverse the con and I hope you will too! Tag me as I want to see what you've found and what you're doing! In two weeks I'll post up my recap and I hope to share some of what you did or saw too!
Have a great con!
Investing In:
I wasn't quite sure what to name my article series when I first started but the idea of showcasing or discussing things that make me excited, that I find new and interesting, or maybe I'm otherwise passionate about seemed to fit with the idea of Investing In something like the Pathfinder 2E mechanic. To use some magic items you have to give that little bit of yourself, which helps make these things even better. I like the metaphor of the community growing and being strengthened in the same way!
I also want to hear what you're Investing In! Leave me a comment below about what games, modules, systems, products, people, live streams, etc you enjoy! You can also hit me up on social media as silentinfinity. I want to hear what excites you and what you're passionate about. There's so much wonderful content, people, groups (I could go on) in this community of ours that the more we invest in and share, the better it becomes!
Sources
Banner – GEN CON 2022 logo, Gen Con
Paizo at Gen Con Online 2022

schedule,

Paizo

Syrinscape at Gen Con, Syrinscape press materials,

Syrinscape

Eldamon Three Books and Cards, Battlezoo press materials,

Roll for Combat