Happy New Year!
What a journey it's been. I'm always hopeful every year can be better than the last. 2021 was certainly better than 2020 and 2022 has the promise of new and improved. Granted, I expected New Years Eve to be a bit grander and more celebratory after vaccines appeared on the scene last spring. By my birthday in late May I'd already had my second shot. Instead, however, it was a small New Years Eve with a few friends and family. While I wanted the big party, the music, maybe swing downtown to see everyone, I'm still thankful to have seen those few and to have been able to raise a drink in toast of a brighter year ahead.
PAX Unplugged
Ultimately, it is the human element that I'm thankful for. I want everyone to be safe, happy, and healthy even if they don't see the pandemic and how to handle it the same way. Hopefully by now most realize that it's people we miss, that close interaction. PAX Unplugged truly exemplified that, which I certainly had realized writing my last article. I'm especially happy to have had the opportunity to go considering the near-lockdown situation we're in again from a safety perspective. I had a lot of fun, but there wasn't nearly enough time to see everyone or for all the games I wanted to check out.
So there may be a werewolf in #Philadelphia #PAXUnplugged @MinionMoves pic.twitter.com/zy2ot6gWtS

— Rob Pontious (@silentinfinity) December 9, 2021
I'll say the vaccination requirements seemed to have paid off. That plus masks and I've not really heard of many being sick after. Having tests immediately available – and I know a few checked due to con fatigue – was smart as well. It wasn't the full size con of 2019 (my first), but it was still quite lively with an expo hall to shop within and many gaming opportunities. I commend the Enforcers for having to push on those rules and guidelines, warning people about wearing masks under their nose, ensuring they weren't crowding, and approaching anyone who had pulled it down to make sure it came right back up. I'm sure it felt thankless and drew some's ire, but it was well worth it. I thank the PAX enforcers for helping ensure we could have a safe, fun convention and one next year too!
Playing @leverage #leverage the game at #paxunplugged in honor of the #leverageredemption renewal with @IMDbTV and @Dean_Devlin! @margaretweis can we get the pdfs on sale online please? pic.twitter.com/6thZaLPwbl

— Rob Pontious (@silentinfinity) December 11, 2021
I Provided… Leverage
But yes, games! I got to play Leverage! It was my main goal to try. It may be older, but I was desperate to get a game in and I got to enjoy with a number of friends. I played a Grifter with some Hitting capability, reminding me of Jeri Ryan's grifter Tara! I conned the mark into putting all his money in my offshore bank account. I did feel a little bad as he was lonely, but he was tricking people seeing a therapist out of their life savings all in the name of reinventing themselves. Your lonely heart is not excused by greed. We had another Grifter who sort of fell for the mark's son. Poor guy. Our Hacker couldn't fail rolls. Our Mastermind set us all up and quickly connected us to some banking officials and ultimately cued us in that the FBI was watching. The Hitter ran afoul of the mob at the end of the session yacht party – where I got proposed to – and the thief basically stole everything the mark ever held dear, including a journal of lovesick, lonely thoughts. It was amazing. My only regret is not copying down what we called the job! Oops! Also, I really need Margaret Weis Productions to get the license again so they can sell the PDFs once more. Yes, I spoke with MWP and unfortunately the game can't be sold as they no longer hold the right to the license. Maybe the recent renewal (announced during PAX U!) will help make that happen? I'll have to play more games of shows I wish to see more of. Oh Buffy…
How Great?!? – can't wait!!! 'Leverage: Redemption' Renewed for Season 2 at IMDb TV – Variety https://t.co/kreLNseijl

— Dean Devlin (@Dean_Devlin) December 9, 2021
Sapphic Space Pirates Launch Party!
In the expo hall I was looking for GM-less games. I really enjoy the ability of all at the table to participate in story-crafting and having their own character like when I played For the Honor with Natalie of Charm Person Games last year. I didn't get to play Sapphic Space Pirates with Natalie, but I did pick up a copy that she was kind enough to sign. I'll play soon! I only wish I was in the Baltimore area so I could go to their launch party!
January 15th @NoLandBaltimore Come play our game Sapphic Space Pirates, drink themed cocktails, and hang out at the best game store in Baltimore! #ttrpg #baltimore pic.twitter.com/PeAQEA1E4k

— Charm Person Games published Sapphic Space Pirates (@charmpersongame) January 2, 2022
GM-less Emberwind
I also learned of a new game I intend to try out in 2022: Emberwind. You can even play by yourself! There's a clever hex grid to roll against to determine NPC actions like in combat and some base behaviors to guide when uncertain like "always approaches nearest character." Of course the narrative part plays like choose your own adventure with pre-generated characters or you can make your own. They're publishing more story beyond what they had in their kickstarter from late 2018. They really went all out for their gorgeous booth at PAX U, especially after not being able to showcase all they made last year. If a choose your own adventure fantasy RPG without a GM sounds like your ideas of fun, check out their online store too!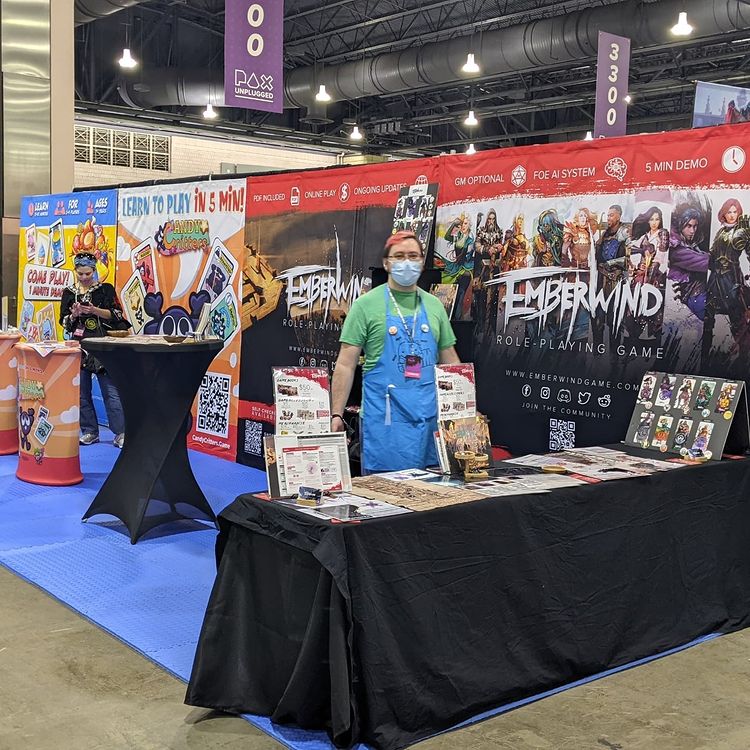 Now to keep the spirit of games and people alive I'm going to try and see more people as well as try more games this 2022! By the time you read this I'll have tried some I'm Sorry Did You Say Street Magic with my friend Rich! It's GM-less too! You'll hear more on that in a future article. I've also been trying some 5th edition with a few friends here and there to get a sense of it. I've learned some of 5th form watching Critical Role, but I wanted to truly get a little experience. I've got an Undead Hexblood warlock that I do love, heir to an undead kingdom who swears he's not evil. Such a sweetheart though 5th has certainly been a change from what I've used to while my ongoing EXpedition Coalition Pathfinder 2E game continues. I might set up a convo with John Godek to talk about 5th Ed vs. Pathfinder 2E. I really appreciated speaking with him for this week's Presenting. I know, I know, many have done so but I want both to thrive. I've got friends as Habro remember?
I Get Around
Finally I'm hoping to travel and get some visits in this year. If PaizoCon happens I want to get to Seattle. I talked with Dwarven Forge and Wyrmwood before the pandemic about visiting, and still hoping to do so. Wyrmwood and I chatted a bit at PAX U on the topic. I'm really excited for my Wildlands Dwarven Forge to come in so maybe I can impress them with some shots and provided things are better as the months warm again (and the days get brighter!) I'll be able to. I'd also really love to get back to Dog Might in Michigan, maybe with a joint visit to see family I haven't seen in years. Here's hoping!

I'm also hoping that as things improve we'll have a bigger GenCon and I'll be there! It's partly how my wild ride with Know Direction started. On that note too, I'd like to thank Ryan and Perram for having me on the show before New Years to talk with everyone about the past year and the year ahead. The two guys are absolutely brilliant, warm souls and I'm so thankful to have them in my life along with all of you. Again, what an amazing community!
Here's to a 2021 that brought us back together and the promise of better days and to 2022 with more people, more games, and even more positive change!
Investing In:
I wasn't quite sure what to name my article series when I first started but the idea of showcasing or discussing things that make me excited, that I find new and interesting, or maybe I'm otherwise passionate about seemed to fit with the idea of Investing In something like the Pathfinder 2E mechanic. To use some magic items you have to give that little bit of yourself, which helps make these things even better. I like the metaphor of the community growing and being strengthened in the same way!
I also want to hear what you're Investing In! Leave me a comment below about what games, modules, systems, products, people, live streams, etc you enjoy! You can also hit me up on social media as silentinfinity. I want to hear what excites you and what you're passionate about. There's so much wonderful content, people, groups (I could go on) in this community of ours that the more we invest in and share, the better it becomes!
Sources
Banner – Journey, Creative Commons Attribution, Ninjatic 
Booth image from Instagram

, Emberwind,

Nomnivore Games

Gen Con 2022 banner, Gen Con