If you've been reading my blog for any amount of time you probably know how much I love Pathfinder Society. It provides an excellent way to get your RPG fix, try different characters, meet different players and GMs, and connect with thousands of fans around the world. It has an active and welcoming online community via Discord where you can find friendly fans looking to make friends, advice on rules & characters, and, most importantly, open tables with experienced GMs firing every day of the week! Would you rather play with a home-group? That's fine too! You can even mix it up, going to any number of conventions to play the huge multi-table specials together with the same characters you've been running together in your home-group! But what's the best part of PFS? The adventures!
Pathfinder Society scenarios are great 4-hour adventures released every month. You can play them in any order, but a handful of adventures (tagged: Metaplot) are intended to be played in a specific order as they follow the over-arching "metaplot" of that year of scenarios. While many GMs will run the scenarios "as written", there are tons of opportunities to expand on what's written or even just use the scenarios in your ongoing campaigns. Many provide loose frameworks with lots of room for growth, letting you easily pick and choose how to order these scenarios and quests to make your own metaplot! And getting 2 scenarios a month where you are expected to play globe-trotting adventurers means the scenarios have a vast range of different locales and cultures (without the line becoming completely bogged down into a single meta-region in the Lost Omens setting).
But Society isn't just great for GMs! It also gives players neat boons! These flavorful boosts of power help remind players of their past adventures and give them unique character options that fit the flavor of the "Pathfinder Society Global Campaign". I even make free little cards that can help you organize your boons, which have been updated to include every boon from Season 1 and can be found in links below, or at pfsprep.com!
Next week I'll look at the one-hour "quests" in Pathfinder Society and explain how to play or GM in online conventions!
Useful Documents:
• Pathfinder Second Edition Guide to Organized Play: The official guide! This will explain what PFS is all about!
• Pathfinder Society Character Options: This lists what you can and cannot use.
• Faction & Adventure Boon Cards: Originally posted as a Fox's Cunning Article.
• Pathfinder Training and Boon Slot Information: A condensed list of boon slot rules and the free consumables players get thanks to their training.
• Retail Incentive Program Benefits
• Year 1 Boon Cards (Scenario Spoilers)

Google Spreadsheets:
• GM Challenge Point and Downtime Calculator: Hit File>Make a Copy to use it. Critical for the first 5 scenarios when challenge points weren't listed clearly.
• Pathfinder Society Master Index: This spreadsheet has tons of information about each scenario, including maps, items, hazards, and monsters.
The rest of the article is full of spoilers and is intended for Game Masters!
Keyword Index:
I've included keywords to help give you a quick idea of what each scenario is about. You can use the "Find" feature on your browser to look for certain keywords, and I've listed them below:
• Atmosphere: Urban, Wilderness, Snow, Sewers, Ruins, Naval, Extraplanar
• Creatures: Oozes, Undead, Fiends, Insects, Animals, Orcs, Kitsune, Kami, Ghost, Goblins, Iruxi, Kobolds, Devil, Leshies, Centaur, Demon, Fey, Hobgoblin, Boggards, Outsiders
• Themes: Exploration, Horror, Intrigue, Survival, Journey, Revolution
These are pretty self-explanatory and help give you an idea of what you might find in each adventure. Some creatures listed are intended to be allies, some enemies, and others can be allies or enemies depending on how the PCs interact with them. It is not an extensive list of all creature-types used in the season, but rather those that are most memorable in each scenario. A Journey scenario is one that can end away from where it began.
• Systems: Hazards, Ritual, Research, Performance, Race, Downtime, Chase, Mass Combat, Escort
Scenarios tagged with these systems heavily feature memorable uses of these systems. Most are self-explanatory. Performances often include opportunities for characters with the perform skill to shine, and can include scenarios where PCs are expected to perform at the table. Downtime includes scenarios where players spend multiple days completing a task. Escort missions are those where you have an NPC who follows the party.
• Animals: Horse!, Goats!, Kitty!
These scenarios include animals that can be tamed, or at least played with by PCs who may love to use the creatures as potential long-term companions.
• Additional Tags: Heavy Roleplay, Rival Party, Very Deadly
Scenarios tagged with "Roleplay" include numerous NPCs that the GM is expected to use in extended dialogue with the PCs. Rival Party means there is another group of adventurers or explorers the PCs interact with. Most scenarios marked "deadly" have a single encounter that is especially troublesome for certain party members and should be investigated before the scenario is chosen. Oftentimes it means waiting until the players are higher level before running the scenario.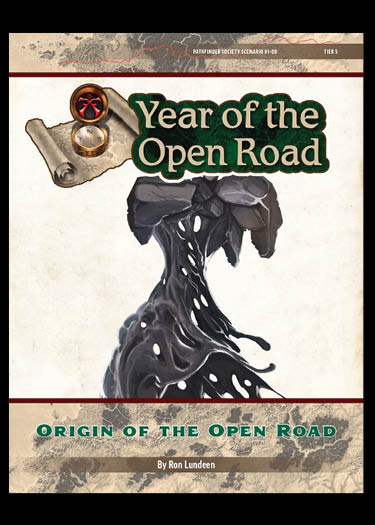 Levels: 5 (Pregen) Tags: None Related: Metaplot Location: Quantium, Nex
Keywords: Urban, Oozes, Research, Hazards, Very Deadly, Intrigue
Description: Over recent decades, numerous incidents at the Pathfinder Society's Grand Lodge in Absalom have damaged the priceless collections, destroying many documents outright. The Society has sent the PCs to Nexus House in the arcane metropolis of Quantium, hoping that the second oldest Pathfinder lodge might contain duplicates of the lost texts to copy and study. Yet the PCs are not the only ones interested in the secrets preserved in Nexus House, and the PCs find themselves on the trail of unlikely criminals.
Review: Introduces the Season 1 Metaplot. Has to be run with 5th level Pregenerated Characters that are not the best for this adventure. The Black Pudding encounter is extremely deadly. Many players are disinterested in the library. I feel like this is best suited for more experienced players after they get some other scenarios in, but before they begin the season 1 metaplot. Tie the pregens to new PC numbers because it's very possible to TPK in this scenario. I can also see it as a fun game to play if you finish your last session of The Slithering early since it also has an ooze theme.
Additional Resources: Illustrated Boon Cards, Missing Monster Stat Blocks, GM Discussion Thread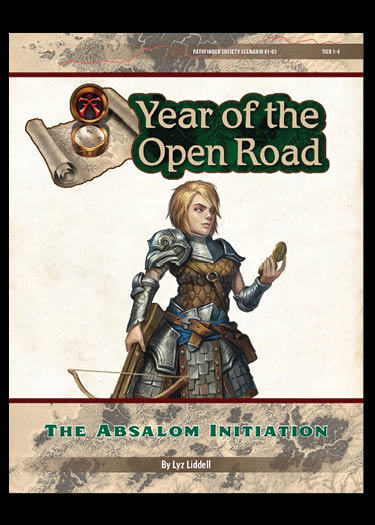 Levels: 1-4 Tags: Repeatable Related: PF1e Faction Heads Location: Absalom, Isle of Kortos
Keywords: Urban, Some Undead & Fiends, Deadly Hazards, Deadly Ritual, Mild Horror, Moderately Deadly
Description: A new era is beginning for the Pathfinder Society, with new recruits and new factions all excited to build connections and embark on grand adventures. The PCs are among these recruits invited to attend a welcoming party where they can meet both the old guard as well as the up-and-coming leaders. But the party's not all talk; the PCs learn of four exciting escapades in Absalom, through which they can kick off their adventuring careers! This adventure's individual missions include numerous variations that make each play-through exciting and different.
Review: Lots of great role-play opportunities and a variety of solid adventures. Your characters may be novice pathfinders but this scenario does not pull punches, so remind your players it can be difficult. Don't run this if none of your players have ever played Second Edition before. This does give a good overview of the heads of each faction. Ask your former 1e players who their favorite faction leaders were for part 1. Most players will resolve the golem encounter peacefully and it provides a fun role-play opportunity. The ritual can be extremely deadly if players don't have the right skills, so feel free to remind them it only takes 1 action to try to repair the ritual. Give hints and read the trigger of the trap in the mansion very carefully and be careful since it can TPK the entire table in a very unsatisfying way.
Home-Game Integration: This is very much a Pathfinder Society themed scenario, but the society could be paying free-agents to help them out.
Time Considerations: Make sure the PCs don't spend too long at the party. You can have them catch up with their faction leaders after the last mission if the group has time.
Potential X-Card Warning: The protestors in Westgate.
Additional Resources: Illustrated Boon Cards, GM Tracking Sheet, Progress Tracker and Random Element Organizer, Loot Reference, GM Discussion Thread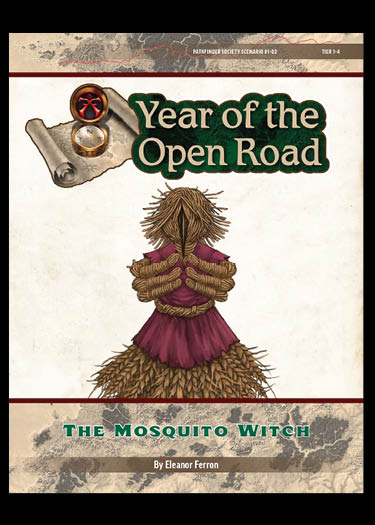 Levels: 1-4 Tags: None Location: Shimmorford, River Kingdoms
Keywords: Heavy Investigation, Insects and Fey, Heavy Roleplay, Moderate Horror
Description: Decades ago, witnesses reported a fearsome cryptid outside of the quiet River Kingdoms town of Shimmerford. Dubbed the Mosquito Witch, it was rarely seen since and quickly became a beloved local legend that the town celebrates and promotes to attract visitors. But when recent attacks began savaging livestock and townsfolk alike, many have started believing the Mosquito Witch was real all along. The PCs travel to Shimmerford to unravel the cryptid mystery, but might they just become the witch's next victim?
Review: This atmospheric cryptic hunt comes with a colorful cast and a wonderful atmosphere. I recommend finding quick little portraits for all your NPCs and laying out a map of the town for everyone to move around during the investigation. Print out the doll and pass it around the table. Bring a couple of print-outs and tell your players they are free to rip it off if they destroy the doll in character. Remember you can modify scenarios if they would make your table uncomfortable, such as the mosquitoes crawling out of the body near the swamp. I recommend doing the carriage chase just outside of town or right outside of the inn to maximize verisimilitude.
Home-Game Integration: Highly adaptable and easy to use in your own game. The true nature of the Mosquito Witch can be a continued element.
Time Considerations: This usually takes a little more than 4 hours. Let them enjoy the investigation.
Potential X-Card Warning: This is a horror-themed scenario. It has many insects and mosquitos, including a gruesome scene in the woods.
Additional Resources: Illustrated Boon Cards, Order of Operations Tracker & Guide, GM Discussion Thread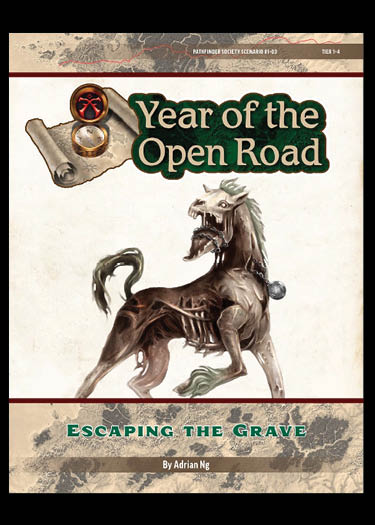 Levels: 1-4 Tags: None Related: PFS 1e 10-98 Location: Lastwall/Gravelands
Keywords: Heavy Undead, Horse!, Moderate Investigation, (Abandoned) Urban, Moderate Horror, Sometimes Deadly
Description: The Whispering Tyrant has escaped Gallowspire and ravaged the lands of Lastwall. Although the nation managed to evacuate many civilians, there are still refugees, Pathfinders, and irreplaceable cultural treasures trapped in this undead-ridden realm known as the Gravelands. The PCs are part of the Society's efforts to infiltrate these dangerous lands, rescue the Pathfinders missing in action, and recover what historical texts and treasures they can. Just be quick! Every hour behind enemy lines increases the chance a nearby army learns of the PCs' mission.
Review: Visiting Lastwall can be a hoot and cautious players will appreciate skulking past an army of undead to search for bodies and relics. Note that a player will not have fun if they pick the option to become fatigued in the first part of the game, so remind a player that they are on a time limit, will not have time to rest and will not be able to investigate the town if they pick that option during the initial obstacles. Some players will miss the bar-sign as a relic, so play it up as a potentially valuable artifact. The house can be deadly if the group splits up and someone gets hit by that centipede trap without any help. And players might want to take on the "undead goliaths" at the end (but that is supposed to be a Bad Idea). Players tend to love the horse, but see X-card warning if you have a squeamish equestrian. Roleplaying the frightened agent is pretty fun. Uses the same haunted house and village square map as other scenarios this season, so I don't like to run those scenarios back-to-back.
Home-Game Integration: Recovering artifacts is pretty PFS centric, but you can easily replace them with other McGuffins.
Time Considerations: This usually takes less than 4 hours.
Potential X-Card Warning: An undead horse and firebombed church.
Additional Resources: Illustrated Boon Cards, Tracking sheet, GM Discussion Thread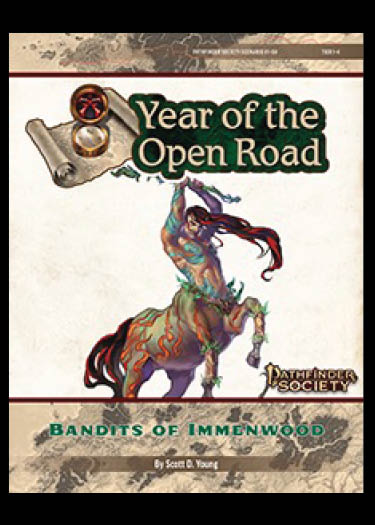 Levels: 1-4 Tags: Grand Archive Location: Isle of Kortos
Keywords: Escort Mission, Survival, Wilderness, Animals, Journey, Low Story, Unexpectedly Deadly
Description: The Pathfinders are sent forth to aid their own! A Pathfinder mission returning from a long sea voyage ran aground on the Isle of Kortos and were forced to leave behind many of their discoveries so they could press on to Absalom and receive much-needed medical care. The PCs are sent to the site of the wreck to retrieve the relics and charts their peers were forced to leave but the relics have drawn the attention of some of the Immenwood's most volatile inhabitants. Will the PCs be able to return the documents and relics to Zarta Dralneen, the Grand Lodge's Chief Archivist? Or will they fall prey to the unusual bandits dwelling within the coastal reaches of one of Kortos's most infamous forests?
Review: Escorting a caravan is a classic, but I wasn't blown away with this scenario. Most of the story is hidden from the players, which actually makes this a good adventure to integrate into a longer campaign that plays off the McGuffin. The combats are either forgettable or frustratingly difficult. I find that players are lulled into a false sense of security and then underestimate how deadly the final fight can be.
Home-Game Integration: Do you have to move a treasure from one place to another? That's all it takes.
Time Considerations: Fast. Most groups finish this one in 3 to 3.5 hours.
Additional Resources: Illustrated Boon Cards, Wagon and Horse Tracking Statistics, GM Cheat Sheet, GM Discussion Thread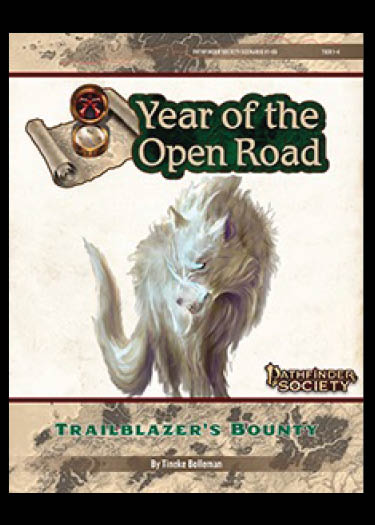 Levels: 1-4 Tags: Horizon Hunters Location: Isger & Molthune
Keywords: Survival, Journey, (Low) Rival Party, Animals, Orcs (Potential Friendly), Hazards, Goats!, Snow
Description: The powerful nation of Cheliax has posted a public bounty that would richly reward the first team of explorers to chart a viable route across the Menador Mountains, linking the nations of Isger and Molthune (all to bypass the economic powerhouse of Druma, which has recently imposed higher taxes on key goods crossing its borders). Yet the Menador Mountains are an imposing obstacle, replete with steep slopes, snowy peaks, and territorial orcs. Even so, there are no finer explorers than the Pathfinders, and the Society has dispatched a team to collect the prize. Are the PCs ready to not only explore the foreboding mountains but also to compete with the rival teams and local inhabitants?
Home-Game Integration: Anyone could want that bounty. You can also the scenario for any wilderness journey, but most of the objectives are about making a trade route.
Review: Play it for any friends you have who love camping, hiking, and wilderness survival! Man-versus-Nature scenarios are pretty rare and this one does a great job showing what 2e can do with the genre. Don't sweat roleplaying the nobles. The goats have become something of a meme. This also gives your players an opportunity to make friends with orcs.
Time Considerations: If you spend an hour roleplaying the nobles you might go over time, but it's unlikely.
Additional Resources: Illustrated Boon Cards, Progress Tracker Spreadsheet, GM Cheat Sheet, GM Discussion Thread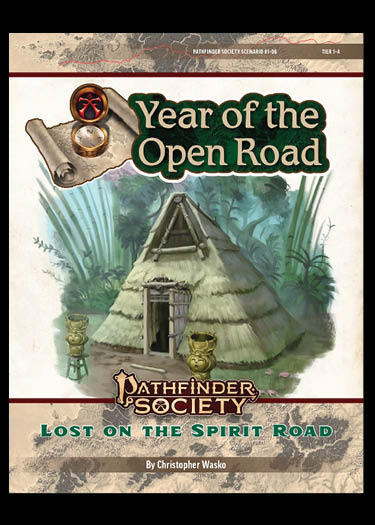 Levels: 1-4 Tags: Repeatable Related: PFS 2-02 Location: Forest of Spirits, Tian-Xia
Keywords: Journey, Investigation, Kami, Kitsune, Heavy Roleplay, Ghost (Friendly), Snow, Wilderness
Description: A shipment of relics on its way to Minkai vanished somewhere in the Forest of Spirits, a dense woodland home to kami and spirits of all sorts. In search of the missing shipment, Pathfinder agents travel to a remote village, where they uncover the secrets of this enigmatic forest. This scenario features a wide variety of options for encounters and reasons for the vanishing, making for a fresh experience on multiple playthroughs.
Review: I'm obviously biased when it comes to reviewing this scenario, but I loved it. This scenario is a dream for ad-lib GMs, given the flexibility, it gives you in defining the village and ghosts. You'll want to consider during your prep what kind of village you want, such as the names of NPCs your PCs will talk to, what they are doing when the PCs enter the village, and whatnot. Check snow maps for an example of a village map you can use to engage the PCs. The prep can look overwhelming, but just take it one step at a time. This is a great learning opportunity for a group with an only a passing understanding of traditional animism and Lost Omen's Tamashigo. Have your friends watch Princess Mononoke together if they want to get the mood for this scenario.
Home-Game Integration: Any adventurer could be hired to find the mission caravan. Could also take place headed into or out of Minkai through the Forest of Spirits.
Potential X-Card Warnings: Be considerate with the ghosts. Be respectful of the animistic cultural traditions in the adventure, such as describing the relationship between humans and kami.
Time Considerations: Very unlikely to go over 4 hours, as long as you make your route choices during your prep.
Additional Resources: Illustrated Boon Cards, Snow Maps, Progress tracker spreadsheet, Forest Tile Layouts, GM Discussion Thread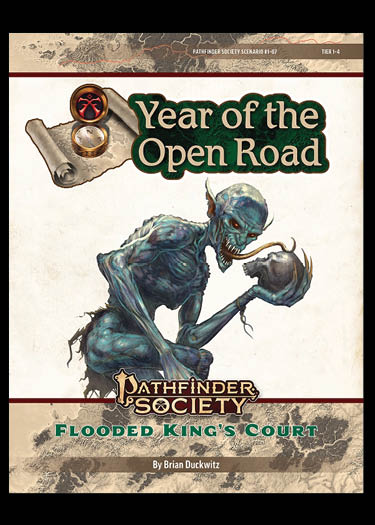 Levels: 1-4 Tags: Vigilant Seal Location: Absalom, Isle of Kortos
Keywords: Urban, Investigation, Rival Party, Friendly Goblins, Friendly Undead, Performance, Sewers, (Abandoned) Cults
Description: From a ruined theater in the run-down Puddles district of Absalom, a goblin hero and self-styled king rules over the nearby goblins. Shifting foundations beneath the playhouse have revealed ruins from Absalom's early history, and the goblin king has put out a call for explorers to search the area and clear out its dangers. The Pathfinder Society has answered the call. They aren't the only group that is interested, however, and they must prove themselves to earn the right to enter these lost chambers.
Review: This scenario is really fun. First, you get a performance piece where each PC is given a role in a goblin play. Then you get to best a rival adventuring group! The wish depicted in the scenario delivers a memorable twist. This can cause some party conflict if you have an adamant "all undead must die" player in your party, but a flexible undead slayer will see the value in allowing the undead one final act of redemption.
Home-Game Integration: You don't have to be Pathfinders to be the group chosen by Zusgut. Great way to introduce goblins or Absalom. Could work to help introduce an Edgewatch group into PFS.
Time Considerations: Let your players enjoy the play. It doesn't take that long.
Additional Resources: Illustrated Boon Cards, Goblin Play Folio, GM Discussion Thread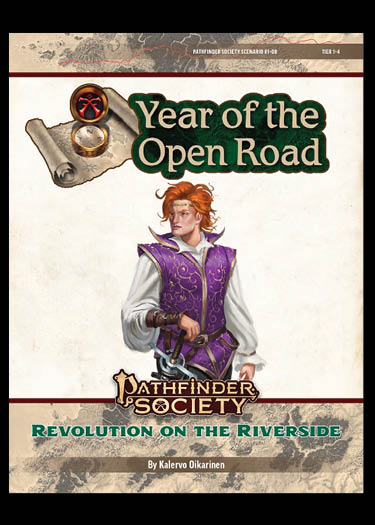 Levels: 1-4 Tags: None Related: River Kingdoms Location: Artume, River Kingdoms
Keywords: Investigation, Revolution (or Counter-Revolution), Heavy Roleplay, Intrigue
Description: In the heart of the River Kingdoms, revolution and turmoil boil just beneath the surface. The PCs are called to investigate rumors of an old, abandoned Pathfinder Lodge, but discover that their investigation leads them into a firestorm of danger and intrigue. What starts as a simple task becomes a revolution sweeping a nation, and the PCs' actions will inevitably shape the future of an entire kingdom.
Review: I love scenarios that split into multiple routes and this one does it very well. Heavy intrigue where the PCs can choose to back a revolution, or try to undermine it. This can be a doozy to prep as there are those multiple routes. It's a very well done scenario tackling a difficult issue to successfully resolve in 4 hours, so the combats are understandably not that complex or memorable.
Home-Game Integration: Great for any players who got into the hobby thanks to Kingmaker. Need a quick revolution? If you read the unused route, you'll see it's pretty easy to play off the consequences of the revolution for years.
Time Considerations: If your group is the type to argue for one side or the other, this might take a while. The Venture-Captain might want to weigh in, or even set a time-limit if your players spend too long choosing one side or the other. An odd number of voting players will help here.
X-Card Considerations: Spiders. Pretty easy to replace.
Additional Resources: Illustrated Boon Cards, GM Notes, GM Discussion Thread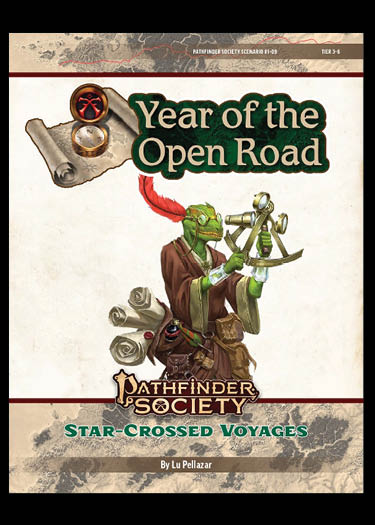 Levels: 3-6 Tags: Horizon Hunters Related: PFS 1-23 Location: Athusis to Kihirat, Mwangi Expanse
Keywords: Potentially Deadly, Wilderness, Ruins, Exploration, Naval (1 Encounter), Iruxi
Description: The Pathfinder Society is called upon to aid the fledgling nation of Vidrian! As the PCs sail beyond the edge of the Inner Sea and into the waters off the coast of southern Garund searching for new trade routes to connect Vidrian with new allies, the PCs find themselves amongst the iruxi, a civilization of lizardfolk astrologists. While the iruxi themselves seem to be likely allies, other forces stir in the nearby jungles, and if the PCs hope to return north with news of a newly charted route, they will need to first face an ancient evil whose presence complicates navigating the treacherous ocean ways.
Review: This felt like a hodgepodge of encounters and the reviews tell me I'm not the only one who get that impression. It's pretty rail-roady, but it does lead into another adventure and if the players enjoy a good string of challenging combats this can be a fun scenario. The last encounter can be extremely deadly if the players don't have a way of dealing with a flying enemy, so I recommend looking at playing this in high-tier if your party doesn't have a lot of ranged attacks that can take out that final boss.
Home-Game Integration: Have a party of wanderers? Get attacked by sea devils, stumble on an iruxi village and help save them.
Time Considerations: That first and last battle took our party a long time due to the creature's defenses.
Additional Resources: Illustrated Boon Cards, GM Discussion Thread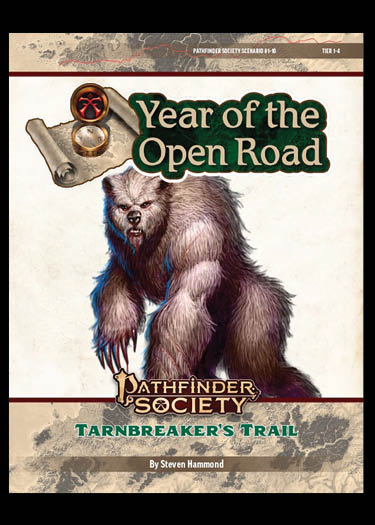 Levels: 1-4 Tags: None Related: Quest 3 Location: Lands of the Linnorm Kings
Keywords: Race, Rival Party, Wilderness, Survival, Journey, Snow
Description: Venture-Captain Bjersig Torrsen has set out the call for a group of Pathfinders to compete in a race known as the Balgirdtrek. Taking place in the Lands of the Linnorm Kings, this race is an annual event that includes participants from both the Varki and Ulfen people of the region. Bjersig hopes that by having the PCs participate, they might not only bolster the Society's reputation in the Saga Lands, but also document this exciting event. Although the Society has the organizers' official permission, some of the Ulfen competitors in particular see the Pathfinders' participation as an intrusion on their time-honored pastime. The true challenge of this race is not monsters or villains, but the harsh nature of the grueling marathon itself.
Review: I love the build-up to the scenario and using a quest as a prequel to potentially make this part of a 5-hour slot. If your players played the quest, give them time after the race to buy items with that boon since they won't have many future opportunities to shop in the Lands of the Linnorm Kings. Don't let your players get distracted by the bear unless you are willing to break the scenario and have them fight the final boss early. The folklore of the game is pretty fantastic and you can have some fun roleplaying with the other teams. Don't worry about not having maps, as many of the challenges really don't require them unless you are playing up "the beast stalking you in the race". Even though I own the maps, I feel like the non-combat challenges would go smoother without them.
Home-Game Integration: This really wants that quest to get the invite to the race, since being "outsiders" plays such a big part in participating. It's also very Lost Omens lore heavy.
Additional Resources: Illustrated Boon Cards, GM Cheat Sheet, GM Discussion Thread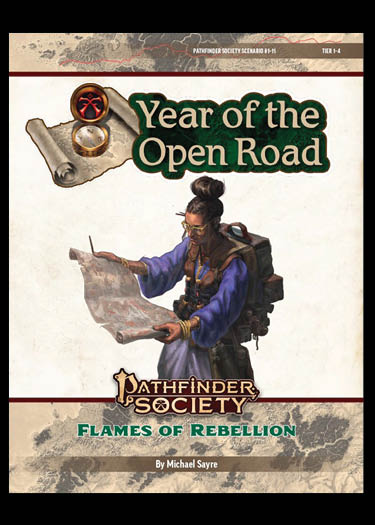 Levels: 1-4 Tags: None Related: Metaplot, PFS 1e 5-04 Location: Sauerton, Andoran
Keywords: Dungeon, Kobolds (Enemies), Ghost (Potential Friend), Hazards, Research, Potentially Deadly
Description: Following the trail of one of the first Pathfinders, the PCs travel to the town of Sauerton where an old ally helps them find important clues. These clues lead the PCs into a dangerous wilderness to an old tower whose history goes back even farther than the Pathfinder Society itself. As the PCs navigate numerous threats with opposing interests, will they find the hidden keys to unlock the secrets of the Open Road Pact, or just another trail obscured by the passage of centuries?
Review: This is a super fun classic dungeon crawl. First and foremost, do not play this one with a group that will require challenge point adjustments. The final fight becomes extremely deadly in certain tiers. That being said, this one is a blast to play or GM. The kobolds use such perfect kobold-like tactics, the hazards are clever and the final boss is super memorable. The boon is super memorable too, even if not the most useful.
Home-Game Integration: Does your party want a keep? Does it want a soul bound devil ally? Or do you just want a classic dungeon-crawl? Look no further!
Additional Resources: Illustrated Boon Cards, Selfmade Maps, GM Discussion Thread

Levels: 1-4 Tags: Radiant Location: Xin-Edasseril, New Thassilon
Keywords: Urban, Intrigue, Heavy Roleplay, Investigation, Downtime
Description: Swindler, rogue, and occasional Pathfinder ally Guaril Karela has approached the Society with an opportunity that Valais Durant, the leader of the Society's Radiant Oath faction, can't refuse. Guaril has been charging refugees to sneak them out of Xin-Edasseril, a city ruled by the Runelord of Envy, and now it looks like Guaril won't be able to fulfill his contracts. Society agents are charged with sneaking into the dangerous city and sneaking out with a handful of its citizens before their absence is noticed so that the Radiant Oath can help them find new lives beyond their current ruler's tyrannical reach.
Review: This scenario is amazing! It plays as an open-ended but related series of balanced and engaging skill challenges that are easy to resolve but can be roleplayed out to your heart's content. Let your players talk about what solutions they want to pursue before you start throwing suggestions at them, and encourage creative problem solving because you'll be surprised at how well the author was able to predict how to resolve certain ideas.
Home-Game Integration: I could see this used as an adventure where players had to escape a city like this and could only afford passage by helping paying customers get out.
Time Considerations: It's very well-paced so there shouldn't be a problem. You can easily play this out to be a 6 or 7-hour session, but you shouldn't have to worry unless your players really want to roleplay out every day spent in the city exploring the ins and outs of Xin-Edasseril.
X-Card Considerations: Human smuggling and illegal immigration.
Additional Resources: Illustrated Boon Cards, NPC DCs and Time Cheatsheet, GM Cheat Sheet, GM Discussion Thread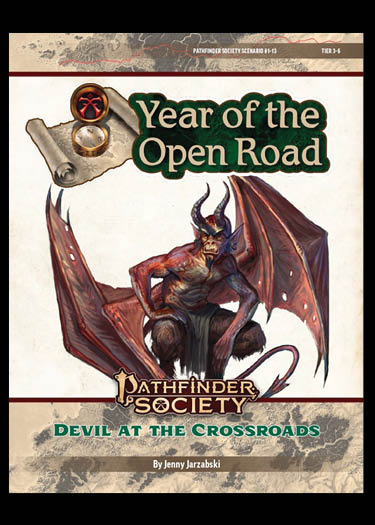 Levels: 3-6 Tags: Vigilant Seal Location: Sarkoris Scar
Keywords: Mystery, Horror, Devils, Hazard, Undead, Investigation, Heavy Roleplay, Challenging Combat
Description: The Sarkoris Scar still aches from the recently closed Worldwound, but that hasn't stopped the Pathfinder Society and their allies in the Farheavens Clan from maintaining their efforts to reclaim the Sarkorians' ancestral homelands. At a trading post near the southern border of the Sarkoris Scar, the PCs meet their contact from the Farheavens but not all is as it seems. The PCs and their allies will need to unravel the twisted skeins of an infernal plot if they have any hope of avoiding becoming the next victims of a fiendish spirit. This adventure was concepted at Paizo's Adventure Design Workshop panel during GenCon 2019.
Review: A wonderful classic murder mystery. The classic theme of being stuck in an inn is given the twist of a devil trying to ascend to god-hood. This scenario (and it's boon) is perfect for a local lodge prepping to go to a convention. Note the time-considerations. You'll want the NPC portraits and minis for all the NPCs in this scenario, so players can keep track of everyone. Investigators are going to love this scenario!
Home-Game Integration: Can work in any game. Does your game have an inn? Pow. Murder mystery time!
Time Considerations: It can be hard to complete this in 4 hours, and you will want 6 hours or more to fully appreciate everything this scenario has to offer. Don't rush it. Let this be a special night before the convention where everyone can get together with whatever characters they plan on using and really build some connections as they investigate and interrogate.
Additional Resources: Illustrated Boon Cards, GM Cheat Sheet, GM Discussion Thread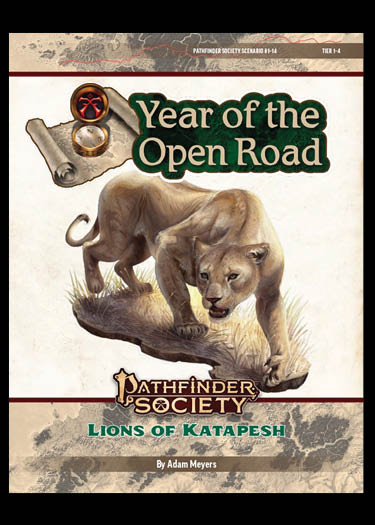 Levels: 1-4 Tags: Repeatable Location: Katapesh
Keywords: Animal, Goblins, Performance
Description: Goblin patriarch, merchant, and Pathfinder Society ally Yigrig Moneymaker needs help! The cunning goblin merchant has big plans to build a bridge that will connect two promising trade partners, but something is stirring up the local wildlife and convincing the lions and other predators of the Katapeshi plains that goblins are more tasty than can possibly be true. The PCs must find out who's responsible for the trials Yigrig's family faces before the lions of Katapesh devour the entire goblin clan and end the chance for trade between two desert cities.
Review: This scenario runs the risk of becoming fairly forgettable and "easy". The encounters are considered "non-threatening" to most players, but there is an opportunity here for creative GMs and players to spice up the scenario, especially with regards to the preparations that can take place before the night raid. There is also some fun RP potential with the goblins, but it has been reported as "non-threatening".
Additional Resources: Illustrated Boon Cards, GM Discussion Thread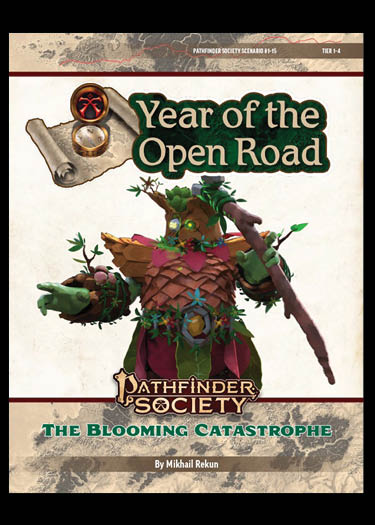 Levels: 1-4 Tags: Verdant Wheel; Related: PFS1e 10-12, Metaplot (Season 2), Location: Iobaria
Keywords: Leshies, Centaur, Demon(ic Energy), Horror-lite, Wilderness
Description: The Pathfinders travel to Iobaria, where elven druids and centaur warriors are united against an unlikely threat: a self-propogating horde of corrupted leshys! The source of the Abyssal corruption may be tied to a previous trip to Iobaria by the Pathfinder Society, so it falls to the PCs to seek out the source of the leshy incursion and restore balance to the woodlands.
Review: Everyone I know loves this scenario. The NPCs are memorable. The encounters are well-balanced. Just read the encounters very carefully, as some of them have enemies engage round-after-round rather than all-at-once, which can make the difference between a challenging encounter and an impossible onslaught. This one also makes a nice segue into season 2, which has a metaplot centered in Iobaria.
Home-Game Integration: Investigating a demon-infested Forest? Here you go.
Time Considerations: This one will run long. Probably 5 or 6 hours, depending on how much roleplay your party does.
X-Card Considerations: Leshies covered in inside out animals and other demonic squick. Spiders.
Additional Resources:Digital Miniatures (Leshys), GM Discussion Thread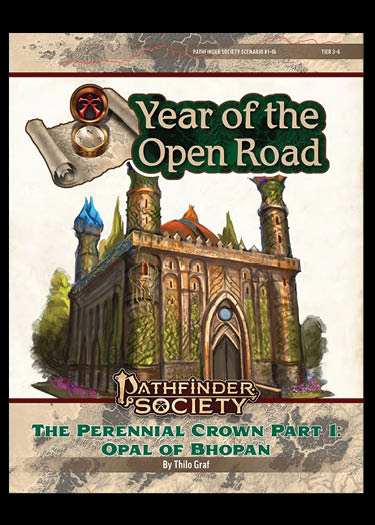 Levels: 3-6 Tags: Metaplot; Related: PFS 1-17, PFS 2-00 Location: Bhopan
Keywords: Fey, Intrigue, Urban, Social, Heavy Roleplay, Investigation
Description: In part 1 of the two-part Perennial Crown adventure, the Pathfinders journey to the island of Bhopan for the first time in over four centuries! On the forested island where founding Pathfinder Selmius Foster met his demise, the PCs will meet the fey-descended Bhopanese people. Not all diplomatic negotiations take place in a stuffy meeting hall, however. In order to navigate the complex, fey-influenced customs of Bhopanese court and establish a relationship with the rulers of Bhopan, the PCs must find their way through a masquerade ball filled with complex dance steps and hidden agendas.
Review: This scenario is jam-packed with fantastical fey goodness. The author did a great job letting us explore the atmosphere of the whimsical Bhopanese culture. It has lots of skill contests that can devolve into everyone just rolling a bunch of d20s if you don't tell your group in advance that there are bonuses for creative solutions and roleplay.
Home-Game Integration: This works best running both parts and works best for the PFS metaplot, but could be used by any group of adventurers looking to grab the Perennial Crown.
Time Considerations: This scenario works best if you set aside enough time for players to react to and explore all the fantastical elements their characters will encounter. I recommend a 5-hour slot, especially if players like to spend time describing and discussing how they will overcome various skill challenges.
Additional Resources: Illustrated Boon Cards, GM Discussion Thread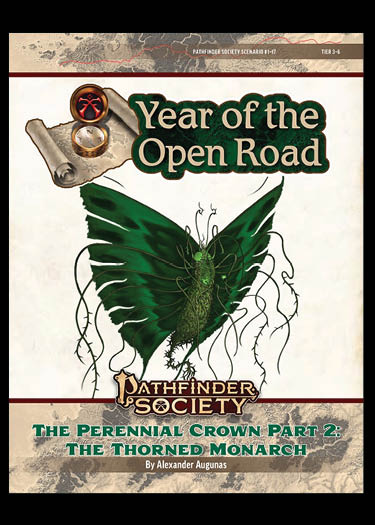 Levels: 3-6 Tags: Metaplot; Related: PFS 1-16, PFS 2-00 Location: Bhopan
Keywords: Fey, Intrigue, Urban, Naval, Chas, Deadly
Description: In part 2 of The Perennial Crown, the PCs must evade the fearsome fey known as the Thorned Monarch. This unrelenting tyrant will stop at nothing to hunt down the PCs and claim their discoveries for themself, bringing to bear not only their awesome physical and magical power, but also manipulating the innocent Bhopanese citizens in their desperate attempts to stop the PCs from fleeing Bhopan with the one item that could put an end to the evil fey's ambitions.
Review: This entire scenario is effectively a giant chase scene followed by a memorable end-boss. It really has to be played as a sequel to Part 1, or you're missing out on the full experience. That being said, the final fight is very hard. There are options for characters without ranged weapons, but if you don't have a good balance of AoE and ranged damage the encounter may be too challenging for certain groups. Benchpress your local group and consider if they are up to this challenge. There are criticisms about the "donating your treasure to the island", so try to remind people of what the venture-captain said in part 1 and that you are archaeologists (partially) on a good-will mission, not murder-hobos.
Home-Game Integration: This only works if you include Part 1. It works best as a metaplot scenario for PFS.
Time Considerations: This will go quickly since it's one big chase scene, so feel free to flesh out the roleplaying. I'd set aside 7 hours to do part 1 and part 2 on the same day, or even let the final encounter of Part 1 bleed over to your Part 2 session after letting your PC's really roleplay out all the scenes at the party in Part 1.
Additional Resources: Chase Map for VTT Games, GM Discussion Thread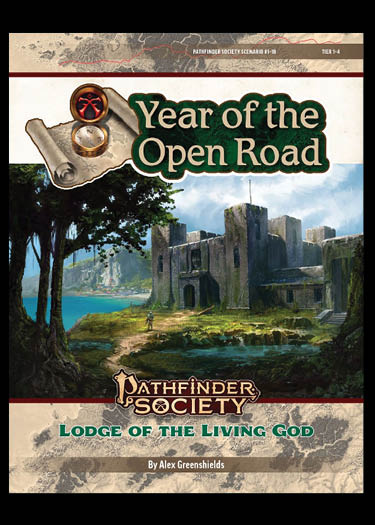 Levels: 1-4 Tags: Envoy's Alliance Location: Xer, Razmiran
Keywords: Undead, Urban, Downtime, Mass Combat, Intrigue, Roleplay Heavy (potentially), Hazards
Description: An unexpected alliance begins! The masked priest Narsen invites the Pathfinders to the city of Xer in Razmiran, a closed nation dedicated to Razmir, the Living God. Normally insular and isolated, access to Razmiran represents a unique opportunity for the Pathfinder Society. Narsen has even sweetened the pot by offering to fund the repair of an old keep to serve as the Society's new lodge. As the first Pathfinders arrive to oversee repairs on the lodge-to-be, will this mark the historic first moment in an unlikely partnership, or will it trigger a disaster of unmitigated proporitions?
Home-Game Integration: Another scenario if you wanted to give your PCs a home-base they can fix up. The siege was really fun.
Review: You rebuild a fort and defend it in a siege. Use the flowchart in Additional Resources. The rebuilding part of things can take hours and can get a little tedious, but players who enjoy Kingmaker or the downtime system in Age of Ashes will love this. In a way, I wish the scenario was printed with twice the page count. Being able to place hazards and describing how they are thwarting the hordes of undead is fun for both players and GMs, and I highly recommend loading some trap tokens and/or print out some traps you can lay out for your PCs. Bring your Bag O' Zombies and let your players have a Razmiran "recommend" that the casters ready their most powerful magic in case any undead get past the hazards (wink-wink). The intrigue half of the scenario will let you play multiple townsfolk and, as always, I recommend bringing portraits to help the PCs remember who is who if they are the sort who want to talk to each and every NPC.
Time Considerations: I've heard stories of this game taking two 4 hour sessions. The construction subsystem can take hours to resolve.
X-Card Considerations: There are some Potemkin village themes.
Additional Resources: Illustrated Boon Cards, Flowchart of Repairs and Townsfolk, Tracking Spreadsheet for Players and GM, GM Discussion Thread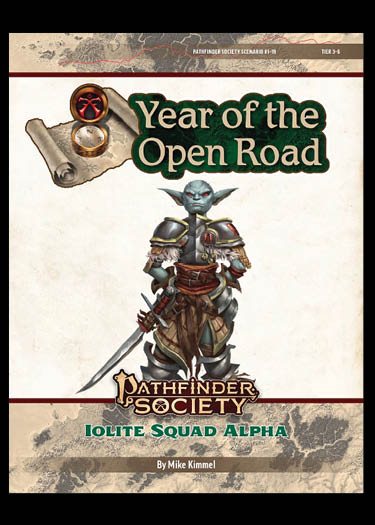 Levels: 3-6 Tags: None Location: Kaer Maga/Korvosa, Varisia
Keywords: Hobgoblin, Journey
Description: The newly formed hobgoblin nation of Oprak has reached out to the Pathfinder Society in the name of diplomacy. Mindful of the aid Oprak could provide against the threat of the Whispering Tyrant, the Society has dispatched the PCs to escort a trial squad of hobgoblin recruits and run them through some in-the-field Pathfinder training. Will the Iolite Squad be the first in a new wave of Pathfinders, or are Oprak's attempts at diplomacy doomed to go up in smoke?.
Review: This scenario gives us some fun NPCs and plenty of time to engage the PCs in some tom-foolery (or else you will end early). This will be especially enjoyed by stylish martial characters who like showing off their skills! Run this if you have the kind of group who enjoys explaining in vivid detail how they swing their sword or what shape and color their fireball is this month.
Time Considerations: You might end the scenario early if you don't stretch out the roleplay, so it's smart to bring along a quest or bounty to fill out the session.
Home-Game Integration:
X-Card Considerations: There are strong military themes. Spiders.
Additional Resources: GM Notes, GM Discussion Thread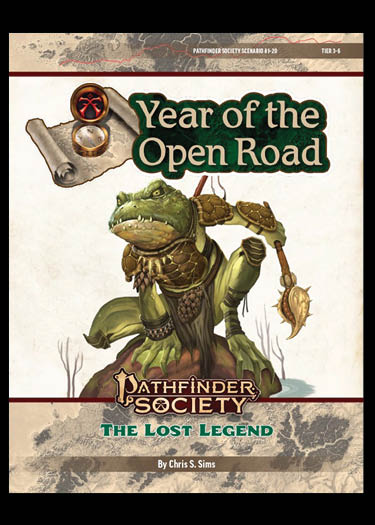 Levels: 3-6 Tags: Metaplot Location: Mwangi Expanse
Keywords: Boggards, Undead, Wilderness, Investigation, Journey
Description: The Pathfinder Society begins a perilous trek through the swamps and jungles of the Mwangi Expanse, searching for the location where the founding members of their organization formed the Open Road Pact. The clues the Pathfinders must follow are centuries old, however, and their best lead is the final logs of an ancient Pathfinder whose true fate may be markedly different than the world has been led to believe.
Home-Game Integration: This is best used as part of the seasonal metaplot.
Review: This is a great "metaplot" scenario that really helps tie together the story spun through year 1. It's a number of solid, challenging, but balanced encounters, split up with a fun investigation, that culminates in a memorable finale. I'd bring along some portraits for the NPCs in the investigation just to help get into character. Some PCs might have trouble with the flying Zephyr hawks, and the boggard's hazard will thoroughly punish any characters fool-hearty enough to charge into the water but I still think it was fun despite almost drowning.
Additional Resources: Illustrated Boon Cards, GM Discussion Thread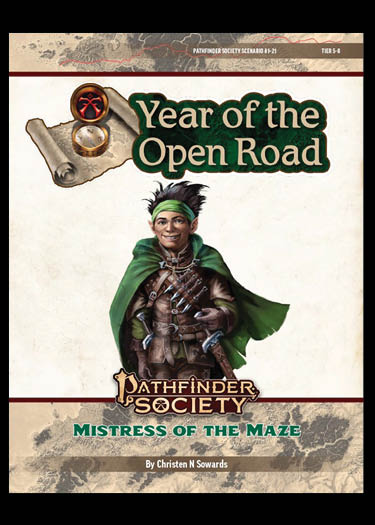 Levels: 5-8 Tags: None Location: Maze of the Open Road
Keywords: Outsiders, Intrigue, Investigation, Extraplanar, Escort
Description: Open Decemvirate member Eliza Petulengro is looking for a handful of intrepid Pathfinders to accompany her on an interdimensional journey throught the Maze of the Open Road! Eliza is traveling from the Grand Lodge in Absalom to the Woodsedge Lodge in Galt, but the Maze of the Open Road has become unstable and unpredictable in recent years. Eliza hopes that with help of her fellow Pathfinders, she can secure the road and prepare it for regular use by the Society once more.
Review: The best thing I can say is the challenges and locations are kind of exotic. Overall this feels like a hodgepodge of encounters against random outsiders that might actually tick off a player who ran Eyes of the Ten in Season 1 since it has almost no call-backs to that classic adventure. None of the fights are challenging. None of the puzzles are that engaging. The "twist" betrayal was so painfully obvious when we first met the NPC that we OOC decided to just secretly go along to make our GM feel better and not metagame.
Home-Game Integration: You could use this as a way to fast-travel from one side of the setting to another via the maze, but it's pretty Pathfinder integrated in terms of Lost Omens canon.
Time Considerations: This probably won't go over. Players could spend forever looking through the maze, but most of the sub-sections of the maze aren't fleshed out well enough to provide much interest, and Eliza will hurry the party along.
Additional Resources: Illustrated Boon Cards, GM Discussion Thread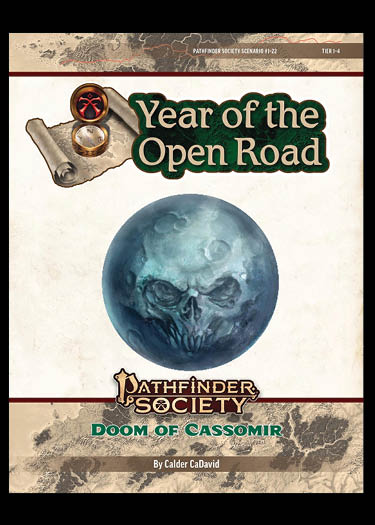 Levels: 1-4 Tags: None Location: Cassomir, Taldor
Keywords: Investigation, Urban, Intrigue
Description: Doom stalks the streets of Cassomir! The people of Admiral's Fen have long been doughty pioneers and sailors, but time and tribulations both natural and economic have worn down their spirits. Amid this widespread gloom and general depression, dark forces have begun pulling strings to begin a societal collapse that could take the entire city under. Venture-Captain Hestia Themis calls on her allies in the Pathfinder Society to try and help her unravel the twisting skeins of manipulation and deceit before Cassomir's final doom is assured.
Review: Moon! Groetus is a very popular deity. This has a fabulously integrated investigation mechanic. Using a map is highly recommended. There is a chance PCs will skip the first two encounters if they are good enough investigators, so you can gauge as time goes on how much extra time your group has for more in-depth roleplay.
Time Considerations: As with any investigation scenario, you could stretch this out if you wanted, but there are no reports of this taking longer than a standard scenario.
Additional Resources: Illustrated Boon Cards, Admiral's Fen Maps, Cultist's Pamphlet, GM Discussion Thread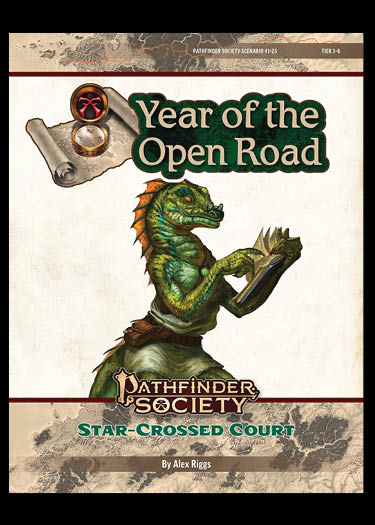 Levels: 3-6 Tags: Repeatable Location: Ekkeshikaar, Mwangi Expanse
Keywords: Intrigue, Investigation, Diplomacy, Ritual, Iruxi, Potentially Deadly(-ish)
Description: On an idyllic island of the western coast of Garund, the PCs arrive at the iruxi city of Ekkeshikaar. Seeking to establish new trade relations between the lizardfolk of Ekkeshikaar and the people of Vidrian, the Pathfinder Society must navigate a delicate political landscape while thwarting the efforts of nefarious forces who seek to stop the proposed alliance by any means necessary.
Review: The first encounter can be very challenging and many parties have fallen to it, but will likely not be deadly due to the intervention of the guards. But many players don't like losing encounters even if they aren't deadly, so consider your group's preferences. If you are worried it will spoil the evening, many GMs recommend saving this until the 6th level, since 6th level PCs will get that bonus against the incapacitation effect. The ritual is generally well-received and there is a great deal of good roleplay potential throughout the second half of the scenario. And iruxi are still really cool!
Home-Game Integration: Want to debate trade negotiations in an Iruxi country? Here ya go.
X-Card Considerations: There is some debate about "allowing outsider interference" that can get potentially political.
Additional Resources: Illustrated Boon Cards, GM Discussion Thread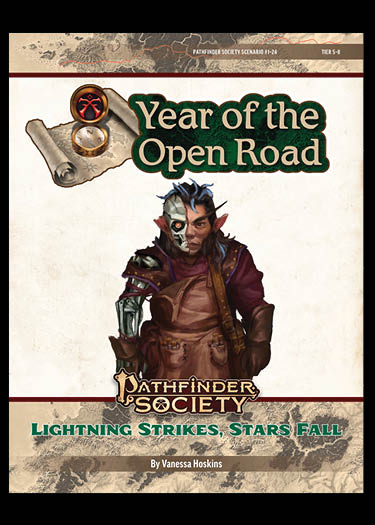 Levels: 5-8 Tags: None; Related: Quest 8 Location: Numeria
Keywords: Wilderness, Technology, Survival, Hazard, Journey
Description: The Pathfinder Society is called to action once more! Venture-Captain Dagur Hawksight needs a skilled group of experienced adventurers to scout ahead of a caravan crossing the Numerian wastes. Only the most skilled explorers can be entrusted with such a mission, for deadly pools of poison, fearsome mutants, and robots of all sizes are only the best-known dangers to plague the wastes. Lurking in the shadows, a gang of criminals armed with advanced technology seek to stop the PCs from completing their mission. Can the PCs overcome the many challenges before them, or will Hawksight's mission end in deadly failure?
Review: Numeria means technology! The final encounter is reportedly challenging, but the hardness/resistance mechanic falls apart to a critical hit. Keep the cover hidden from your players, as it spoils an awesome "twist"! Exploring the Numerian wilderness is a treat and the atmosphere in this scenario is superb. Pay attention to how the traveling is abstracted as it can be confusing the first time you read the scenario. The party should be fine if the party has a speed of 25ft and at least one PC who is decent at Survival. Or a certain travel spell from Gods & Magic…
Home-Game Integration: Very easy to integrate into an ongoing game. Good transition into a Numeria adventure.
Additional Resources: GM Discussion Thread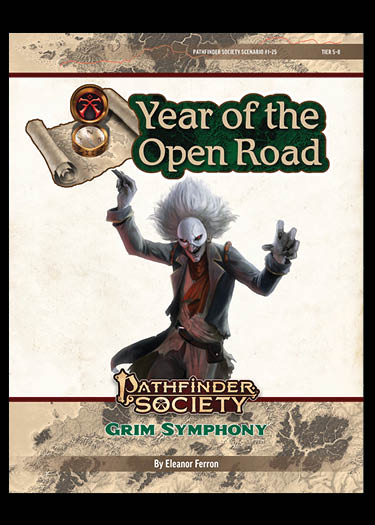 Levels: 5-8 Tags: Grand Archive Location: Ustalav
Keywords: Horror, Undead, Kitty!, Performance(ish), Dungeon, Potentially Deadly
Description: In the depths of Ustalav, a nefarious doctor conducts foul experiments on creatures both living and dead from his stolen abode in an ancient keep. Now, the parliament of citizens who own the land the keep is built on wish to be free of the grim shadow that waits just beyond their doorstep, and they've offered the Pathfinder Society the ancient library in the keep's vaults as payments for removing its current occupant. Will the Pathfinders liberate the keep and protect the townsfolk from the terrors lurking within its corridors, or will they join the ranks of the undead dancing to Dr. Velshen's grim symphony?
Review: You want a haunted house? You got a haunted house. This scenario is amazing! The atmosphere and level of detail crammed into this one scenario make it a thrill to play or run. Tons of classic "gothic horror" elements with an overarching theme of "music" throughout. This is perfect for GMs who want to play with music at their tables. Make sure you read the last encounter very carefully (especially the tactics during the first round of combat), and double-check how all the stairways and trap-doors connect to the lower level of the map since that can get tricky.
Home-Game Integration: Any campaign can use a spooky-mansion. I'd proudly use this in my home-game.
Time Considerations: It is possible to spend "too long" on purely cosmetic doo-dads in the adventure, and you might want the venture-captain to tell a group of PCs known for this sort of thing that it might be best to save some fiddling in the mansion for after you clear it of any threats if you are concerned about ending on time. I'd rather just save the scenario for a solid 4-hour slot.
X-Card Considerations: This is a horror adventure, so there are gruesome elements like the cat eating human flesh.
Additional Resources: Illustrated Boon Cards, GM Discussion Thread