Every week, Recall Knowledge recaps the Know Direction content of the past week, a preview of the Know Direction content of the week to come, and the director of operations, Ryan Costello, thoughts on the state of the network.
"This must be September. I never could get the hang of September."
The Know Direction Network.
On Wednesday, during the recording of the Know Direction podcast, we lost Perram twice due to Internet outage. By the third and final outage, we'd managed to basically finish the PF 2.KD segment. When called it quits on the recording, but not the episode given the news from PAX. We managed to find time on Friday during our lunch hours. That means we finished the recording, but now Perram needs to find time to edit.
You may have noticed that wasn't the only Know Direction content that went missing last week. Of the four podcasts and five articles schedule, only six items posted, three of which were late.
It happens. Our staff gets busy, distracted, burnt out. There are technical difficulties outside of our control. Content gets missed. But as the Director of Operations, that many issues in one week raises a flag. In this case, a familiar one.
Historically, the network struggles with September. Between Gen Con coverage and rushing to read and review the most important releases of the year, we burn the candles at both ends in August. By mid September, we burn out.
Last year, we found a solution that gave our staff a two-week break from blogging to refresh: Guest Blogger Takeover! For two weeks in October, we turned the site over to artists, freelancers, third party publishers, and members of the community to share their mind and share the spotlight. It was a blast to coordinate, and gave the site and the staff a change of pace.
We're bringing Guest Blogger Takeover back! Starting October 5th, our regular articles will be on hold, and our friends and members of the hobby we admire are invited to share their thoughts and insights with you, our loyal fans.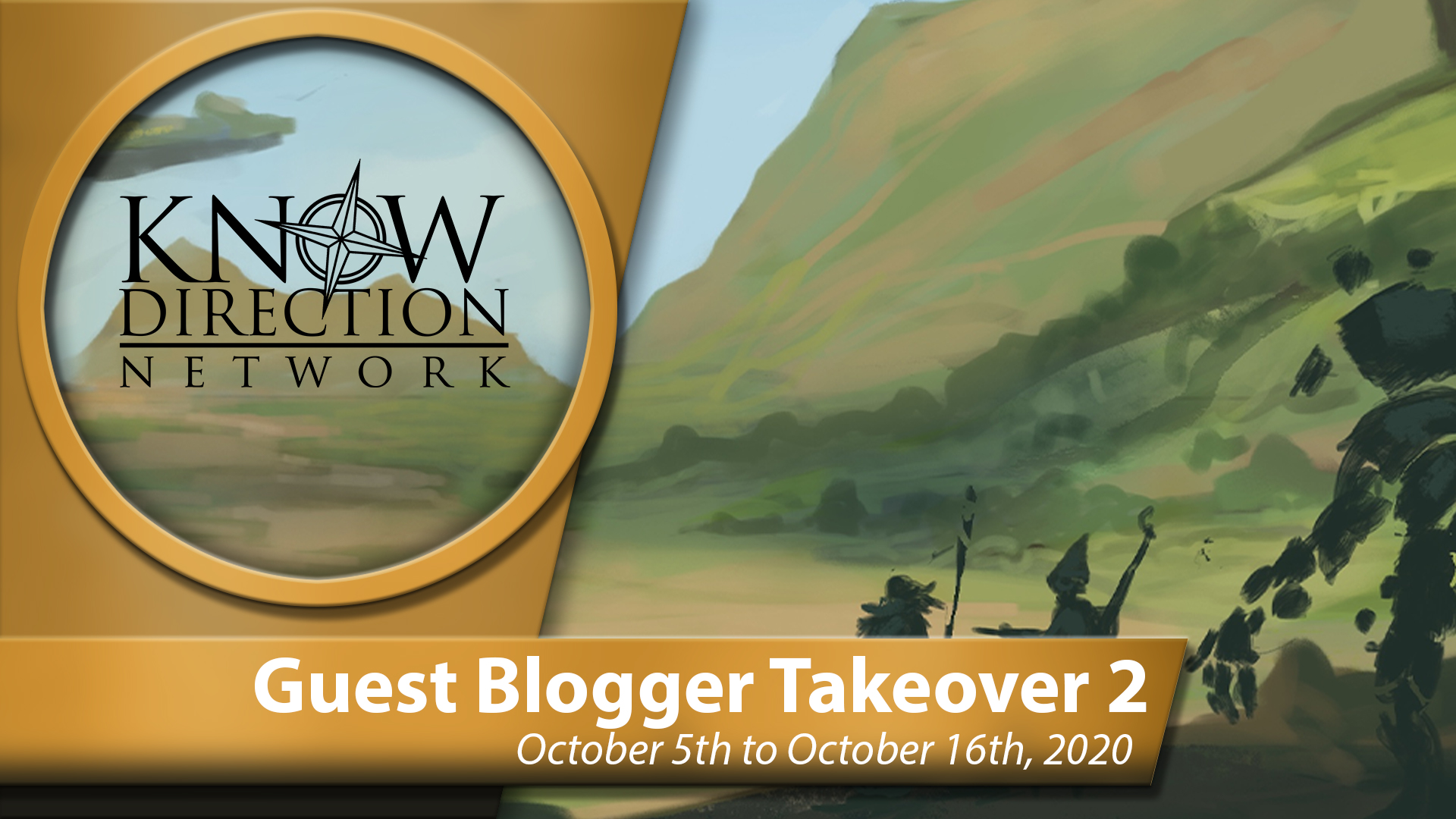 Until then, here is the Know Direction Network content from last week:
Recap of September 21st to October 2nd
What happened last week on knowdirectionpodcast.com and twitch.tv/knowdirection?
Monday, September 21st
Podcast
Stellar: 013 — Shopping and Bopping
Yay! Stellar's back! And it starts with a blast as the characters discuss how freaky belly buttons seem to giant rage bugs, laboratory bears, and six armed fuzzballs. 
Article
Recall Knowledge – September 14th to September 25th
I compliment Luis on recovery from a potentially catastrophic loss of audio for the first episode of Valiant.
Tuesday, September 22nd
Podcast
Digital Divination 013 – Toughest Fights
Ron surprised Jon with this topic. The conversation is a good combination of anecdotes about Starfinder games, and advice for threats to watch out for if you're a GM who doesn't want to kill their party.
Wednesday, September 23rd
Twitch
Know Direction Live – Pathfinder 2e Hacks and Houserules
TIL putting "hack" in an episode's title tempts the Internet fates.
Perram and I only managed to record the first segment of this episode live, where I think we presented some thought out and fun house rules to help line Pathfinder 2e up with what we find fun about RPGs. We recorded the news and shout outs Friday over our lunch breaks, which is why the episode did not post in its regular slot.
Article
Phantasmal Killer— Fight Your Mysteries!
By Crystal Frasier
This might be Crystal's most clever Phantasmal Killer yet. More obstacles in roleplaying games need stat blocks. The PCs already need to overcome them. Formatting non-combat obstacles like mysteries in a stat block gives a GM both a reference and a tool to run them. Love this idea.
Friday, September 25th
Podcast
I caught up on Intrepid Heroes! Up until this episode, which I still need to listen to. So close. 
Article
Bend the Knee – Setting Expectations
By Loren Sieg
The title may not say it, but this was Setting Expectations Part 1. Loren was even nervous if adding random charts to a question was going too far, but the answers we got showed how worth it the chart were.
Speaking of answers, I really enjoyed having David Barnhart from the Basics4Gamers YouTube channel participate. I've watched his videos but this was the first direct interaction I've had with David. It was nice to have an excuse to reach out.
Preview of September 28th to October 2nd
This is back to Block 1 of our 2-block schedule.
Monday, September 28th
Podcast
Adventurous 0045 –There's Gold In That There Valley
Remember how last episode I was worried was more planning than payoff? This episode is reveal after reveal! 
Article
Recall Knowledge – September 21st to October 2nd
What happened last week, and what's coming this week (if everything goes according to plans)!
Tuesday, September 29th
Patreon
Patron's Private Sanctum
When Perram lost his Internet, I went over to Discord for a solo Patron's Private Sanctum, reminiscent of the Chaos Cut of the Intrepid Heroes edition of Geek Together from earlier in the year.  And like in the Chaos Cut, Luis joins me at some point! Then a re-Interneted Perram joins! And we had fun.
That fun, as well as the Beta of the PF 2.KD rules!
Podcast
Legend Lore 012 – Bard
If you're a fan of Loren rants, you'll want to listen to this episode. Loren does not like bards. Also, I'm looking forward to The Bard Batman Test.
Article
Fox's Cunning by Dustin Knight
Wednesday, September 30th
Twitch
Know Direction Beyond Live – Attack of the Swarm and Threefold Conspiracy Backmatter
Podcast
John speaks with Legendary Games publisher and frequent Paizo freelancer Jason Nelson.
Article
Thursday, October 1st
Podcast
Article
Friday, October 2nd
Podcast
Know Direction Beyond – Attack of the Swarm and Threefold Conspiracy Backmatter
Article
Monstrous Physique by Luis Loza
Now you know,
Ryan Costello
Director of Operations – Know Direction Network