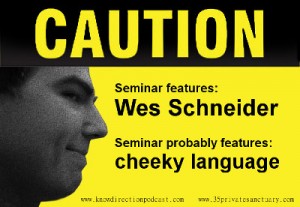 In an announcement that caught many of us here on the Know Direction network in shock F. Wesley Schneider, Editor-in-Chief at Paizo, has announced that he will be leaving Paizo for what he calls "exciting new opportunities." While many of the members of Paizo's staff are 'Friends of the Show,' that title has seldom been more true than with Wes. While we look forward to seeing where his career will bring him next, his guiding hand in Pathfinder will be well and truly missed. He has been a champion of diversity, quality, creativity, and imagination and the game will have been a lesser work without his influence.
He has graced us with his presence on the show more than any other guest. And while his uncompromising language often had us editing episodes late at night to maintain our PG rating, he has always been a joy to speak with.
Here are some of our more memorable times with Wes:
One of our earliest interviews with Wes, and one of the more important episodes for the network as a whole, Wes joined us to talk about homosexuality and diversity in Pathfinder and why it was so important. This would become a growing trend in his appearances and seminar recordings. This episode predates our video content, but you can listen to it here.
He also graced us with a guest blog post at the time that goes into greater detail on the subject, and is still relevant today: Private Companion – F. Wesley Scheider's take on homosexuality in Golarion
Wes returned to speak with us on Know Direction 82 to talk about the soon to be released book 'Inner Sea Gods.' You can listen to the audio version or catch the recording of the Google Hangout we did below.

One of the longest running seminar series that we record, Queer as a Three Sided Die, always featured Wes prominently as one of the strongest champions of diversity in the gaming industry. We  have every Q3D seminar recording hosted on our site, but a particular favorite is the one from 2014 you can watch below.
Horror in gaming was always one of Wes's favorite topics to talk about. He joined us on Private Sanctuary 206 to co-host an episode on how to get that horror flavor in your games. Still a great listen today.
And finally, our most recent interview with him was in Know Direction episode 152. Wes joins us to talk about his role in the ongoing Pathfinder Comics line, his love of Vampire Hunter D (and the source book he wrote for it), and his role as Editor-in-Chief at Paizo.

This is only a small sampling of the many times we've been lucky enough to have F. Wesley Schneider on the network, and you can find many more of them here.
Those wishing to continue to follow Wes's work should probably keep an eye on his professional blog, as well at check out his regular Twitch streaming and his Patreon.
Please keep an eye on the comment section of this post for personal thoughts from the staff here at Know Direction.
Wes, we wish you all the greatest success in your future endeavors, and to steal the tagline from one of our podcasts: You are always welcome in our Private Sanctuary.