Every week, Recall Knowledge recaps the Know Direction content of the past week, a preview of the Know Direction content of the week to come, and the director of operations, Ryan Costello, thoughts on the state of the network.
You can rewrite lost text, you can redraw a lost image, but you can't rerecord lost audio.
Being only 18 days (thanks Darran) away from PaizoCon Online 2021, May 28-31, I thought I'd reflect on PaizoCons past and how how Know Direction's role at PaizoCon evolved over the years. Starting with my first PaizoCon.
I first heard about PaizoCon in 2009. I spoke with Paizo staffers and members of the Pathfinder community for Pathfinder Month of 3.5 Private Sanctuary. I'd recently caught wind of the upcoming RPG, Pathfinder, and wanted to spotlight a new venture that had the same mission statement as our website.
After speaking with Hugo Solis for 3.5PS episode 78, and Liz Courts and Tim Nightengale for 3.5PS episode 81 (as well as my first interview with Jason Bulmahn), I learned that Pathfinder wasn't a new idea from a new company. I had no idea Paizo licensed the right to published Dragon and Dungeon magazines, and that the company had a loyal fanbase. So loyal, fans of the company threw them a convention.
Fascinated and feeling welcomed into a community by a gaming company at a time when Wizards of the Coast famously divided the D&D fandom I'd been a member in a series of videos that mocked me for my taste in their game, I made plans to attend the next PaizoCon.
Looking back, I'm impressed how prepared I was for the con. I bought a portable audio recorder, borrowed a friend's pocket video camera (again, 2010, so before my phone could do all of the above), and even commissioned the network's favourite artist, Alan Cooper, to create a custom t-shirt promoting my site (complete with visual pun).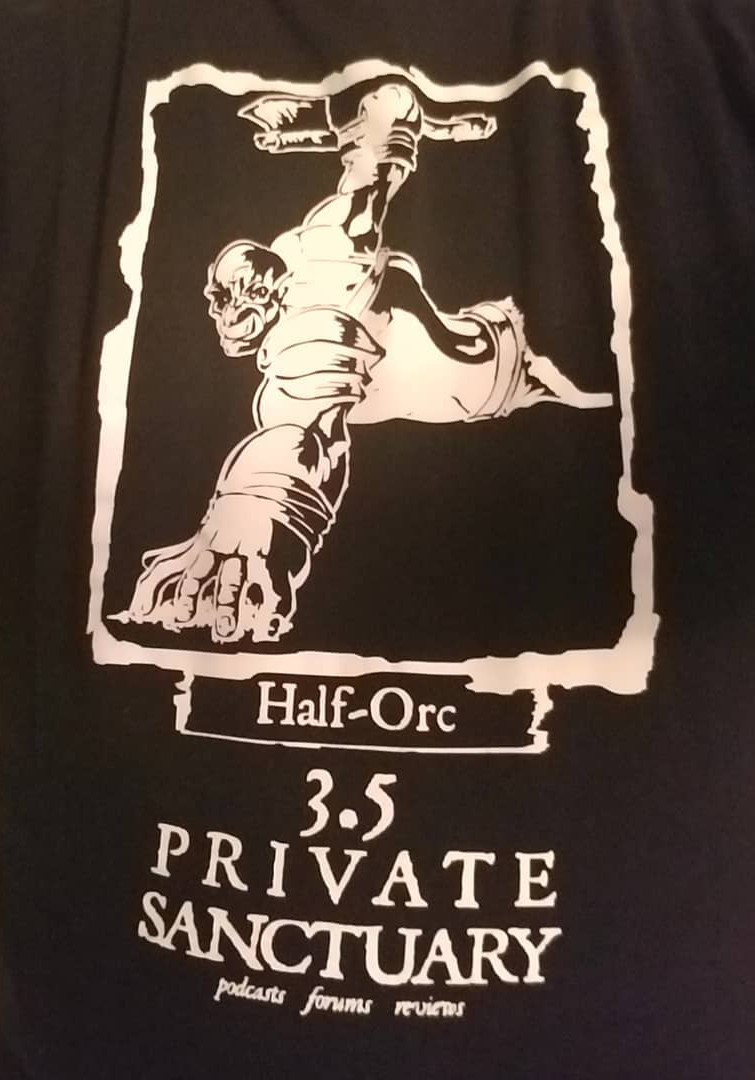 Thank goodness I did, because it enabled me to record many of the seminars I attended, and break the ice with Paizo staffers that I forged relationships that last to this day.
Sadly, I can't find the audio recordings from that first PaizoCon. But I do have a video montage of my PaizoCon 2010 experience (that's 3 minutes of content of the 7 minute run time, because I was new to this). I expected this to be a "don't look back at the stuff you created 10 years ago" moment, but I am actually glad for this video. So many faces I remember, and many I've gotten to know over the years that I didn't realize I had my first brush with at my first PaizoCon, when only a fraction of the network's content related to Paizo.
Speaking of network content, here's a recap of what you might have missed last week from the Know Direction Network:
Recap of May 3rd to May 7th
What happened last week on knowdirectionpodcast.com and twitch.tv/knowdirection?
Monday, May 3rd
Article
By Ryan Costello
I talked Adventurous taking a hiatus and plans that were underway to cover the gap. Those plans aren't ready to release yet, but I can say we recorded the first bit of content for the first KD Adventure series.
Tuesday, May 4th
Patreon
Getting to the Patron's Private Sanctum backlog, I decided to skip to the then latest recording, get that out, and focus on episode 18 later.
Podcast
In honour of Star Wars day and epic scenes like the Endor speeder dog fight, John and Ron talk about the Starfinder vehicle chase rules! OK, it had nothing specifically to do with Star Wars…
Wednesday, May 5th
Twitch
Designer Quinn Murphy and Tommy from the Black Dragon Gaming YouTube channel joined Perram and I to talk about gaming with smaller groups. The topic was interesting, but I most enjoyed bringing two new guests onto the show who are each influencing Pathfinder and the community with their contributions.
Podcast
Erica Hayes-Bouyouris is a major player in the evolving tabletop gaming space, someone I go out of my way to listen to when she guests on other podcasts. I'm thrilled that I didn't have to go out of my way this time, with Danielle, Ben, and Denice bringing her to the Know Direction Network via Game Design Unboxed.
Article
Randal needed a last minute replacement for his blog, and I've had "What if I brought Behind The Screens back" ideas floating in my head, so I took the opportunity to talk about what writing comics can teach us as GMs about describing our scenes efficiently.
Thursday, May 6th
Podcast
I didn't think about this going into the episode, but my first RPG experience was in a two-player group. This episode found its stride when we got past the introductions and starting bouncing off one another with our experiences with small groups.
Article
Andrew lied to us, everyone. He said he was creating an organization. It even says so in the title of this very article. Instead, Andrew's creating three organizations, each a take on a sci-fi corporation union.
Friday, May 7th
Podcast
As Ron Lundeen hands over the GMing reigns and John Godek retires his character, you might look at the title of the episode and predict what's going to happen to Murdox. You'll just have to listen yourself to find out if you're right.
Article
Hey, it's the return of Grint and Stingos, gnome taxi drivers, here to transport James Schwarz and Elizabeth Wilcox of The Dimension Door Podcast to whatever fantasy realm they want.
Preview of May 10th to May 14th
This is back to Block 1 of our 2-block schedule.
Monday, May 10th
Article
Don't just read about PaizoCon 2010, watch it!
Tuesday, May 11th
Podcast
With Luis off this episode, we release the character creation sessions I recorded with Meg the Dweeb, Stan!, Eleanor Langthorne, and Bryan Stiltz for the now classic Legend Lore One Shot series.
Article
Dustin offers expert insight and helpful tools to enhance your game.
Wednesday, May 12th
Twitch
Alex and James talk about building and using Starfinder NPCs.  
Podcast
John talks with Kobold Press publisher Wolfgang Baur. Kobold Press moved away from Pathfinder content, so the network hasn't caught up with Wolfgang in a while. I'm looking forward to hearing what's up with my first interview and one of my first publishers.
Article
Alex shares his thoughts and comments on topics getting attention in the RPG gaming community.
Thursday, May 13th
Podcast
Luis mentioned that for a few episodes starting with this one, he improvises everything as the Valiant heroes zagged when all his notes said "Zig".
Article
Rob shares what he loves about the RPGs he's been playing lately, and why you should check them out.
Friday, May 14th
Podcast
Check out the NPCs and the NPC crafting guidelines Alex and James come up with.
Article
Luis makes monsters!
Now you know,
Ryan Costello