I̮͙͝n̥̲̼͙̮̯͡ ̫t͟h̟̱͚̭̝̭̳ḙ́ ͇͜l҉̬̜͔̰a̢̜̗͚̮̱ṭ̦̮̬͝ͅe̗̩͓͎̱̺̘͝s̲̪̝̳͖t̵̼̪ ͈͔̹̠͍̤̠P̶̦͖̠̜̩a͈͎͢i̲nt͡ ̞͉2̫͈̦͘ ͏͎̖̞P̡̪̯̺̟͓͓͉l̙̀a̡̯͍̥̖̥̻y͙̬̪͕̩͓̳͠,̟̻͖͉ͅ ̥̥͟I̫ ͉͇̘f̲i͕̮̬̥̬͢n̤͕ͅa̙̣̠̹̺̙l͉̫͇͚l̩͉̼̲͢ͅy̹͍̼ ҉f̴͚i̗n̸͕i̩̩̳̖s̲̹̻͈̝h ̙̬̫̘͉ͅt̹͍̦̝̣́h̠̜͖̪ḛ̠̲ ̨̟R͖͖̳̘̝e̞̭͇͕̮͓a̩p̗͇e͕ͅr̖̖͖ ̹̩̯̬̹͕̕B̹̝͟o̮̲̖͚̻͉n̬̥̗͇̳̳̫e̠̭̼̲̝s̠̗̟ ͔̜͈͕̦͓C̻̦t̫̬h̲̟ṷ̧̼̱͎̥l̬̮̣ͅh̖̪̀u͚͚͞ ̟͕̠̥͕͍m̜̘̠̗̯͔̫iń͓̘̭͍͓̳͇i̷̪͔̭̝͔̙ͅa̫̥tu̶͇̙̯̲ͅŕ̞̠e͎̼̦̖ ̙̣ṯ̖̩̟̘h̜͖̳̮̤a̛̱t̤͕̪͙͈'̯͍́s̹̣͎̹̦̀ ̢̖̲̤̮͙b͡e͍̫͖̲̱e̸̘̬͖̩͚ͅn̬͠ ̳̦͙̹͉b̜̳͙͚̙̗͎a̯s̘͟e̻̱̟͍̝d̴̩̼̼̜̩ ̨̬̞̼͍̹̮̮o͉͖͠n̥̕ ͖̣̪͜m͇͓̗y҉̭͎̼ ̠͈͚s̼h̝̮̹̳̪ẹ̬̻̺͎̀l̵̼̣̙̻̯̟f̨̣̼ ̬̱̭̙̯̻ͅf͈o͙̩̮͇̪͕̝r̫̱̯͎͘ ̡̹f͓̺͖̼or̶̯̟̦̝ę̱v̩̜͖̲̟̙e̤̖͈̟͓̩r͚͞.̰͍͔̞͇ W̺͟h̭̤̬͞a̻t̘ ̶̺͚co̖̥͝u͍̙͚l̖d͉̩͓̺̖͎̩ ̗͎͉͎g̛̪̠͓͈o͍̥̦̘̰̹̬ ̧̼̫̳̭͎̬w̼͢ͅr̨̯̩͚͉̼o̗̹̺̤̖̳͜n̩̘̮͔g͙̀ͅ?̣̮̳̞͎̮͉
The Miniature
A line you should expect to see often in Paint 2 Play is "In 2012, I backed the original Reaper Bones Kickstarter." Even before Reaper redefined our expectations of the cost and quality of unpainted plastic miniatures, I had a few boxes of unpainted miniatures. Then that Kickstarter came, went, and delivered more miniature than I could expect to complete in a decade of at my painting rate back then. Almost 10 years later, and my painting rate has only decreased. Thanks to this blog, I have started to chip away at the backlog, starting with one of the biggest chips in that set: mightiest of the Great Old Ones itself, Cthulhu.
The last of the many stretch goals the $3 million campaign unlocked was a X" Cthulhu boxed set. Through Pathfinder, Paizo taught me basically everything I know about HP Lovecraft's work and Cthulhu specifically. I'm OK if that confession makes me look like the plebeian that I am. A tabletop game brought me to Cthulhu, and now I can bring a Cthulhu to the tabletop.
The Build
Originally I tried building a 2e Cthulhu. I used the Pathfinder 2e Monster Creator, and the monster creation rules presented in the Gamemastery Guide Monster and Hazard Creation, taking the 1e Cthulhu rules from Bestiary 4 and balancing it against the 2e tarrasque to update it.
Unfortunately, I quickly hit a design wall. 1e Cthulhu's ability scores in order of greatest to least are:  STR, CON, WIS, CHA, INT, DEX. However, my first draft using the monster generator calculated the following, almost reversed order: WIS, DEX, INT, CON, STR, CHA. When I contemplated just switching things around, I could not fathom the scope of the Jengaing involved in moving a stat here and there. 
I realized stating out a level 25 creature using monster creation rules I am more theoretically than practically experienced with, and with a design philosophy that runs counter to my instincts was biting off way more than I could chew. 
After quickly conferring with Luis, he agreed to handle Cthulhu monster rules and suggested I instead write a deity statblock for Cthulhu.
Most the information I needed was easily accessible in the Cthulhu entry on the Pathfinder Wiki. Surprisingly, only one of Cthulhu's 1e domains is in 2e, and only because the Void domain was introduced in Lost Omens – Gods & Magic. Chaos, Evil, and Madness all needed to be replaced.
Who Is This Mini Monster?
Cthulhu
The Dreamer in the Deep

CE demigod of cataclysms, dreams, and the stars
Divine Skill Occult
Domains delirium*, destruction, nightmares, void*
Cleric Spells 1st: grim tendrils, 4th: confusion, 6th: feeblemind
Edicts invoke nightmares, spread madness, perform prehistoric rites in dark places
Anathema ease sleeping minds, heal insane minds, openly discuss the Outer Gods with those outside the Old Cult
Favored Weapon dagger
Realm R'lyeh
Allies the Great Old Ones
Enemies living mortal
Temples stark, cyclopean, monolithic buildings isolated islands, shorelines, and underwater caverns
Worshippers Old Cults; half-insane artists, poets, and visionaries
Sacred Animal none
Sacred Colors black and blue
Divine Ability Intelligence or Wisdom
Alternate Domains void*
*Lost Omens – Gods & Magic
Painting the Miniature
My plans to paint this miniature started in 2017, according to this post I made on the Reaper Miniatures Facebook page.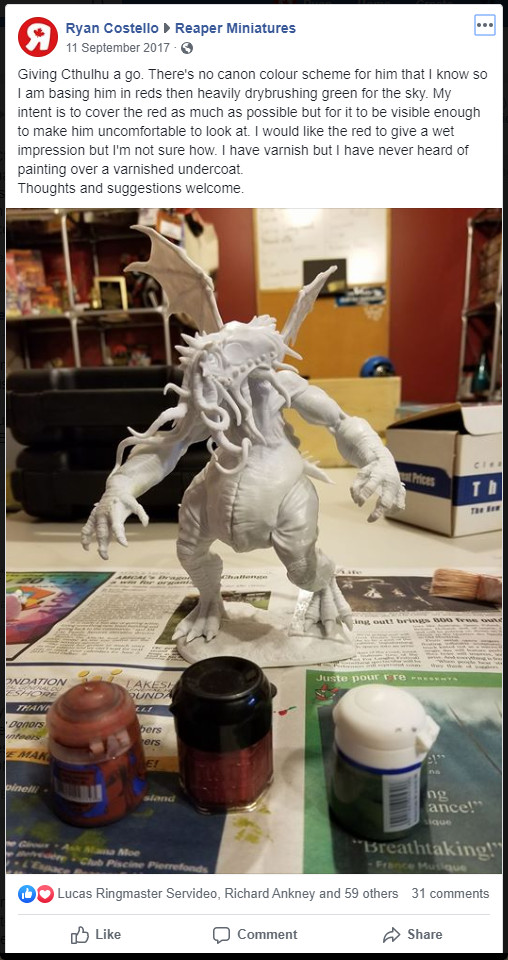 It's amazing that my idea can be completely thought out for two and a half years and yet I make no plan to move ahead with it.
About a month later, I basecoated Cthluhu a dark, sinewy red, which I was very happy with.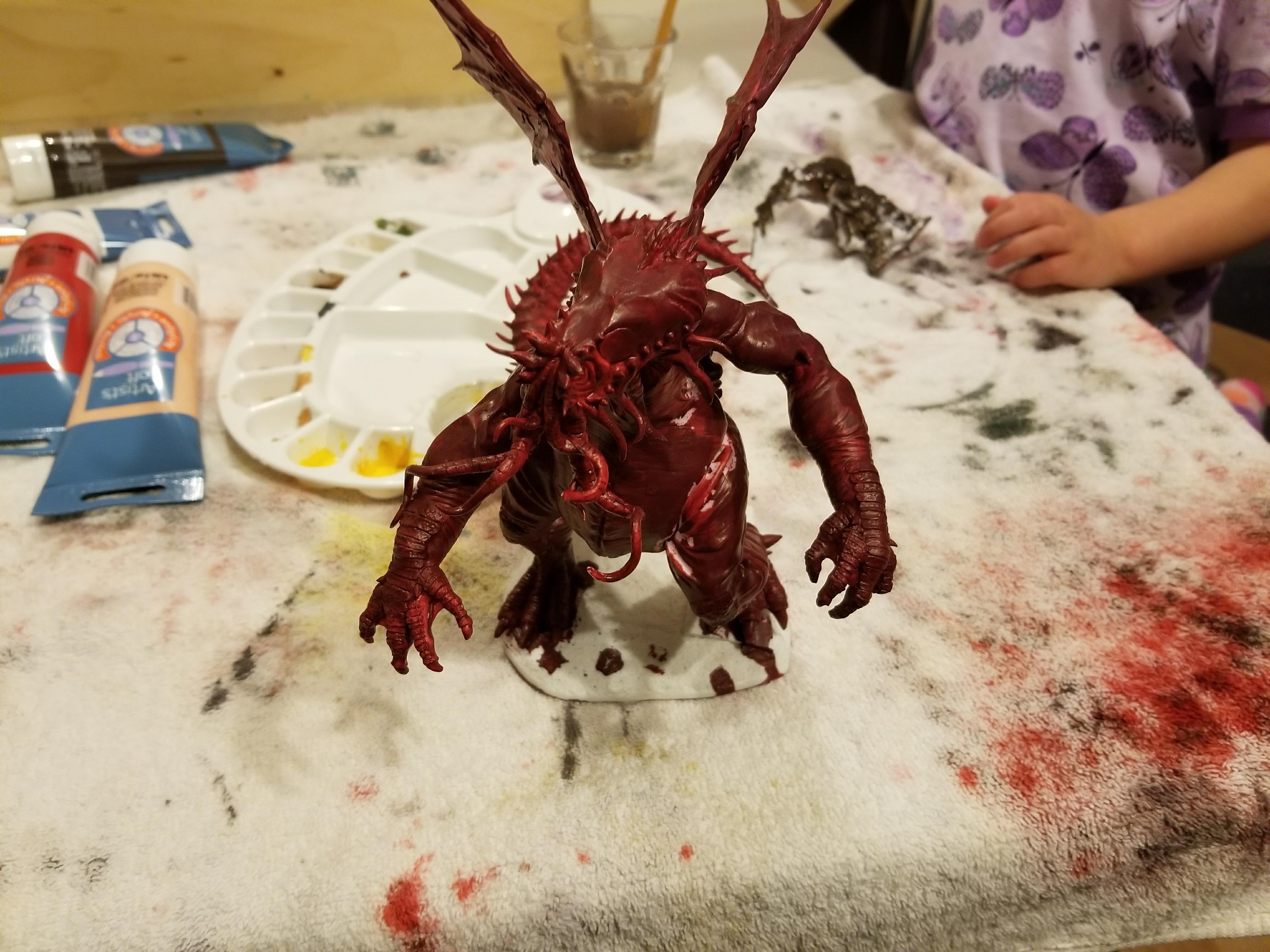 And that's how it sat on my shelf until this month. Part of it was that I really liked my red Cthluhu. It was basic, but still striking, and the combination of the detailed sculpt and how the red coat the light made the paint job look more elaborate than it was. I also was worried that my plans for a green drybrush over red would turn it into Cthlumas.
However, I am happy to say that I was able to mix a green that came off like an alien skin tone, and it contrasted the glossier red undercoat in a way that popped exactly as I envisioned it.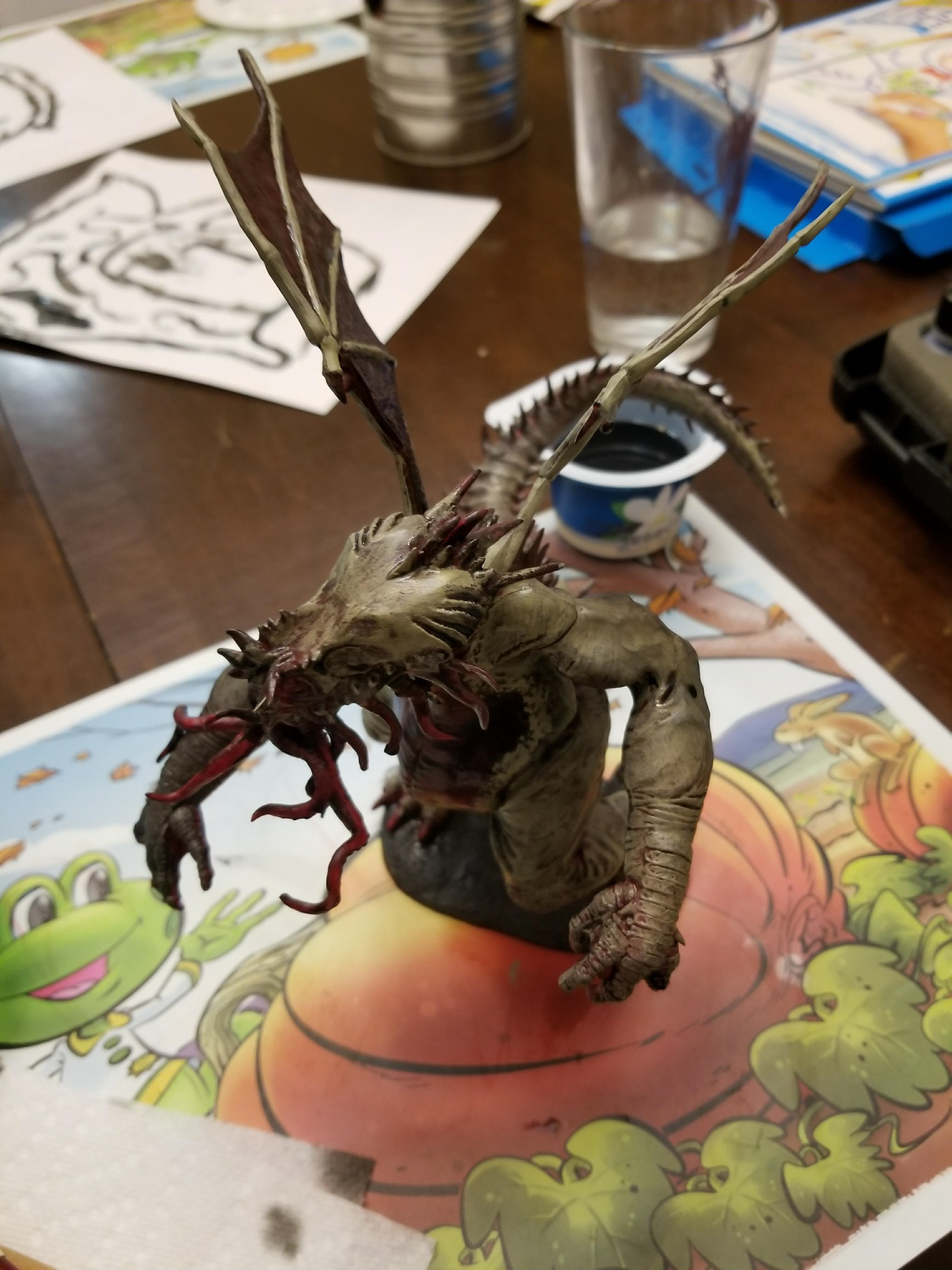 Because dry brushing creates a chalky texture, I mixed a black and red wash by mixing one part black paint, two parts red, and, like, a hundred parts water. I washed the areas that I'd drybrushed (everything but the belly, wings, and tentacles).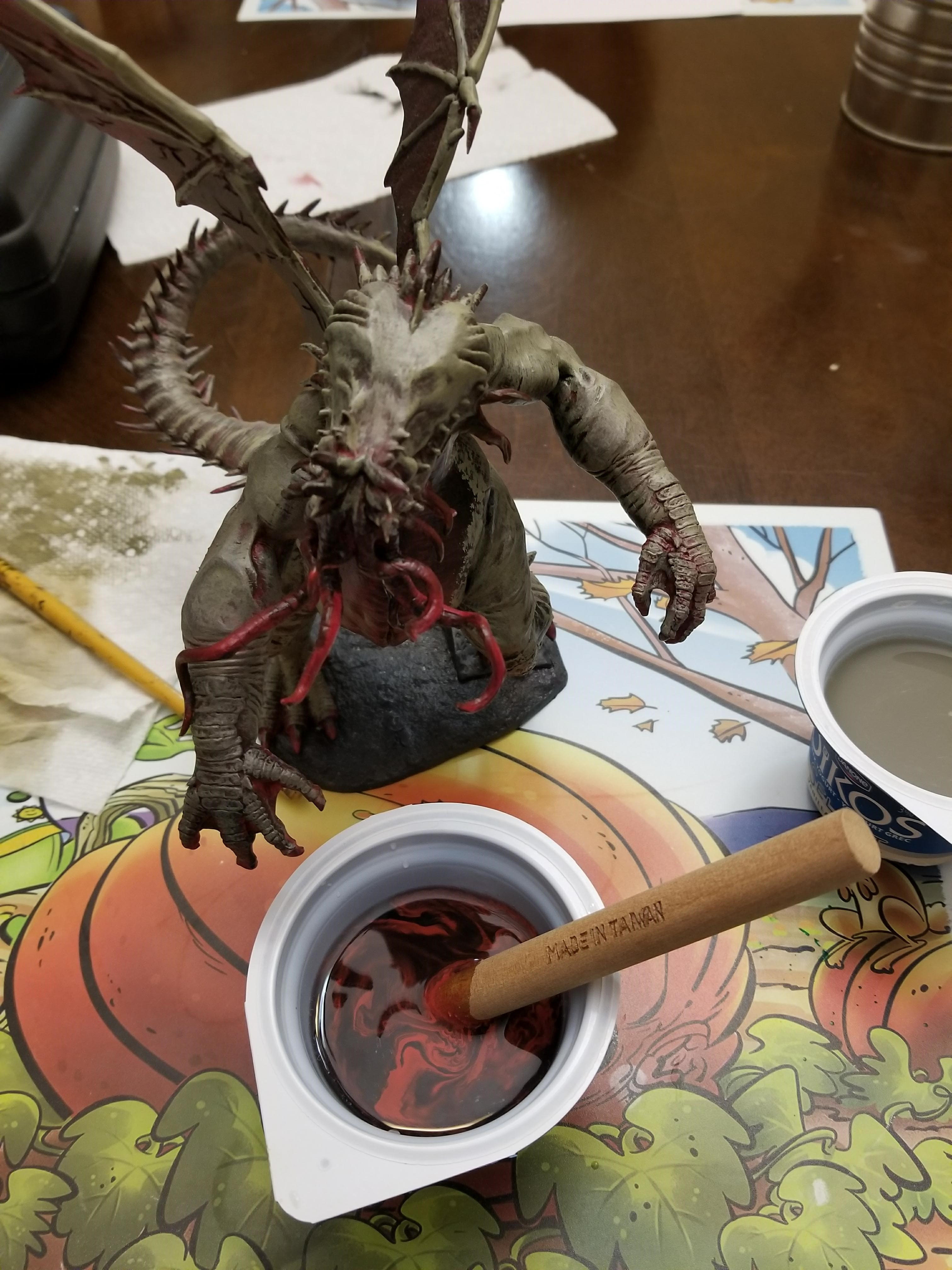 The effect was a more rubbery texture, like fish hide. I painted the eyes and claws, dry brushed back over the scaly armour on Cthulhu's hands and shins, and added pink to my green blend to create a transition from the green skin to the red belly.

It won't win any painting competitions and it could still use some brown to white blending on the nails, but I'd be happy to drop this on a tabletop, especially now that Luis has stated Cthulhu up for 2e.
A Few Last Notes
This was a super satisfying miniature to paint, and a nice pallet cleanser after the Hellknight Signifer (not Signifier, thanks Adam Daigle for pointing out my mistake) miniature from the last Paint 2 Play just didn't come together.
Also in contrast to the last Paint 2 Play, this time I had a clear vision for the paint scheme this time but loose plans for the mechanics. I ended up with a miniature I was happy with but had to settle on a back-up mechanical direction. Hopefully next time and going forward I am better able to marry the Paint and Play side of the miniature I'm working on.
Thanks to eeemo.net for the Zalgo Text Generator I used for the opening paragraph.