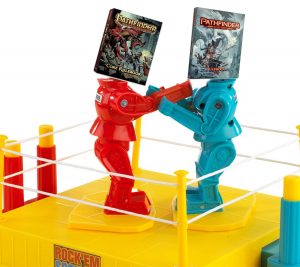 On March 6th, Paizo through the words of Jason Bulmahn dropped a not so unexpected piece of news on our community – Pathfinder 2.0.  After the success of Starfinder's streamlined rules system it was only a matter of time for Pathfinder to get a make over as well. The beginning of Paizo's playtesting coincides with GenCon 2018, so if you're on the fence about going to GenCon this year, this may be a decision maker for you.
Like so many other things in the gaming community, my thoughts on Pathfinder 2.0 don't revolve around whether or not monsters will be easier to make (which it sounds like they will be) or why using "ancestry" is far superior to "race" (well, that is right up my alley but it's a blog for a later date), my first thoughts were about how can I help my fellow gamers get through an edition change and the ever predictable edition war that will result. I'm already seeing the gnashing of teeth and angry comments, so clearly this blog comes to you not a moment too soon.
Pathfinder, 3.Paizo history
10 years ago Wizards of the Coast announced that they were going to release D&D 4.0 with little to no information about what 4.0 would look like or what their licensing would look like, so Paizo asked their fans what the fans wanted to do. They began playtesting and taking the feedback of the players to help craft a system that worked for everyone. The community came together and filled page after page of forums talking about the rules they liked, loved, and hated. Jason Bulmahn will tell you about how he started working from home to reduce his commute time to and from work to allow for more writing time if you buy him a drink at the next convention you find him. There are things in 3.Paizo – now known as Pathfinder – that are still rough and at least one mistake way in the back of the book that has carried down from D&D 1st ed to Pathfinder, I wonder if they'll fix it or carry it on as a legacy now, but ultimately games grow and as they mature, they need to be revised, which means new editions.
Surviving the Edition change
The time between 3.5 and Pathfinder was rough, it was ugly, there were a lot of people who left D&D or Paizo, depending on their opinions of the rules. I have personally never played D&D 4th ed and I'm not embarrassed or ashamed to say that it is only because of the way that WotC treated their loyal fan base in favor of a new, younger, and shiner fan base that they hoped they would attract. It was a difficult time and I fear that this upcoming edition change could be unpleasant – not because of anything Paizo has done or said, but because I know gamers.
The most important thing I can tell you and you can tell people that are upset about this announcement is you don't have to move to the new edition if you don't like it. It's that simple – you don't like Starfinder and you think you won't like Pathfinder 2.0? Don't buy the books, keep using what you have, there will probably still be 3PP who will publish stuff in that system. Paizo hopes you will like it and they're working on ways to ensure that, but this is something they feel they need to do and that's their choice. It has been 10 years since they rolled out 1st edition, they have stayed with 1st ed. much longer than many of us ever expected, but if you feel you just can't take it, please exit gracefully. Know that we'll miss you at the PFS tables but we can still be friends, we can still play other games together, and I hope you'll keep in touch, I know I love fan mail. Also, please don't send Paizo hate mail, don't attack their designers, developers, owners, warehouse crew, or anyone else at Paizo for that matter, they are a company doing business and attacking them for doing business that harms no one is in bad form from one person to another. Don't do it.
Piggybacking on that last part – don't be nasty to one another now, during the playtesting, or when 2.0 drops, everyone has an opinion and we don't have to agree with one another 100%, but it does help to be polite for the sake of good communication. This is going to be a heated time, gamers are surprisingly emotional about their games. It's not terribly surprising though, we invest a lot of time and money into our games. I personally spend anywhere from 4-40+ hours a week working on gaming, whether that's at the table gaming, researching and writing, or something else ancillary to my hobby, I average at least 12 hours a week immersed in games. Characters aren't just marks on a page or pixels on a screen, as we role play our characters, they become part of us, like a living Choose Your Own Adventure story. We are invested and protective of our investments, so remember that when someone is upset about a change in the rules that will close the door on a part of their life, it's upsetting and we all need to be a little more empathetic and generous with one another in the months to come.
Participate in the playtesting, it will help you to see the new possibilities and also weigh in on the parts that you do and don't like. This is an amazing opportunity to be part of the development of a game, seeing deeper into the pages and shown the working bits, to be allowed to ask why mechanics work this way instead of that. This level of transparency should excite anyone who wants to get into game design, because you're going to see all the moving pieces at some point and someone who does this professionally is going to give you their insight into why they chose they way they did. But also, keeping an eye on all of this will help you to figure out how to modify something you aren't excited about without breaking the game's overall balance.
Last, but not least, have fun and let others have fun too. You're playing a role playing game where you can be anything you want to be – an elf, a dwarf, a goblin, a ranger, a magic user, a gunslinger – no one is standing between you and your game. The gaming community has something to offer everyone, even people who don't look like you, think like you, or even agree with you, but no one has to make it unpleasant for the other person. If you aren't having fun, try to figure out how you can change that and if you see someone who should be having fun, try to figure out how you can help them to change that too. As always, if you have questions or suggestions, we're always here at Know Direction, ready to offer advice and suggestions. We have no special access to the new rules, but we have gathered what we know so far, so we'll all discover this at the same time. There is an FAQ at Paizo with a lot of information, I recommend you give it a read through. If you'd like to hear it in real play, check out Jason and Erik gaming with Glass Cannon.