Gen Con 2022 was phenomenal. While it was difficult (as it should be) to game the day away with fantasy and fun while Indiana debated the right to choose, I was thrilled to see people talking about it even as they caught up with old friends, tried new games, and otherwise invested a great deal into the convention and the surrounding businesses. It's the passion and friendly, welcoming community that so wowed me back in 2019. I was plenty hyped ahead of my trip and the convention made good on that hype while reinvigorating me with an energy I'd only gotten a taste of at PAX Unplugged 2021. I saw old friends, made new ones, played new games, and even met some people I've known for a couple years but hadn't yet met in person!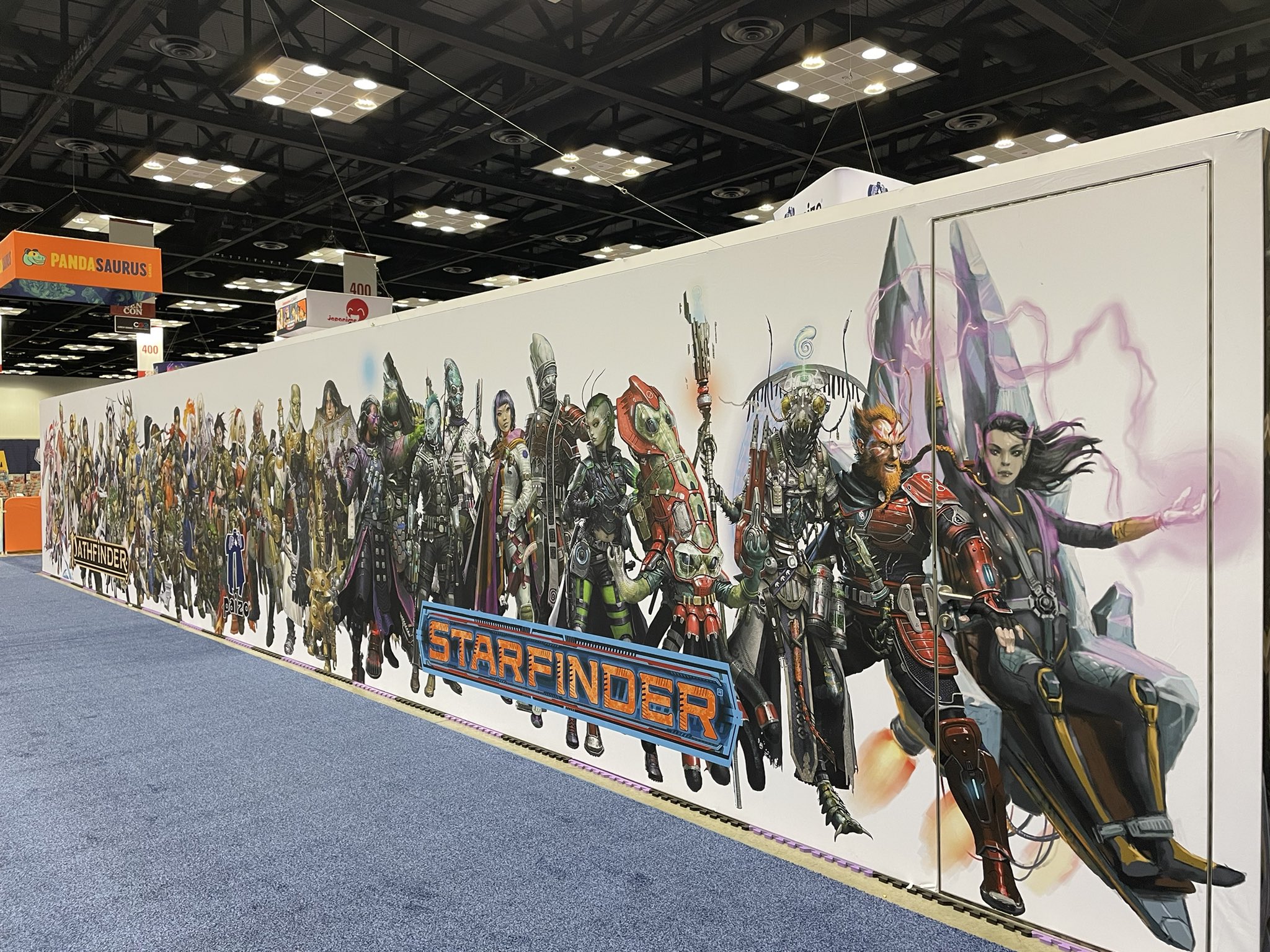 I arrived Wednesday evening, late unfortunately due to a flight delay and then having to change my plans because of missing my connection. I missed dinner with friends but still got into before it was too late for Wednesday night fun. A special shout out to all those who helped us have a good time over the course of Gen Con. Hotel, restaurant, Uber, Lyft, ICC and more staff: thank you! The Marriott Downtown staff worked hard and the bar staff were moving nonstop! I really appreciate despite how chaotic and busy it was that they help make it a great experience. I try to be considerate of that while out around, like the people paid to run/promote and get games tested in the one hall. I got to play the game made for the Luck movie that way. It was like Connect 4 but you had to buy the space in auction. A big portion of the luck involved was when wilds would come up and you'd get paid out money to buy spaces. It was great to try a few games, but I was eager to see some people and groups! I saw my friend Doug running Hero Quest for a group at the Avalon Hill (part of Hasbro) booth in the test hall. I'm so glad they got that game and re-released it. Dungeons and Dragons and Pathfinder are great but sometimes the board game simplicity of Hero Quest – let alone the nostalgia – is just a blast!
Come fight gargoyles with #HeroQuest in Hall D with #avalonhill here at #GenCon2022 pic.twitter.com/GFuHvRb1IC

— Rob Pontious ➡️PaxUnplugged (@silentinfinity) August 6, 2022
Syrinscape
Did you see the news from Syrinscape? That's sigh-ren-scape by the way. I'm pretty sure I've been corrected on my pronunciation before but I mess it up all the time. Here I am helping! Well the news is the new web player! It's purely online, web-based, no need for an application download. We in the web world call that SaaS or Software As A Service. Yes, yes, I nerded out big time for it and the implications for the future. It was a sincere privilege to be able to put out that press release and meet up with Dan Tharp, their marketing manager and fellow ENFJ. 
https://twitter.com/syrinscape/status/1559955718270201857
We're both thrilled that the new Syrinscape Web Player is an easier tool for the professional DMs/GMs/Storytellers out there to share music, sound effects, and ambience with their players. Let alone, a web platform is easier to run and participate in live games, one shots, etc. Are you a Pro DM hired to run a game for a family or group of friends across the world? Boom, link shared, everyone gets music! The fact that players don't need to log into anything (we call that gating in the web world) is great. And of course, cause I'm a programming dork, I asked about API docs and they are ready! I wonder why they'd need APIs, like to integrate with what… I'm not sure, but better follow them to be sure!
Roll for Combat & Battlezoo
As I mentioned I got to see friends I hadn't seen in years. I missed Stephen Glicker of Roll for Combat at PAX Unplugged (too much working in my hotel room during a Con), but I saw him numerous times! We talked Pathfinder, D&D, and most importantly we talked Battlezoo! Well, at Stephen's session we specifically talked Eldamon, the Strange And Unusual, and the Year of Monsters kickstarter! The kickstarter has the value of three books, let alone a Foundry module for 5E and Pathfinder2E. If you're a fan of pokemon, Eldamon are for you. If you like peculiar monsters invented by talented fans, Strange and Unusual is for you. The Year of Monsters is a new monster, playable as an ancestry for Pathfinder2E or race for D&D 5E! They'll come out once a month next year. I learned there's a Dungeon. A Dungeon. Aren't you just tired of heroes coming in and clearing you out of friendly, lively monsters and treasure? There's less unusual options coming too but you know, a whole Dungeon ancestry stuck out!  And did you see the Eldamon plushies?  So adorable!
https://twitter.com/RollForCombat/status/1555617526712877056
Another seminar got pretty busy as Stephen with special virtual guest Mark Seifter discussed RPG Superstar and making monsters including last year's winners which will appear in Strange And Unusual! They made particular focus of having a strong concept for the monster you make, especially if it's very low CR. Find something in a family of creatures or that might be fun despite being weak in combat! Perhaps it's just too cute to attack or it's the first form of a creature that gets stronger after a major transformation. The diction outside of the stat block is really important there, where more powerful monsters should have good descriptive and balanced abilities in the combat block. Bare in mind when you try making monsters for RPG Superstar there are guided templates, so watch for the next round starting soon!
Learning about #monster creation for #rpgsuperstar and #ttrpg with @RollForCombat.#GenCon2022 pic.twitter.com/tipjxudwXV

— Rob Pontious ➡️PaxUnplugged (@silentinfinity) August 6, 2022
The Gluttonous Geek
I did a very foolish thing and went to the Gluttonous Geek's seminar while hungry. She scolded me later to hurry up and go get a late lunch. But it was worth it! And as empty as my stomach was, the room was very full! I met Catherine via Gen Con Online in 2020 but here we were finally in person! She had a tremendous seminar discussing how to build a menu as part of world building while also considering how to prepare food (alone or with your group) for a game session. Many of her recipes are from the actual sourcebooks or literature, including a few Golarion recipes. I want some of that Desna Stardust Pilaf!
https://twitter.com/Gluttonous_Geek/status/1555969527900344321
Now I'm excited for PAX Unplugged. Catherine's putting together a seminar on what various monsters might taste like and recipes around such! Trapped in a dungeon? Ooze soup! What's that dragon taste like? I'm glad she's had time to put this together as she's been busy. Spelljamer is out and so is the Spelljammers Cookbook, filled with rules and delicious recipes alike! There's also the live kickstarter Fantasy Feasting that she contributed to. Oh it is also a 5E sourcebook but look how delicious the imagery is for the recipes within! I can't wait to see what she cooks up next! Get it, eh eh?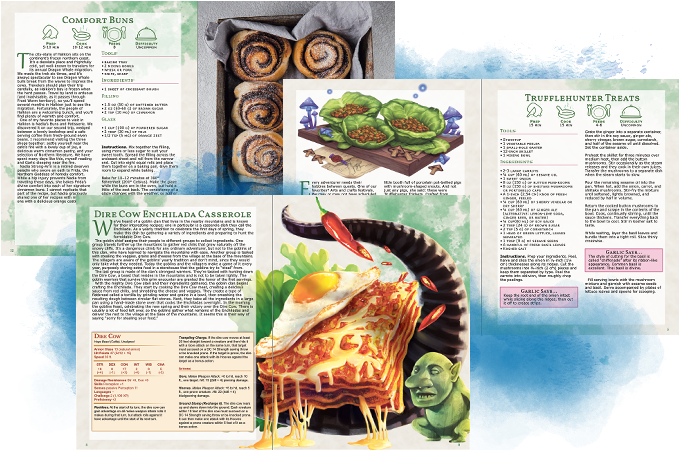 Galladoria Games
As it turns out, over in the entrepreneur business area was a Rhode Island based company! Galladoria Games is making 3D printed terrain! A former coworker from when I was at Best Buy long ago works there and one of the owners? The CEO of a company I worked for in downtown Providence, Kevin. It was their first Gen Con so I made sure to swing by, grab the adorable photo below and talk with them about their last kickstarter Factions of Galladoria. You can preorder any of the components for the wooden fortress through the kickstarter, otherwise a number of their other pieces are available on their site.

Paizo, Pathfinder, and Yoon!
Now of course I went by the Paizo booth and by booth, I mean new booth.  Check out that banner at the top!  All the iconics! I was thrilled to formally meet Aaron Shanks, Marketing Director, and my fellow castmate Jessica Redekop in person and chat with Adam Daigle and Luis Loza of all things Pathfinder. They're all quite kind and happy to chat with fans as you explore the booth! I met a couple new people too like James Case, who was brilliant and glowing as he stood near his recently led, recently released Dark Archive! If you haven't checked it out yet, what are you waiting for?!? The Psion is a must play at least once alone! Use the adventures within it for- Oh wait, I'm getting ahead of myself. I also got to meet Maryssa, who is the creative and charming content manager who's helping (along with the dev team) the amazing web treatments we're seeing for those product landing pages. Yes, hi, remember I said web nerd up above? I've been enamored with how the Paizo site has been evolving when they released new books. Or how about the Adventure Path page? Gorgeous right? 
Next summer from @paizo and #pathfinder2e: Rage of Elements! Air, earth, fire, water, metal, wood! Also new Kineticist playtest for this class starts Monday yall! Yoon, the iconic kineticist, is a teenager now!

Note this isn't the final cover but has the inspiration going! pic.twitter.com/9m2jMLA3ay

— Rob Pontious ➡️PaxUnplugged (@silentinfinity) August 4, 2022
Well of course Erik Mona was there too and he had the keynote shared online through twitch for everyone. There may have been some interesting things dropped about the next year, the highlight maybe being oh I don't know… Rage of Elements!?! Oh yeah, all four classic elemental planes plus Wood and Metal. Oh and Yoon, the iconic Kineticist, is back! And Paizo didn't want everyone to wait so of course the playtest (again, look at that beautiful page) was going to go live on Monday. Have you tried it yet? That's why I was saying, you can break out the Dark Archive and use the adventures within to playtest the Kineticist! The twitch chat went crazy and everyone on the con floor was talking about it. I'm so thrilled. You may recall I'm a bit of a Yoon fan. I've got my own Gom Gom (see below) I brought with me to meet Order of the Amber Die after all!
Thanks for all you posted and shared with me during Gen Con! I hope you enjoyed it and the online version as much as I did! Before you go, do you like the Gen Con Cardhalla title image? The Cardhalla is set up and then coins are thrown at it on Saturday night. This year, those coins were gathered and donated to the Patachou Foundation. Help bring food to those in need by donating to the Patachou Foundation. Much love and happy gaming!
Investing In:
I wasn't quite sure what to name my article series when I first started but the idea of showcasing or discussing things that make me excited, that I find new and interesting, or maybe I'm otherwise passionate about seemed to fit with the idea of Investing In something like the Pathfinder 2E mechanic. To use some magic items you have to give that little bit of yourself, which helps make these things even better. I like the metaphor of the community growing and being strengthened in the same way!
I also want to hear what you're Investing In! Leave me a comment below about what games, modules, systems, products, people, live streams, etc you enjoy! You can also hit me up on social media as silentinfinity. I want to hear what excites you and what you're passionate about. There's so much wonderful content, people, groups (I could go on) in this community of ours that the more we invest in and share, the better it becomes!
Sources
Banner – Gen Con cardhalla twitter image, Gen Con