"…we continue to surprise each other, get excited alongside each other, and genuinely look forward to seeing one another in the studio to play every time. While some aspects have adapted and changed over time, such as folks growing more attentive at the table compared to at home, and our adjustments to maintain a safe COVID gaming experience, the essence of our game really hasn't changed that much at all. To me, that's a huge success."1
Bidet! That was back in November of 2020 after COVID had shut Critical Role – and much of the world – down. Eventually they rose again playing far separated on their sets (thank you mics and ear buds). They also started pre-recording too so that there could be sound and video editing with the limited crew they could have. I was truly thankful to have the show back as it was a very pleasant, enjoyable, inspiring distraction during a very rough year.
That's actually in line with how I started watching Critical Role. I'm a Critter and I'm a Dwarven Forge fanatic; I call them my grown up legos. And as part of Gen Con 2018 as part of a sneak peak of their kickstarter we'd get to see a bit of forested terrain for the first time! So I tuned in to watch and you can too as it's up on Youtube. The cast playing Nate Taylor's adventure included founder of Dwarven Forge Stefan Pokorny (so friendly), the enchanting Satine Phoenix, Peter Adkinson (founder of Wizards of the Coast and now owner of Gen Con!), and some actor who played a werewolf or something named Joe Manganiello (huge D&D supporter!). I knew them and as it turned out I knew the two others by their voices: Matt Mercer and Liam O'Brien. I'd heard of Critical Role from my friend Rich (whom you may know of from many frequent mentions of trying new games) and after seeing them in action I knew I had to check out Critical Role. It had been a rough summer for me with changes both personal and professional. I found joy in their game, but also inspiration for my own as well as the literal entertainment value of watching these nerdy voice-actors play D&D!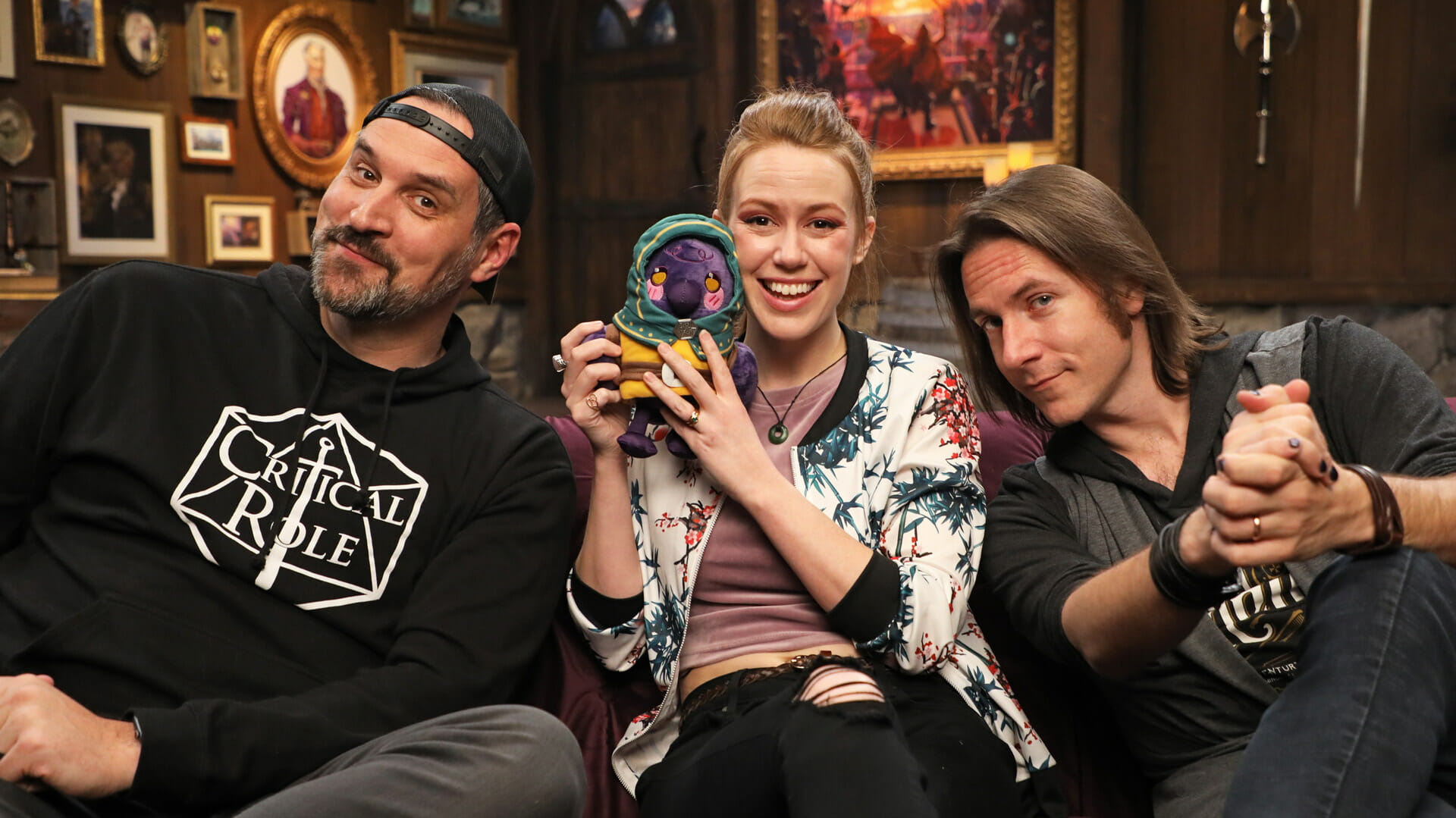 So I guess my title isn't accurate. I've really only been investing in Critical Role for 3.5 years but today the cast and crew are celebrating 7 years of sharing their games with us! I've picked up some clever DMing tricks as well as acting help by watching this crew. I picked up some knowledge of D&D 5.0 and now I'm even trying it out. You can listen to the podcast but I encourage the full show. There are so many fans that I'm still surprised to meet those in the TTRPG space who haven't heard of it. However, I do think that's changing. For those who don't know of Critical Role… Back in 2015 it was just a group of friends coming together to play a game. It continued beyond the birthday game it was meant to be. Felicia Day knew a few of the players and said hey let's get that out there on the internet for the people. They'd watch! And they did! Here they are today years later with an established company, a charitable foundation, an amazing Amazon-hosted Legend of Vox Machina cartoon after a widely successful kickstarter campaign ($11.4 million), and playing their 3rd campaign! They've also released a new adventure book – filled with lore – this week: Call of the Netherdeep! They're a busy group!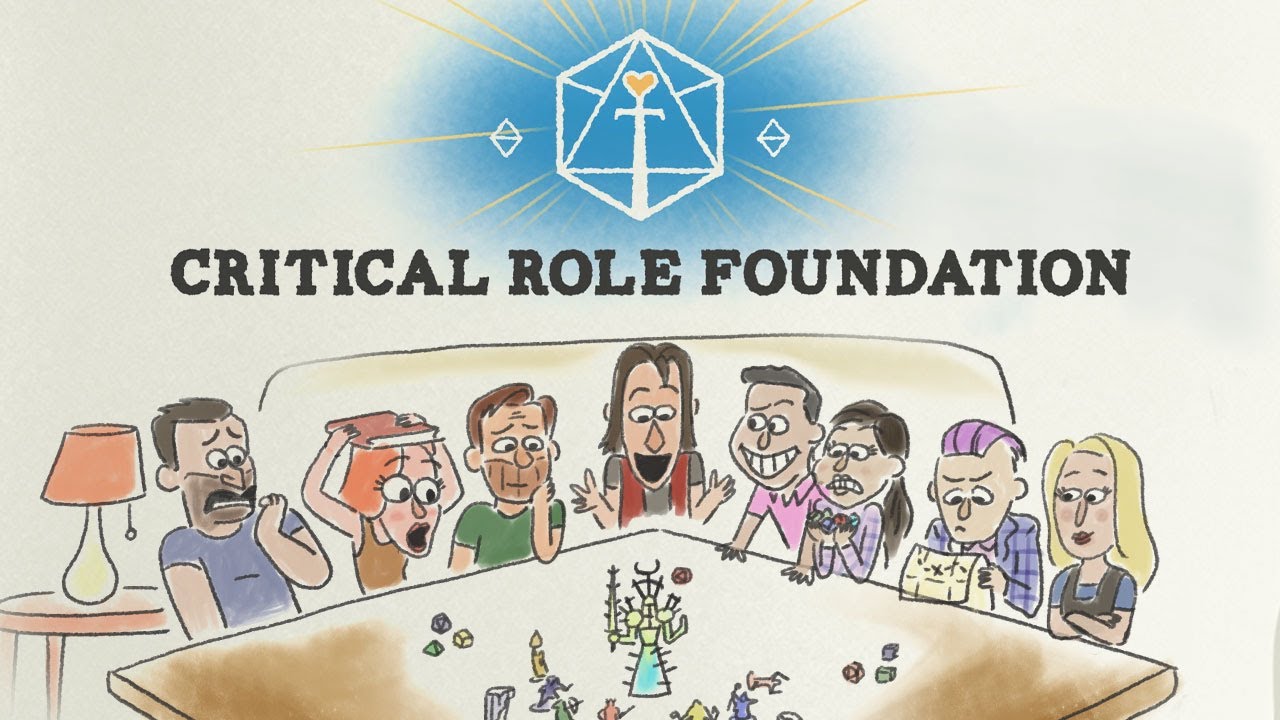 I want to talk more about the Critical Role Foundation because of what they started and what they're doing now. I'd immediately appreciated the fact that they championed issues, a positive community, and charitable giving back when I started watching. I'd seen them encourage giving toward OutRight based on their support of all sexualities and gender as well OSD to support our veterans wellness and community engagement. As COVID hit, it turned into something more formal and they've given over $25K supporting food and other needs there. The $160K raised last year for the Shanti Bhavan school in India is amazing. It means a lot to me to see a group that finds success turn that into something more than a profitable company, but also an engaging community that seeks to help and aid others. That outreach is a testament to the genuineness of this group. They've already given $20K out of their emergency giving fund to Ukraine support through Save the Children and World Central Kitchen. As part of this week of celebrating 7 years, yesterday they announced that First Nations and Shanti Bhavan will be part of their regular campaign giving!
I'd like to also make you aware of another charity activity for Ukraine right now called Roll for Ukraine. It's not associated with Critical Role but I know some of those (rock on Mark) who've aided and contributed to the activity. They made their target but you can still help give! I've known and worked with many individuals from Ukraine for over a decade and I'm constantly struggling with how can I help, how can I presume to be so arrogant to think I can fix such a terrible situation, but how can I help? We must do everything we can for these people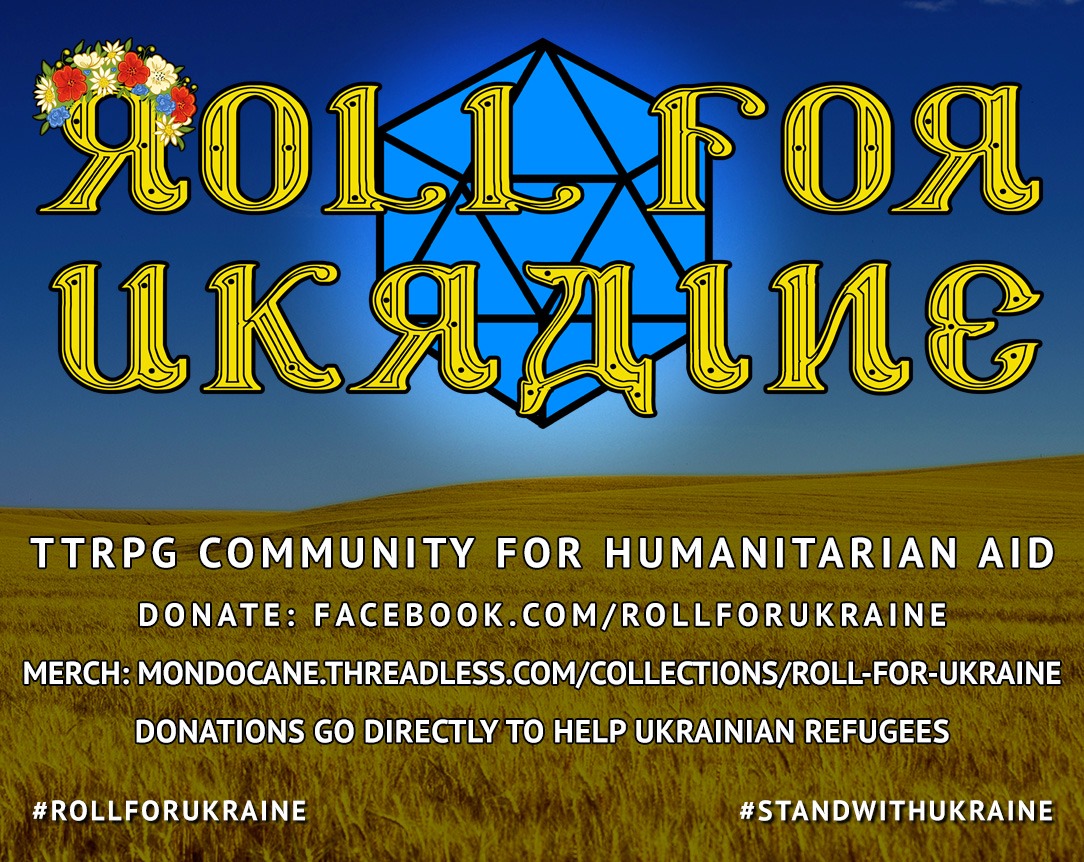 With the understanding we can't fix everything and sometimes we need that fun to help us destress, I'll encourage you to participate in your own gaming as well as Critical Role's 7 year anniversary week! They've planned a number of events and contests as well as having in-theater viewings of their Thursday night episode in theaters across the country as well as out of the country for the first time in Brazil! None are close enough for me, but if they were I'd certainly be there. At Gen Con 2019 I had the chance to go to the live game hosted offsite in a theater. I can not describe to you the incredibly welcoming and positive atmosphere, people, and energy. I talked to numerous parents who'd brought kids, people who'd only started gaming after catching the show, and people from all walks of life sharing stories, gifting each other pins and snacks… And of course the now cherished moment of the audience singing their new theme song back to them. You can not fake the emotional response, the tears on the cast and crew's faces. It was extremely endearing and incredibly moving. Also the game was hilarious and fun!
With all the community involvement and community building comes the gaming and from that gaming has come the Legend of Vox Machina on Amazon. I contributed to the kickstarter and so did over 80,000 people. If you haven't tuned in yet, then I suggest you watch. Although I will advise this is a Mature cartoon and meant for the mature teenagers and immature adults among us. It has nudity, raunchy jokes, blood, and some modern references but it has heart, gripping characterization, and a lot of TTRPG fantasy fun woven in. I think we've all considered what our game would look like in cartoon or movie form. I know it's a dream come true for this cast and never was it more evident than during a watch with us of the final season 1 episode. You can watch (spoilers) that below with a tweet from Tallsqual. He said it best: "You don't often have someone share their dream coming true so openly & fully…"
I highly encourage you to check out the Legend of Vox Machina and invest in Critical Role. It's the sort of inspirational entertainment and caring, successful people I want to see more of.
https://twitter.com/Tallsquall/status/1496677344609808392
Investing In:
I wasn't quite sure what to name my article series when I first started but the idea of showcasing or discussing things that make me excited, that I find new and interesting, or maybe I'm otherwise passionate about seemed to fit with the idea of Investing In something like the Pathfinder 2E mechanic. To use some magic items you have to give that little bit of yourself, which helps make these things even better. I like the metaphor of the community growing and being strengthened in the same way!
I also want to hear what you're Investing In! Leave me a comment below about what games, modules, systems, products, people, live streams, etc you enjoy! You can also hit me up on social media as silentinfinity. I want to hear what excites you and what you're passionate about. There's so much wonderful content, people, groups (I could go on) in this community of ours that the more we invest in and share, the better it becomes!
Sources
Banner – Critical Role logo, Critical Role