Every week, Recall Knowledge recaps the Know Direction content of the past week, a preview of the Know Direction content of the week to come, and the director of operations, Ryan Costello, thoughts on the state of the network.
"It" being PaizoCon Online 2021 coverage!
We're at the point in our fast paced world where PaizoCon Online 2021 feels like a million years ago, rather than the weekend before last. As such, it feels like I've been talking PaizoCon for over a million years. So, instead of hyping the content, I'll give a brief anecdote about a technological hurdle and then move on.
The DaT Network produced PaizoCon Online 2021, with Know Direction getting to relax as single-plate-spinning on air personalities. They ran a tight production, with almost two dozen flawless transitions. They did an amazing job, and this story doesn't reflect the quality of their work.
There were lag issues, as much as three seconds of difference between when the least laggy panelists spoke and the laggiest panelist heard. Three seconds doesn't sound like much? Next time you're having a conversation, count to three in your head before replying to any comments. When your friends starting asking if you're OK, you'll realize how long three seconds can be.
As the old saying goes, the first was the worst. During PaizoCon Online 2021 – Pre-Show with Know Direction, Perram and I stepped all over one another in our responses to Aaron's questions. Otherwise I felt we operated at 100% this year. As opposed to last year, when production and wrangling responsibilities overlapped with our hosting responsibilities. I got frustrated by how much "Sorry, no you go" bogged down our segments. So we fixed it.
During the Jason Keeley interview (available in a few days), I commented early on that Loren and I devised a system involving robots and mermaids. That wasn't a joke. Concurrent with the live streams, the KD Con Team had a group chat going on Discord. We tried to devise a non-intrusive system we could run during the interviews.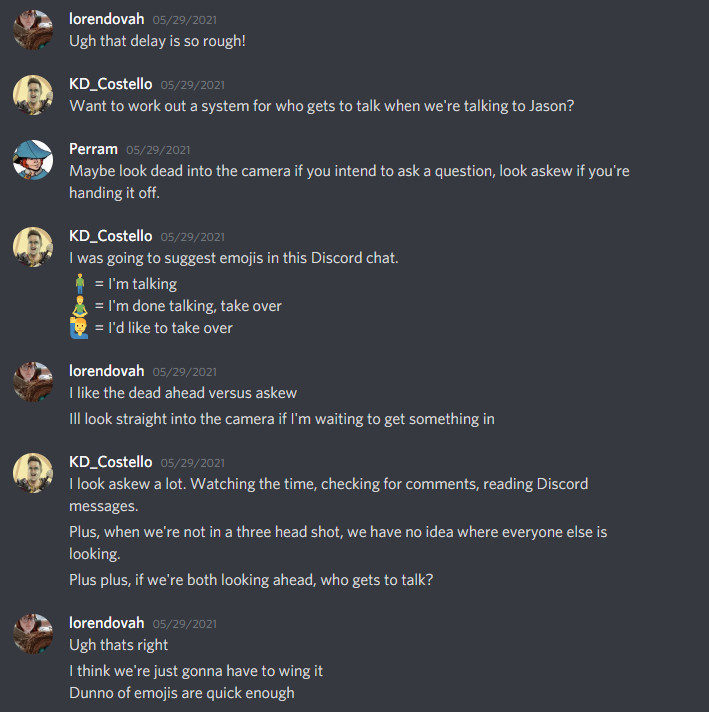 Loren thought it had too many moving parts. We settled on a unique emoji each to indicate when the other wanted to talk: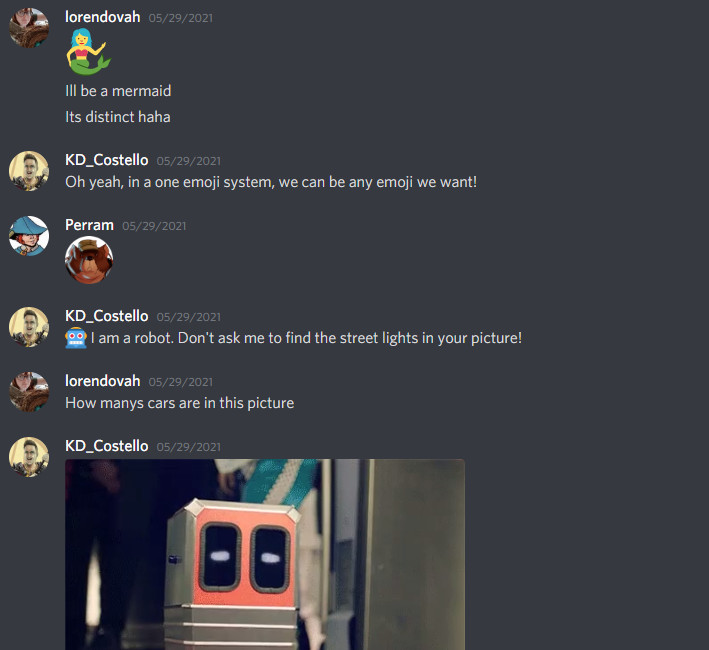 If you listen to our releases in order, you'll notice a decrease in talking over one another as of the Jason Keeley interview.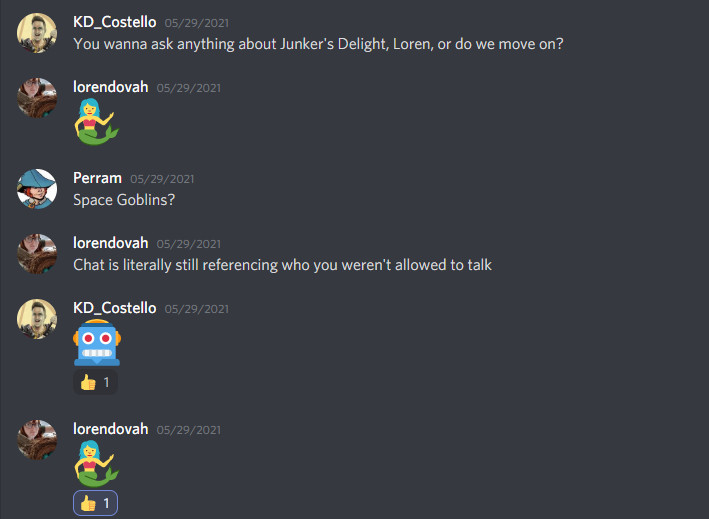 If you're a Patron, you already have access to all 20 episodes of our PaizoCon Online 2021 seminar coverage. Otherwise, we're releasing these to the site three per day weekdaily for the next week and a half.
Speaking of releases on the site, here's a recap of what you might have missed last week from the Know Direction Network:
Recap of May 31st to June 4th
What happened last week on knowdirectionpodcast.com and twitch.tv/knowdirection?
Monday, May 31st
Article
By Ryan Costello
I shared broad thoughts on PaizoCon Online 2021.
Tuesday, June 1st
Podcast
John and Ron also share broad thoughts on PaizoCon Online 2021.
Article
Andrew continues his series on rules and concepts that inspire his games and game design.
Wednesday, June 2nd
Twitch
Podcast
I was happy to appear on Game Design Unboxed to help cross promote with the network's black sheep podcast, but I didn't know how it would go. I certainly wasn't promoting Orphans & Ashes, a game I'm not even sure you could buy if you wanted it. But it ends up, Danielle and Denice had great questions about the game's design and development, and how I broke into the various jobs I had in the tabletop industry.
Article
I owe some credit for this article. First, I forgot that the idea came to me during our conversation with Quinn Murphy (Tommy from the Black Dragon Gaming was there too, but it was Quinn who inspired me), who had a best friend NPC as part of paragon mode. Second, I asked the staff for help mashing up BFF and NPC. It was Jessica Redekop who came up with Non-Player Besty.
Another note on this, shortly after writing the article, I watched the first episode of The Last Man On Earth. As soon as they referenced Cast Away and Tom Hanks talking to Wilson as a device to get into the character's head, I realized the direction I should have taken the article. Oh well. Any article with Squirrel Girl references is a win in my book.
Thursday, June 3rd
Podcast
Oh man, more PaizoCon content and more content featuring me? Hope this isn't as repetitive to read as it feels to write…
Nonat was an amazing guest. He had a lot to say, but he let Perram and I direct the conversation, which meant it felt like having an additional host rather than a guest. We got along really well, too. Given that he solos the conversations on his YouTube channel, I wasn't sure how well he played with others. Ends up, very well!
Friday, June 4th
Podcast
He investigation into potential saboteurs on the ship continues.
Article
By Loren Sieg
I love the premise of To Have and To Roll. Married couple Rane Zero and DaftProdigy make up the entire cast, with Rane Zero GMing, and DaftProdigy playing an entire party by herself.
Preview of June 7th to June 11th
This is back to Block 1 of our 2-block schedule.
Monday, June 7th
Article
PaizoCon Online 2021 coverage begins.
PaizoCon Online 2021 Seminars
PaizoCon Online 2021 – Pre-Show with Know Direction
PaizoCon Online 2021 – Keynote Address
PaizoCon Online 2021 – Galaxy Exploration Manual
Tuesday, June 8th
Podcast
Luis and Loren look at rangers, a classic RPG fantasy class with trouble fitting into Pathfinder 2e. 
Article
Dustin offers expert insight and helpful tools to enhance your game.
PaizoCon Online 2021 Seminars
PaizoCon Online 2021 – Joe Pasini
PaizoCon Online 2021 – Tournament of Champions
PaizoCon Online 2021 – Patrick Renie
Wednesday, June 9th
Twitch
Podcast
John talks with Kelly Pawlik of Dire Rugrat Publishing and freelancer for Kobold Press.
Article
Alex shares his thoughts and comments on topics getting attention in the RPG gaming community.
PaizoCon Online 2021 Seminars
PaizoCon Online 2021 – Secrets of Golarion
PaizoCon Online 2021 – Paizo's Beginning Years
PaizoCon Online 2021 – Secrets of Magic
Thursday, June 10th
Podcast
GM Luis Loza takes a ragtag band of adventurers, who happened to be a touch godly, through an original, homebrew creation set in Arcadia.
Article
Rob shares what he loves about the RPGs he's been playing lately, and why you should check them out.
PaizoCon Online 2021 Seminars
PaizoCon Online 2021 – Logan Bonner
PaizoCon Online 2021 – Starfinder Adventures
PaizoCon Online 2021 – Jason Keeley
Friday, June 11th
Podcast
The Beyond team breaks down this GEM of a Starfinder hardcover.
Article
Luis makes monsters!
PaizoCon Online 2021 Seminars
PaizoCon Online 2021 – Secrets of the Pact Worlds
PaizoCon Online 2021 – Sunday Pre-Show
PaizoCon Online 2021 – Art of Paizo
Now you know,
Ryan Costello