By the time you're reading this, PaizoCon Online 2021 starts tomorrow, Friday May 28th! While I hope to attend in person next year, I'm thrilled that we still get that Pathfinder focused content this weekend! The news drops, the teased content, the insights to all that's coming, the games, the interviews… While my heart desperately beats faster for the forthcoming Lost Omens: Mwangi Expanse sourcebook coming this July – but who's counting down – in the meantime there's a plethora to learn, do, and explore this weekend!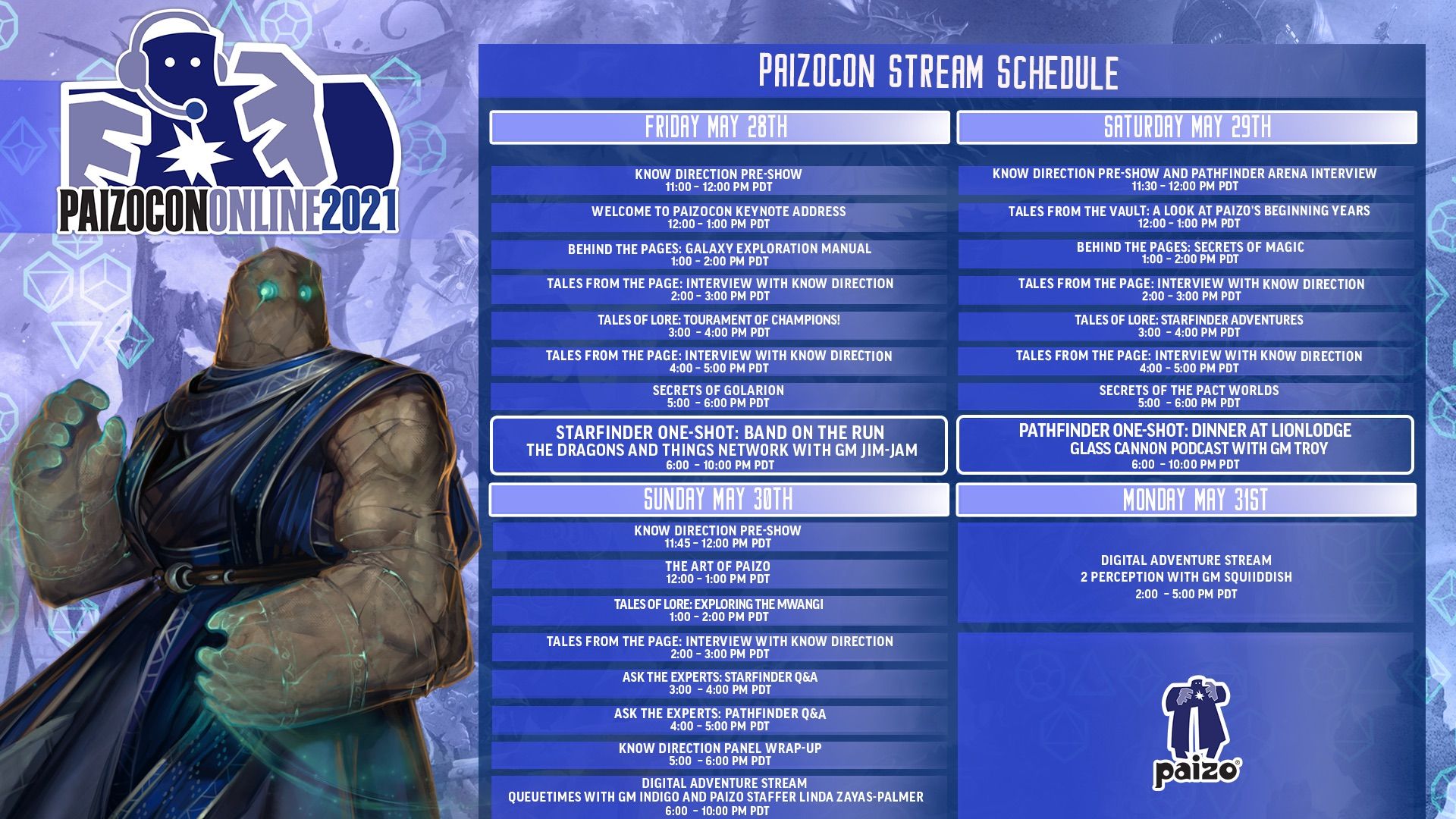 There's plenty of games to be played this weekend, which you can sign up for on Warhorn and of course win cool prizes and chat on Paizo's Discord. I'm keyed into learning all I can from the showcases and seminars. Last week the Events schedule was announced with our own Know Direction staff hosting on Twitch with the amazing manager of both marketing and media, Aaron Shanks. I myself am not helping host, but I'll certainly be in attendance. Note that all times presented are in Pacific Daylight Time (GMT-7) on Paizo's Twitch channel. Set those alarms now!
I'm excited to get things started with Aaron, Ryan, Perram, and Loren before the keynote with President Jeff Alvarez, Erik Mona, and the Organized Play Manager Tonya Woldridge. I'll be watching Twitch all day, but I've particular interest in the Secrets of Golarion seminar from 5-6 p.m. PDT (so 8-9 EDT). I'm a rich history, character, geography Lost Omens fanatic so a chance to see behind the scenes, what's going on across Golarion, and what we'll soon see coming! The fact they've pledged to answer some questions is especially exciting to me. Honestly, the questions they don't answer are quite fun too. Where are you Aroden? What happened to you? Is that you hanging behind Pharasma's throne?!? Friday night has a Starfinder one-shot with The Dragons & Things Network: Band on the Run by Luiz Loza! I love that it's purposely planned to be a game run in a single session at home or online.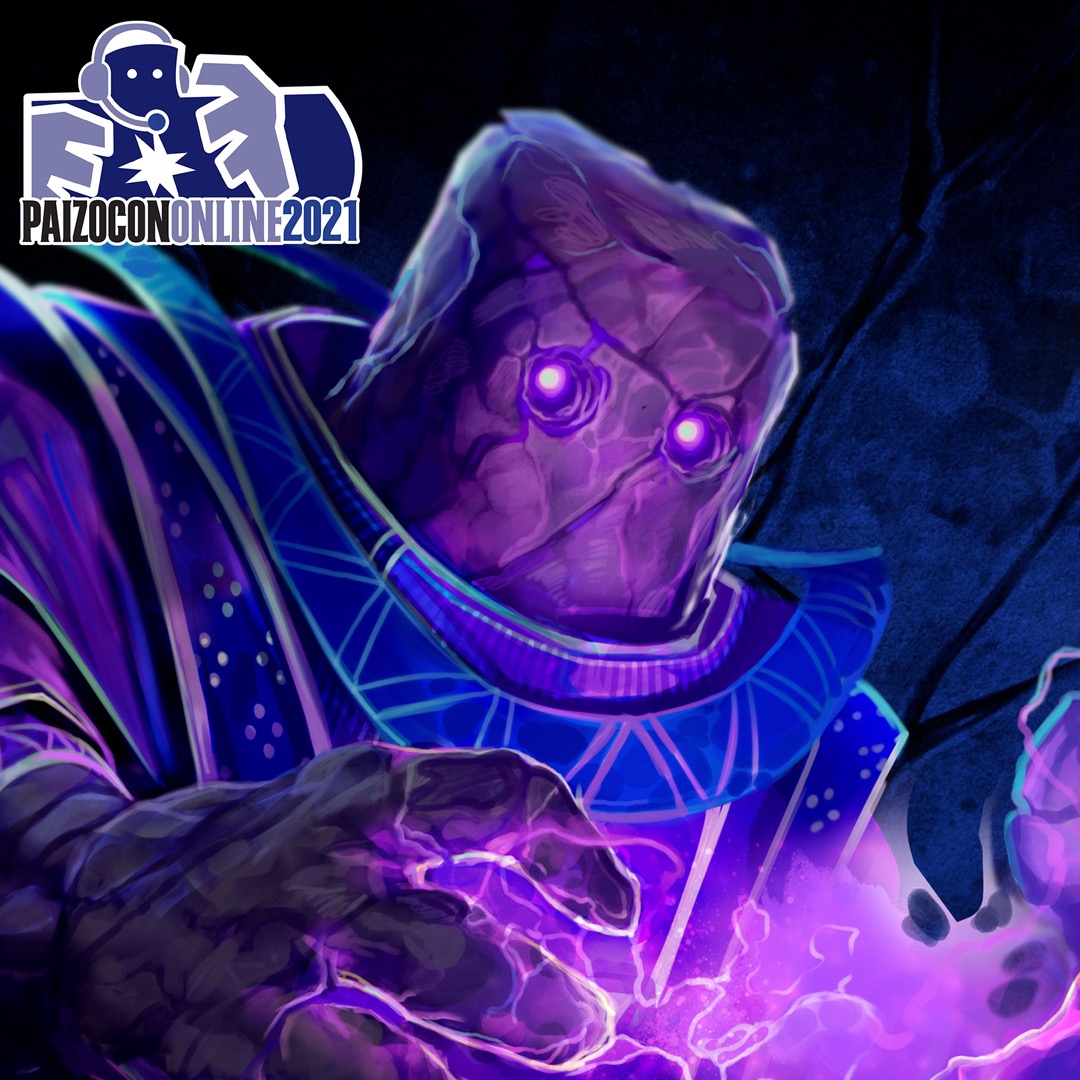 Saturday I'll be excited to see the crunchy, mystical goodness of the Secrets of Magic seminar with Logan Bonner and Mark Seifter. New reveals they say! Summoner update please! One of my players is using the Summoner and I'm thrilled to see what comes of it! That seminar is followed too by Perram and Loren talking with Logan. Is it wrong to try and seed some questions? Probably, but if I think real hard and they get asked, then it's pure coincidence and definitely not occult magic. There's more secrets that night too with Secrets of the Pact Worlds for all your Starfinder pleasure. Unpublished conspiracies is an interesting promise as is the prompt to "Bring your setting questions to this often too-honest Q&A!" Right after is a Glass Cannon Podcast of a Pathfinder one-shot: Dinner at Lionlodge by James Jacobs. Again it's crafted for a single session and easy to bring to the table with friends and family or online!
I'll be there at the beginning Sunday for the Art of Paizo! You might also consider helping artist Kent Hamilton with the Design a Creature event as part of that stream on Sunday, 12 noon Pacific. He needs some direction for what he'll be creating. To help get him started, Paizo posted to their blog about a survey they need you to fill out here! I won't tell you how I answered exactly, but let's just say you might get frozen before you see it flying through its smokey, outer realm.
Right after we get more Mwangi Expanse with details of the Lost Omens Mwangi Expanse book and Strength of Thousands, a Mwangi-focused adventure path! Ryan and Perram follow that up with Eleanor Ferron – author, developer, artist – who heavily contributes to the Lost Omens setting guides along with Luis! Yes, you are correct. I'm very excited for those two hours in particular!

Spend some time investing in PaizoCon this weekend! These seminars await you and more! Also if you didn't register for any games but want to, don't worry, you can still join in on a "walk-up" basis! Watch closely on the PaizoCon Discord for openings while you chat of all the amazing things being revealed on Twitch. Remember too to encourage, support, and have fun with the entire Pathfinder community and thank those staff, authors, artists, and friends all working to provide this convention! Thanks to all who've helped making gaming a fundamental part of our lives online this past year! Here's to kicking off the summer with more Pathfinder!
Investing In:
I wasn't quite sure what to name my article series when I first started but the idea of showcasing or discussing things that make me excited, that I find new and interesting, or maybe I'm otherwise passionate about seemed to fit with the idea of Investing In something like the Pathfinder 2E mechanic. To use some magic items you have to give that little bit of yourself, which helps make these things even better. I like the metaphor of the community growing and being strengthened in the same way!
I also want to hear what you're Investing In! Leave me a comment below about what games, modules, systems, products, people, live streams, etc you enjoy! You can also hit me up on social media as silentinfinity. I want to hear what excites you and what you're passionate about. There's so much wonderful content, people, groups (I could go on) in this community of ours that the more we invest in and share, the better it becomes!
Sources
Banner – PaizoCon Online 2021 logo, Paizo
PaizoCon Online Preview

, Paizo

Magaambya by

Tomasz Chistowski

, Paizo