Every week, Recall Knowledge recaps the Know Direction content of the past week, a preview of the Know Direction content of the week to come, and the director of operations, Ryan Costello, thoughts on the state of the network.
I don't remember if this was said on the air or during setup for the Know Direction PrepzoCon Special, but Vanessa quoted Alan Emrich, a professor of hers from when she was studying video game design, as saying "You can make games, you can play games, or you can have a life. You only get to choose two."
Next week is PaizoCon Online 2020. For some of us, that means we are working, as many Know Direction staffers are forming the KD Con Team once again to bring you live seminar coverage. For others, that means playing, as there is a plethora of online games many of us are running or sitting at. For a select few, that means both. Those who aren't doing both have too many life commitments to double down on PaizoCon this year. As one of the later, I accept that I'm not getting to game much next week. We all only get to choose two.
What we don't want to do is have to choose two between working PaizoCon, playing at PaizoCon, having a life, and fulfilling their regular network commitments. We may have more eyes on the network thanks to the exposure we get partnering with Paizo to bring you the PaizoCon Online 2020 seminar coverage, but anything we release next week is competing with PaizoCon for the attention of our audience.
There will be no regularly scheduled Know Direction articles this week, May 25th to 29th. Everything that was scheduled for this week is being put off by a week, meaning the week of June 1st, you'll get Stellar, Digital Divination,Know Direction, and Intrepid Heroes episodes, and Burst of Insight, Fox's Cunning, Something Creates, and Bend the Knee articles. Next week, you'll get a week to spend at PaizoCon Online 2020.
If you're still looking for content, here's a recap of what you might have missed last week from the Know Direction Network:
Recap of May 18th to May 22nd
What happened last week on knowdirectionpodcast.com and twitch.tv/knowdirection?
Monday, May 18th
PODCAST
Adventurous 0037 – Glanville Goes Catfishing
I've brought up a few times the strange sea life undercurrent to the names in book 2 of War for the Crown (the Crabbe family, Piscum is similar to the Latin word for fish), but since the specific catfish references picked up, everything we're doing feels like catfishing. Although KD Instagram manager Timothy Drake Hager argued in Discord that what Glanville's doing is hardly catfishing Okerra.
ARTICLE
Recall Knowledge – May 8th to May 22nd
I explain how I feel the network makes the dream work.
Tuesday, May 19th
PODCAST
In Legend Lore's second class feature, Luis and Loren put a spotlight on the class that would appreciate it the least, the rogue. The rogue is my favourite 2e class, bringing the flexibility in theme and mechanic that up I used to love about the fighter. Luis and Loren do an excellent job going over how that makes the rogue shine.
ARTICLE
Groundbreaking – Bringing the Outhouse In
by Randal Meyer
Like last article, Randal cleverly takes something mundane in the modern world and asks how magic would impact that. What makes these article especially memorable is how Randal applies psychology to the idea. Traditional chefs aren't just replaced with magic cooks because spells make cooking easier, there's a rivalry between practitioners of the two techniques.
Wednesday, May 20th
TWITCH
Geek Together – Paint Together with Crystal Frasier and Paizo's Aaron Shanks
Normally I don't plug past Twitch streams since we release them as podcasts most of the time, but once a month we record a Geek Together live that's not released elsewhere. If you are interested in watching these videos, we archive them on our Twitch channel. Just click on the videos link next to it. Usually our videos are just a rougher version of our audio releases, but in the case of recordings like last week's GT, the visual element adds to the episode. Although in this case I just listened to it, and finally heard about when Crystal saved a child from an alligator, as well as painting and paint tips from more experienced hobbiests than me.
PODCAST
John speaks with Paizo Art Director Adam Vick. We don't speak to artists often on our other podcasts, and I've admitted it's because I don't know enough visual art terminology or have enough insight into the visual art process to carry an interview. So as much as I've already talked about appreciating what John does with Presenting to cover the kinds of interviews we used to do but don't have as much time for, I also appreciate that he interviews people we haven't.
ARTICLE
The Dev Pit: Tales from Azeroth Part 2, Attributes and Skills
by Alex Augunas
Alex continues his Tales from Azeroth series, creating a WoW-inspired setting using the Tales from the Loop RPG system. Don't sleep on this series even if you aren't familiar with World of Warcraft lore or interested in Tales from the Loop. Alex is a veteran game design breaking down the hows and whys of designing an RPG system. It's valuable insight for anyone interested in getting into game design themselves. 
Thursday, May 21st
ARTICLE
Investing In: Monster of the Week
by Rob Pontious
Rob talks about another RPG that has his attention, Evil Hat's Monster of the Week. Largely inspired by shows like Buffy and Supernatural, this modern setting action/horror RPG has always interested me. I know there are licensed RPGs about the specific shows that this game emulates, but I think scratching the serial number off in this case makes the game stronger.
Friday, May 22nd
PODCAST
Geek Together – She-Ra Retrospective
When I found out she too was done season 5, Cathy and I were about to chat She-Ra on Messenger. But I caught myself and asked Cathy if she knew what this was. "Geek Together content?" she asked. "Geek Together content" I confirmed.
This is a show we both love, as do a lot of our fans, and we were as excited to look back on it now that it is over as we were to look forward when it was still new.
ARTICLE
Monstrous Physique — Luigi (PF2E)
By Luis Loza
Here's a fact about me: One day in the 80s, I sat down with one of my brothers to play one of the games on our Uncle's new Nintendo, Super Mario Bros. We chose two players, one of us played for a bit as Mario until he died. Then player 2 came up: Luigi. For some reason, my brother and I thought this was the funniest thing and we burst out laughing. It didn't help that despite being a game about a couple of brothers, Nintendo buried any mention of who the non-Mario Mario brother was. It's been a topsy turvy ride since for Luigi, and one I've been invested in thanks to a fond memory from my childhood.
Preview of May 25th to May 29th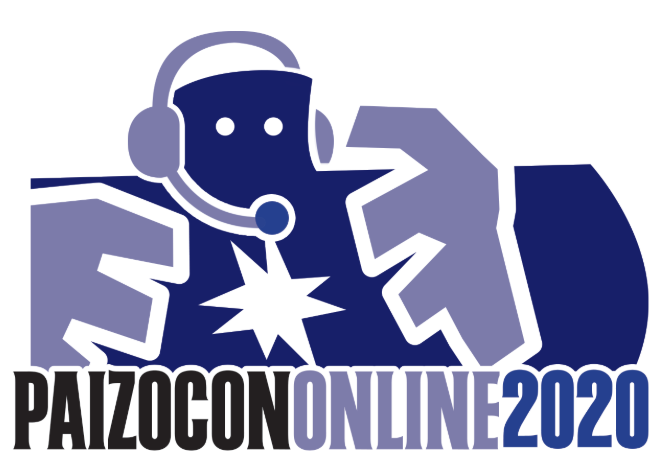 It's PaizoCon week, and that means regular network programing is on sabbatical so we and you can focus on PaizoCon Online 2020. Hope you have fun. Wish us luck!
Now you know,
Ryan Costello