We at Know Direction hope you and your loved ones are safe and healthy as we practice social distancing and sequester ourselves within our homes. We must be a supportive community as this virus spreads across the world, reminding us that we are in this together. In this case one of the important ways of supporting one another is staying home, quarantining ourselves to limit the spread of the virus. Now while you can spend time with your families and housemates, you might be struggling with an opportunity to get together with teammates, friends, and others. With the rise of virtual tabletops and online gaming, that social time doesn't have to end!
Tabletop Roleplaying
I've long been GMing from home and playing in a few local friends' games. I've done D&D, Pathfinder, Scion, World of Darkness, Cypher… It's all been in person. With Order of the Amber Die we plan months ahead of time to coordinate long weekends of marathon play, everything from vacation, flights, food, sleeping schedules and of course the character information coordination by the Player Captain, Matt, while our GM Adam preps his maps, NPCs, minis, and reviews the story time and time again. But virtual gaming isn't something I've done much of until recently.
Years ago I played a Pathfinder Legacy of Fire Game on Roll20, which hadn't been around even a year yet. A few friends were local though a couple were far away serving in the military. It was great that we could get together, have a quick chat, and then get into the game. Occasionally we might talk over one another but the combination of Google Hangouts with Roll20 really helped things sync well.
Three Ring Adventure
https://twitter.com/RollForCombat/status/1235238824432881670
Now I'm playing Pathfinder online every week! This is a bit of self promotion but recently I've been playing Pathfinder 2E online. Three Ring Adventure is our actual play of the Paizo path Extinction Curse presented by Roll for Combat, a Paizo partner. It's GMed by Stephen Glicker, and starring Rob Trimarco as well as Know Direction's Vanessa Hoskins and Loren Sieg. Stephen kindly invited me at the end of last year and I jumped at the chance. I play Ateran utilizing the Witch playtest. I love them and their story, especially seeing it unfold with the collaborative storytelling from Stephen and the rich characters of the others.  See the banner above for our character art too!
Extinction Curse has your characters as part of a traveling circus; there's mechanics for promoting and running the show too! Darius (Rob T), Alhara (Vanessa), and Hap (Loren) have grown up with the circus and I love when they talk excitedly of it or warily of the old circus many were once part of. In contrast my character is new to circus life and even much of Absalom. We've started on Escadar but I hope we'll venture to Kortos (the main island) in time. It would seem there's trouble nearby with these small farming villages… In fact, I think I've a hint at some of the problems due to my run through of Ruins of Azlant with Order of the Amber Die. Ateran doesn't know what I know of course. Darius and Alhara are amazing to see tag teaming in combat while Hap's flavorful spellcasting is quite beautiful. If you're interested, you can actually watch us play by joining Roll for Combat's patreon. Roll for Combat is also sponsoring RPG Superstar 2020!
For our virtual tabletop we're using d20Pro from Mesa Mundi, Inc. and hosted by Stephen to explore the maps for the Extinction Curse. It's much more than that as our characters' information is stored within including our saves, skills, and abilities including my spells for Ateran. There's dice rollers for the off the cuff rolls and Stephen can roll behind the scenes too. I'm a big fan of the custom sounds for various activities including the start of initiative or any time there's a critical hit. Unfortunately that one comes up a lot, including last night…
Virtual Tabletops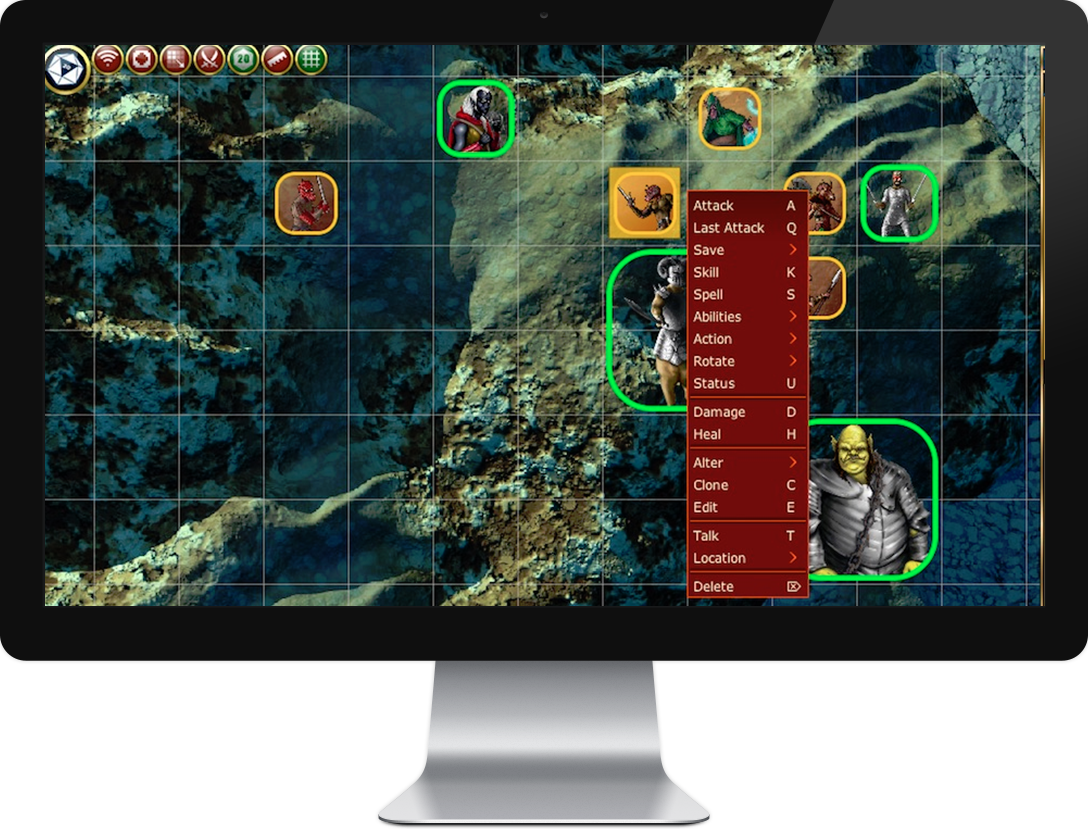 The options for online tabletops and virtual gaming have certainly grown since I first used Roll20. Now there's other mediums to help with online gaming besides Roll20 as well as its own upgrades . People play together and stream via twitch.tv. Tools like Hero Lab Online allow you to organize a campaign of Pathfinder 2E or Starfinder, including a newly launched Patron program so only the GM has to buy up the content release packs.
I learn of new things every day too. Fantasy Grounds has a number of options including D&D, Savage Worlds, Vampire the Masquerade, Starfinder, and both Pathfinder editions. I've a few coworkers who used it the first time this past week as we're all working from home. They were thrilled to get online and do some gaming as they'd normally spend a few post work hours playing at the office. There's some websites that simulate a tabletop as well, though primarily for board games. I used tabletopia.com to run a game of Roll Player. While that wasn't an RPG, it fully simulated a table and all the gaming pieces for us. It's a resource/dice game where you earn victory points by building a character! Check it out!
Also if you're looking for some virtual gaming and convention attending, then I'll point you to an upcoming Virtual Horror Con being presented by Gehenna Gaming. If you recall I met them at PAX Unplugged when I played Vampire: the Masquerade V5. The con is April 4th and 5th. You'll be sure to see me online, at a seminar or two, and playing some games!
https://twitter.com/GehennaGaming/status/1241740930899742721
Investing In:
There's many ways to bring your friends and family together during this difficult time. Help prevent the spread of sickness and encourage some online social time through virtual gaming, whether tabletop or otherwise. To learn more about gaming remotely check out Playing Pathfinder While Quarantined with Ryan, Perram, Vanessa, Randal, and guest Jesse Davies!
And I also want to hear what you're Investing In! Leave me a comment below about what games, modules, systems, products, people, live streams, etc you enjoy! You can also hit me up on social media as silentinfinity. I want to hear what excites you and what you're passionate about. There's so much wonderful content, people, groups (I could go on) in this community of ours that the more we invest in and share, the better it becomes!
About Investing In
I wasn't quite sure what to name my article series when I first started but the idea of showcasing or discussing things that make me excited, that I find new and interesting, or maybe I'm otherwise passionate about seemed to fit with the idea of Investing In something like the Pathfinder 2E mechanic. To use some magic items you have to give that little bit of yourself, which helps make these things even better. I like the metaphor of the community growing and being strengthened in the same way!
Sources
Banner – Three Ring Adventure Character Banner, Roll for Combat, art by TSRodriguez
Three Ring Adventure Episode 0, Roll for Combat with art from 

Extinction Curse: The Show Must Go On

 art

, Paizo

d20Pro

, Mesa Mundi

Virtual Horror Con

, Gehenna Gaming