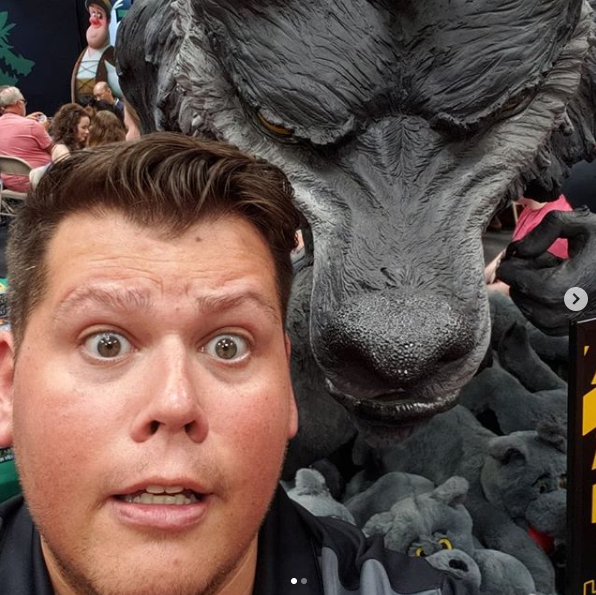 Hi! I'm Rob. You probably don't know me, but that's okay. A lot of stories start out this way including most RPGs and that's pretty fitting considering I want to discuss GenCon. I had the pleasure of going this summer after not attending for a decade and recently going beyond my table to the wider world of gaming as I joined the Order of the Amber Die, a professional roleplaying group that I'd followed for years and who invited me to try hanging and playing with them. They partner with Paizo, playing their content, and publishing their data and experience on the blog. I was basically a stranger to the convention after so long away but thankfully, strange or not, I felt more than welcome. I think you'll be able to tell why.

Buying the Badge
What drove me to buy a badge and plan up the vacation this year was the Pathfinder 2nd Edition release, though also I was simply looking forward to that gaming energy I'd felt years ago and was experiencing again with the Order. It's that energy – strange and familiar and new again – that really made me want to share this article. You can look up GenCon with a quick search but it's a 4 day convention of all things gaming that quite literally takes over Indianapolis. It got its start in Lake Geneva, Wisconsin by one Gary Gygax of Dungeons and Dragons fame. Ownership has changed hands a few times while moving to Indianapolis in 2003. This year it had "…nearly 70,000 unique attendees, a record-breaking 538 exhibiting companies, and an all-time-high 19,600 ticketed events."[sup]1[/sup] It's grown considerably and it was apparent even before I arrived in Indianapolis on Wednesday.
View this post on Instagram

The gate for my connecting flight was busy with a few groups of friends discussing what games they were planning on playing, what vendors they wanted to talk to. The Indianapolis airport had also grown and changed, having been under construction last time I visited. The central vestibule had Welcome GenCon posters and various people playing games, presumably waiting for friends to arrive. I used a rideshare program to get to my hotel.  Rideshare apps have changed things for good as well. No one's fighting for taxis and there's far less need to drive in and pay for parking when you can get a ride from your hotel. My driver was excited for all the visitors the con would bring, but he also planned to visit on Saturday. He and I talked gaming while nestled within the traffic of others headed downtown.
What a Wednesday
From my experience Wednesday was usually a pretty quiet day but not anymore. The streets were already filled with pedestrians wearing their GenCon badges. My hotel lobby was busy too. I stayed at the Westin and after checking in with a friendly bloke whose attire reminded me of Baron Samedi, I quickly threw my badge on to head across the street. I noted the large GenCon bags people were carrying and someone seated nearby clearly noticed I was a bit lost. He told me where to go. I grabbed my GenCon free bag, coupons for all the vendors visiting, and took in my surroundings, thanking that stranger as I passed. There were gatherings in various rooms already, vendors setting up their areas for the weekend, people already playing games at tables or in line to buy event tickets. I witnessed two people grab their coupons as I had, introduce themselves as they reviewed them, and start talking of years past as well as how easy it was to plan their schedules with the new GenCon app. People were pretty social already!
In fact I'd heard of various social groups gathering at Union Station and also that there was a block party now for food, drink… A kind young woman pointed me in the direction of both when I asked. The block party was in full swing with GenCon's merch booth set up, numerous food vendors, some beer, and music. They even renamed the street to Gen Con Lane. I grabbed my first Island Noodles and met a family of four, including a young son and daughter. This was their major trip of the year where they could see friends from all over the country, enjoy some games, and learn some new ones. Each were running their own games at the convention, all for players they'd never met. I was a little worried I'd been too inquisitive for a strange guy chowing on some street noodles but they assured me this was par for the course; they were happy to chat.
Well that's nice to hear.
I headed on to Union Station where the lovely Melisandre (an employee cosplaying) greeted me and others as we stood in line for free swag from those groups present. Behind me were a couple guys that had driven up together for their first convention and now their wives were sad they hadn't come, not realizing "all that GenCon is." In front of me were some friends from Canada who'd made the trip many times before and knew all about the Stink gathering here at the converted train station. They told me all I needed to know about collecting buttons, getting ribbons for the organizations or fandoms I wanted to represent, what the vendor hall would be like each day… 
All the social media groups had a presence as did a few other organizations. There were contests that encouraged you to meet those attending by recording the names of people who fulfilled criteria like watched Game of Thrones or were running a game event there at the con. I was thrilled and privileged to meet the local chapter of Extra Life ( https://www.extra-life.org/ ). They gather gamers to run marathons as fundraisers for children's hospitals. I can't wait to work with them. The Tabletop Gaymers ( https://tabletopgaymers.org/ ) I knew of as I am one, having joined the then small organization at my last visit when I met the terrific people involved. They've grown as has the representation of LGBTQA at the convention. Almost all the organizations and fandoms have ribbons to attach to your badge and they were no different.
Enter the Gaymers
Over the next few days I saw many of these Gaymer or Ally ribbons. I saw the Rainbow PRIDE D&D shirts. The community had become more present in a way I hadn't expected. It was a sign of what's hopefully become clear thus far: the gaming energy I'd wanted to feel again had grown into an incredibly friendly, helpful atmosphere welcoming everyone. I'd already seen some of this through the Order of the Amber Die. I'd long been a Pathfinder fan from its rules to the inclusion of gay characters from the very first module! As a quick aside, I'm not trying to fan any system wars here either. I know many who enjoy D&D published by Wizards of the Coast/Hasbro and as a Rhode Islander, I've many friends who work there. Each encourages positivity in the community and so I hope both continue to thrive; it's clearly good for us all.
But back to the Order, I told them I wanted to buy them a drink at the next GenCon but they called me up well before we headed to Indy. They invited me in for a session of the Azlant Odyssey, a marathon around Pathfinder's Ruins of Azlant campaign, and while there I noted half the table didn't identify as cisgender or heterosexual. There was talk of PRIDE events and it was just normal conversation amongst friends. It was inspiring, and to see that clearly represented through the many attendees of the convention later was heartwarming.
I love the increased visibility of LGBTQA and the spirit that encourages, just one sign of the inclusivity of the convention. Of course that didn't happen overnight, thanks a lot to brave individuals coming forward, caring and forward-thinking industry leaders, and staff who listened and acted. Even the random stranger is making a difference when they help someone out like they helped me or talk compassionately to a gamer who may have some social difficulties. That brings so much to the positive atmosphere of GenCon I experienced. It was sad to wake up to the news of shootings across the country. It made reconciling how I was feeling at GenCon difficult, knowing the tragedy others were going through while I saw such open and friendly behavior around me. I might have felt a stranger at first but most of us were strangers to one another and it didn't matter. Thursday lunch rush made for finding a table but a group of strangers came together and I learned how to play Ganz Schön Clever. That's really what GenCon is: groups of strangers coming together to enjoy games. Sure some friends come as a group but they too welcome in the quiet observer or lone stranger asking to be included. I saw it numerous times.
View this post on Instagram
It's not just the attendees but the vendors and exhibitors. It's important to remember they're working while we hobbyists get to enjoy their labors, but I didn't meet an unfriendly soul in the whole of the massive Vendor hall. Paizo (Pathfinder's parent company), Dwarven Forge, Elder Dice, RPG Coasters, Wyrmwood, basically every artist I met… I could name so many. These groups value the community, inclusivity, and fun! I was lucky to meet Roll for Combat's Stephen Glicker who invited me in for a game and allowed me the chance to meet the amazing people of Know Direction! Glass Cannon was like "here have some pizza" and Jason Bulmahn thanked me for watching his Pathfinder 2E game: Knights of Everflame (check it out!) One of the stars Aki just happened to be in front of me in line for Dwarven Forge Live. They are charming and pure awesome for living out loud and proud as nonbinary. Their ranger is kicking butt too! I should mention while visiting Dwarven Forge's booth a complete stranger offered to help me get a ticket to the Live game as he might miss it. The Dragon Dice team heard my excitement from years past and took the time to explain to me how everything had evolved since first created. They and other staff may be working but like Janet and Nate from Dwarven Forge said to me, it's hearing from the fans that encourages and energizes them. That love they share, that the community encourages through embracing one another, is again what GenCon is all about. I realized once home I couldn't stop thinking about how I had to share with others about this experience.
View this post on Instagram
Yes, I'm a Critter
Friday night I attended Critical Role Live. The diversity of the attendance was beyond definition. The friendly Critters shared snacks, drinks, stories… Even the slight perception you might need assistance and the community jumps to aid you. When their opening credits played and the audience sang to the cast I teared up seeing the look of shock and nearly tears on their faces. These people care. At intermission I met two mothers relaxing in the lobby who'd brought their daughters across multiple states to see the show. One had started the first gaming group at her high school! Both noted how positive and friendly the crowd was as we watched a sudden proposal happen in front of us. She said yes and the entire lobby cheered. The gaming community knows we all may face challenges but together we can overcome them. And hey, maybe have a good time doing it too!
I could go on to detail more of the welcoming, inclusive, friendly, and overall positive things I saw from random chats when grabbing a piece of pizza and talking the new DieHard game to watching a new adventuring party form together to playtest Pathfinder 2nd Edition. That's the right metaphor, honestly. The group learned together, started to roleplay and then fight, support, and champion one another. I watched a group of strangers come together for a purpose, which in this case happened to be gaming rather than saving a town from monsters. Heck, in Pathfinder you can play a goblin now as we make friends rather than enemies. From strangers to applauding comrades venturing into something new and different all in fun, that's what GenCon was for me and I wish we could share it with everyone. How different things could be and because I believe in this community I know will be.
About Me
I've been gaming for over three decades mostly in the tabletop RPG space but also in video games, board games, card games, and even some LARPing! I'm a gamer and a GAYMER.
Sources
1: https://www.gencon.com/press/2019postshow