Welcome to the newest installment of Burst of Insight. GenCon was as always a crazy 4+ day extravaganza of gaming. It's been two weeks and I'm still buzzing with excitement and ideas. We'll talk more about that in the coming weeks but today I'd like to talk about some things I find really exciting that are significantly more time sensitive.  We spend a lot of time on this blog talking about how to improve your game. Right now I'd like to introduce you to some additional resources that might be of interest to some of you. The first is Monte Cook Games newest Kickstarter. They're Kickstarting a system-agnostic reference book called Your Best Game Ever and the second is the Adventure Writing Academy which resumes in September. While I was at GenCon I was able to schedule some time to get interviews from a couple of my industry friends connected to these two projects.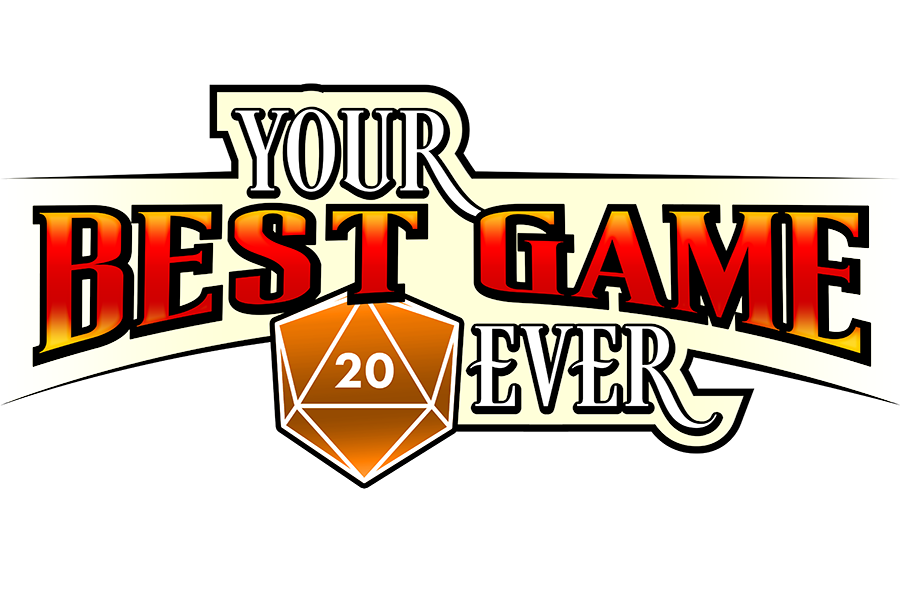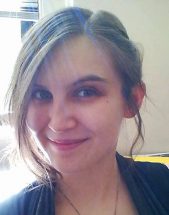 We'll begin with the Community Relations Coordinator for Monte Cook Games, Darcy Ross. Darcy why don't you tell the readers a little about yourself.
Snailologist by day, gamer by night, I've been in love with monsters and dungeons from the start. In my PhD studies, I basically make molluscan monsters. RPGs give biology geeks like me the chance to explore "what ifs" and life forms and evolutionary stories that might have been! The major game that opened that wondrous door to me was Numenera, a game that puts you on Earth a billion years in the future with the ruins of technology so advanced as to seem like magic. Think of the ecology! Thing of the good biomechanical beetle species!
Numenera and the elegant Cypher System got me GMing anywhere I could–for groups of scientists, local game and comic shops, and even rapid-fire demos for an after-dark planetarium night for dozens of folks who didn't even know what an RPG was. It's a delight to be the Community Relations Coordinator for the publisher of my favorite game, Monte Cook Games, where I've been spearheading our Twitch program. For fun, I like anything with some good tentacles or eyestalks, and I love to play anything horror/Cthulhu, D&D 5e, Planescape AD&D 2e, and lots of delightful and strange littler games like Golden Sky Stories and Maid.
So I'm not only a fan of Pathfinder, but I'm also a fan of Monte Cook's Games so I came across this most recent Kickstarter pretty early on and I'm very excited to see what this book will ultimately look like. What can you tell us about the Kickstarter Campaign?
It's all about creating a suite of tools to help EVERY gamer capture those "lightning in a bottle" epic gaming sessions that really stick with you. Experienced gamers will find new ideas, tools, and resources to try out to engineer those epic gaming experiences, and new gamers will learn everything they need to know about getting started. I dive a little deeper into the topics below, but I think it's really special because of its intended audience (every gamer, players and GMs and creators), breadth of topics, and the fact that it's written to be put into immediate use (not just theory).
It's not just MCG either–we have a killer cast of consulting experts to make sure this book covers it all!
I've seen the list on the Kickstarter page you have like fifteen consultants on the book: Eric Campbell , Matt Colville, Luke Crane, Stacy Dellorfano, Tanya DePass, Ajit George, Jennell Jaquays, Eloy Lasanta, Tom Lommel, Matthew Mercer, Susan J. Morris, Alina Pete, John Rogers, and Monica Valentinelli. That's an impressive list.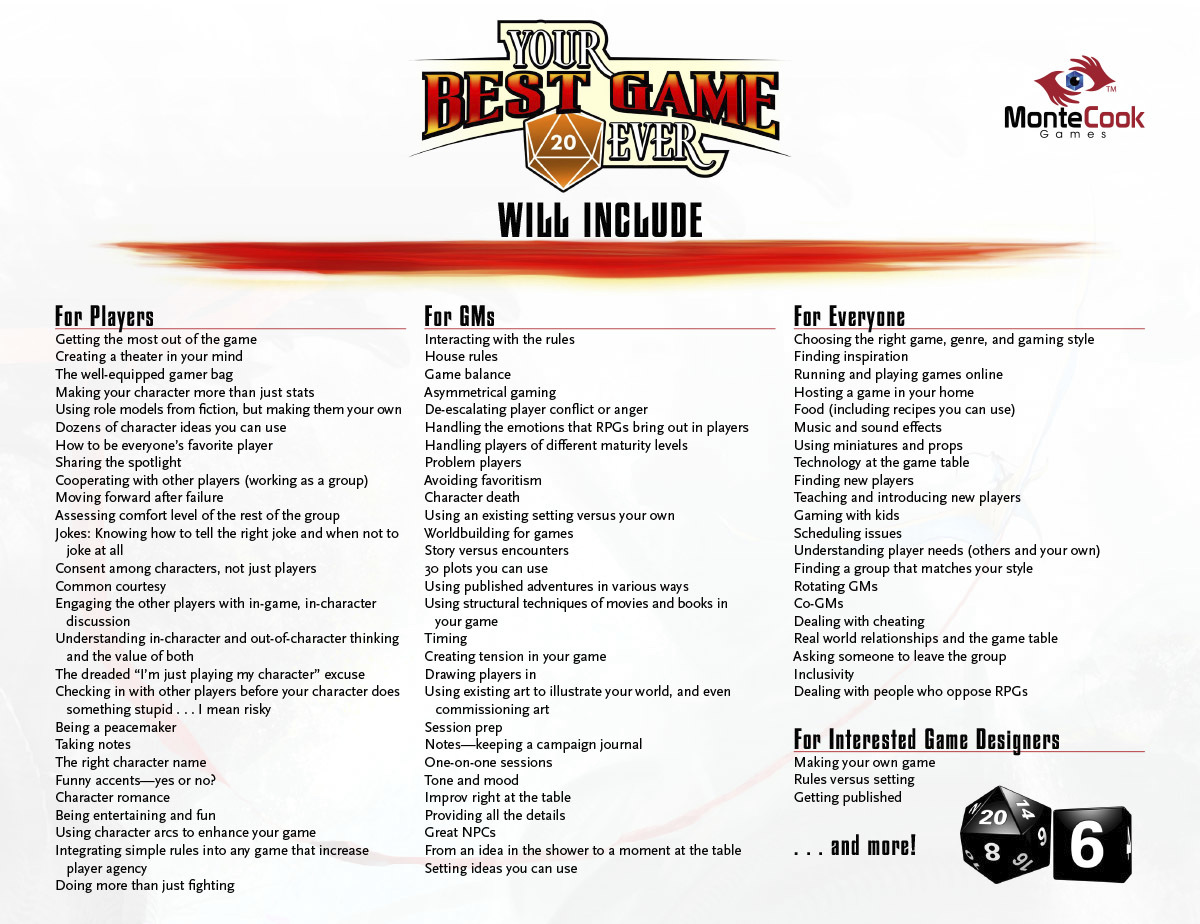 The book will also have comics and cartoons from:
John Kovalic (Dork Tower)
Vickie Lee (Dungeons and Doggos)
Aviv Or (Up to Four Players)
Brian Patterson (d20 Monkey) 
Len Peralta (Geek-a-Week)
Alina Pete (Weregeek)
Stan! (10x10Toon)
Our audience is primarily Pathfinder players will they get any benefit from the core product?
Absolutely! This game is written for players and GMs of any RPG system. In fact, with former Paizo developer Sean K Reynolds on the team, you can bet he's going to bring the perspectives and tools that make a great Pathfinder game to this book.
So what makes this book different from other advice books such as the kobold guide to series?
In terms of content, Your Best Game Ever stands out because of its intended audience (players, GMs of every experience level, even some for writers/designers), its breadth (from handling character death and romance to navigating specific difficult social issues at a table, from taking great notes to gaming with kids), and its actionability (recipes to try for game night, lists of NPC names, and how to use the Invisible Sun character arc mechanic in any game you're playing).
In terms of the form, Your Best Game Ever will be through-written by Monte Cook to have a singular voice and format, though all our consulting experts will weigh in on the text, and they'll have a short section each to share their best gaming practices and advice! Thanks to a stretch goal, we also funded a Your Best Game Ever video series to accompany the book! There's a lot going on with this puppy.
So hopefully my die-hard Pathfinder readers will indulge me, I know the campaign includes more than just Your Best Game Ever. What else can backer's get?
The other side to this Kickstarter is revising our Cypher System Rulebook and generating some awesome new supplements for that line to give gamers tools for running and playing awesome sci-fi games (The Stars are Fire), horror/thriller games (Stay Alive!), and fantasy games (Godforsaken). The CSR and these books are going to make great companions, and of course I'm jazzed as heck to get more Cypher System goodness!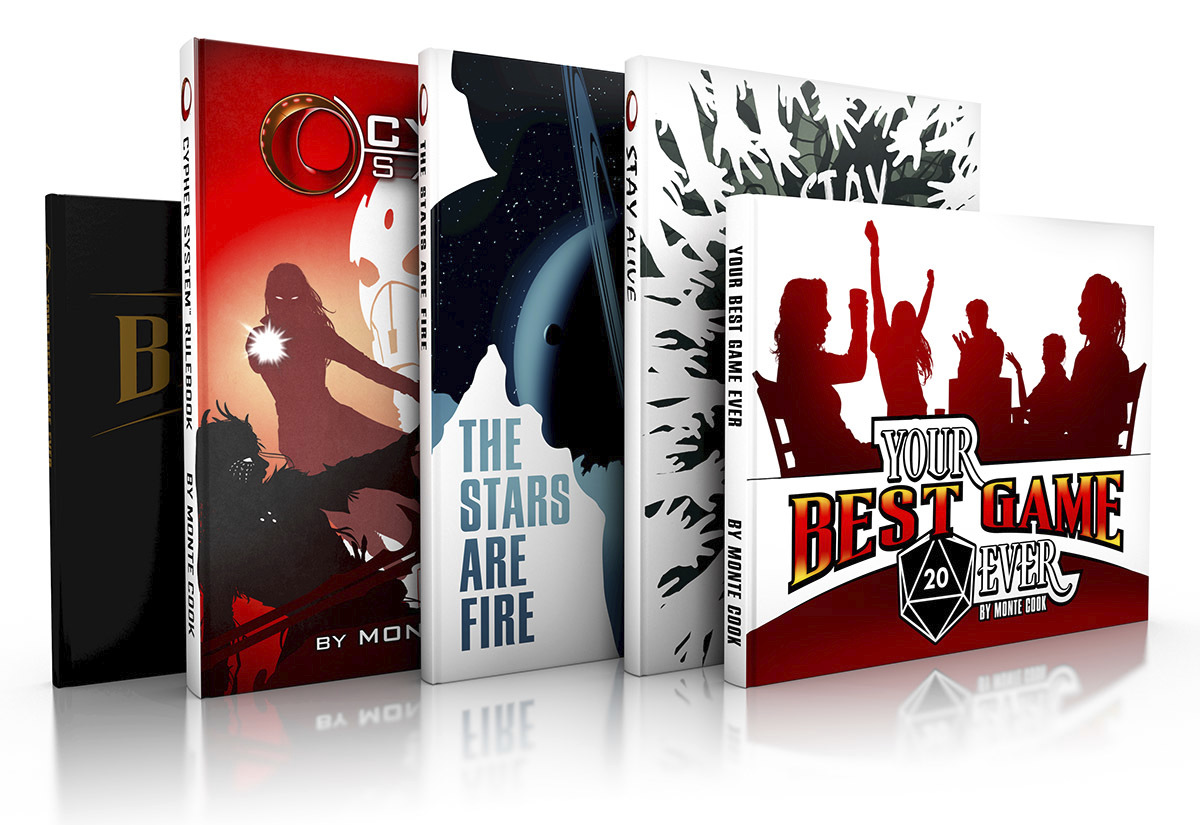 I attended the best game ever panel seminar. And you had a great piece advice, where you talked about asking players questions during play can I get you to share that with our audience.
Welcome to Darcy Ross's lazy GMing seminar. I kid, but one piece of advice I shared was about generating investment from players at the table. While I'm GMing, I'll spotlight a player and ask leading questions like "As you enter the library, you recognize someone you hate. Who is it?" or "Lying at the center of the reliquary is an artifact from a prior world. What does it look like?" Players naturally will produce the kinds of narrative elements that hook them, all the while taking some cognitive load off of me as the GM. Win-win!
My tips for making this approach successful:
Start small to see how your players like it
Give some example suggestions so they have a model to follow
Use "Yes, and" as much as "Not quite, but" to help keep your game's tone and structure cohesive.
By the way I'm officially jealous you've had the opportunity to play and GM for Shanna Germaine, Bruce Cordell, Sean K Reynolds and of course Monte Cook…what's that like?
Pretty wild! I got to GM for them in our Numenera series, Echoes Linger. It was intimidating at first, but they're excellent gamers and I got to run my favorite game of all time for them, which buoyed me through the initial jitters.
The most surprising thing about gaming with them is getting to see Monte as a player! He's almost always GMing, but he's a REALLY good player, and really gets into character. It's a delight to watch and run for! Definitely watch the show and see him at work.
I know we're getting close to the end of the Kickstarter. How much long does it run?
It ends August 24th at 7pm CDT, don't miss out!
Thank You Darcy for taking the time out of your busy schedule to share those details with us. Your Best Game Ever isn't the only upcoming project for honing your skills. Next up is Keith Kappel from Adventure Writing Academy.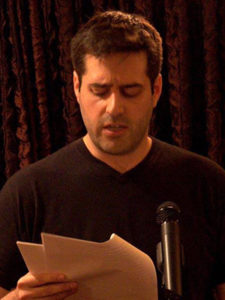 Keith why don't you introduce yourself.
I'm Keith Ryan Kappel, and I'm a freelance writer based out of Chicago, best known for working on the three Star Wars RPG lines from Fantasy Flight Games (FFG). I've also done some work on their Legend of the Five Rings and Genesys RPG lines.
As for how I ended up here, it was a combination of having some interesting life experience, a broken leg, education, hard work, networking, and some luck. Ultimately, I got on because I entered an open call for writers FFG held in 2011 shortly after acquiring the Star Wars license. They've kept me busy ever since!
I know you have some military service, how has that impacted your RPG work?
It's true! I served in the US Navy as an intelligence specialist from 1997 to 2001. And in a weird way, I'm only in this industry because of those four years.
During the first chunk of Intel school, they are limited in what they can teach because not every student's background check is completed, so they have us learn general skills we'll need that don't require clearances, including public speaking.
We each had to give an oral presentation, and I watched as each of my classmates did a thematically appropriate Tom Clancy book review or a platform briefing on their favorite aircraft, ship, or submarine.
I've always been a star wars fan, and it was March of 1998. In my mind, intelligence specialists are analysts, which is to say we take in a bunch of information and try to tease out trends or patterns we can use to "predict" future events or better understand recent events. I thought it'd be great to do a briefing on Star Wars Episode I casting and production rumors, separating what I felt might be true or false.
I was laughed at for 7 minutes as I, hands shaking, face red, trudged through my briefing. The Intel program at the time was considered the Navy's third hardest academic program. We had a test or quiz every day, and if any scored below an 85%, you had to repeat a week. If this happened more than once, you were generally booted from the program, doomed to work as an undesignated seaman for the remainder of your enlistment doing some of the least desirable (but very necessary) jobs the Navy has to offer. So needless to say, I was terrified I had grossly miscalculated.
Instead, after I finished, the IS1 running the class pulled me aside and asked if I liked Star Wars. I told him I did, and apologized and offered to redo the briefing. He just laughed and said it was fine. A few months later, when I finished the program, he found me and asked if I liked my duty station. He got me sent to Naval Space Command. I was ecstatic.
Being able to put "Intelligence Specialist at Naval space command" on your writing resume when you're applying to write for Star Wars is a pretty great line item.
The navy also helped pay for my college. I was bartending full time when I broke my leg while paintballing. Unable to work, the only way I could pay my bills was to go to college and draw on my Montgomery GI bill. In my mind, I was only going to pay bills until I got back on my feet, so there was no need to take something sensible.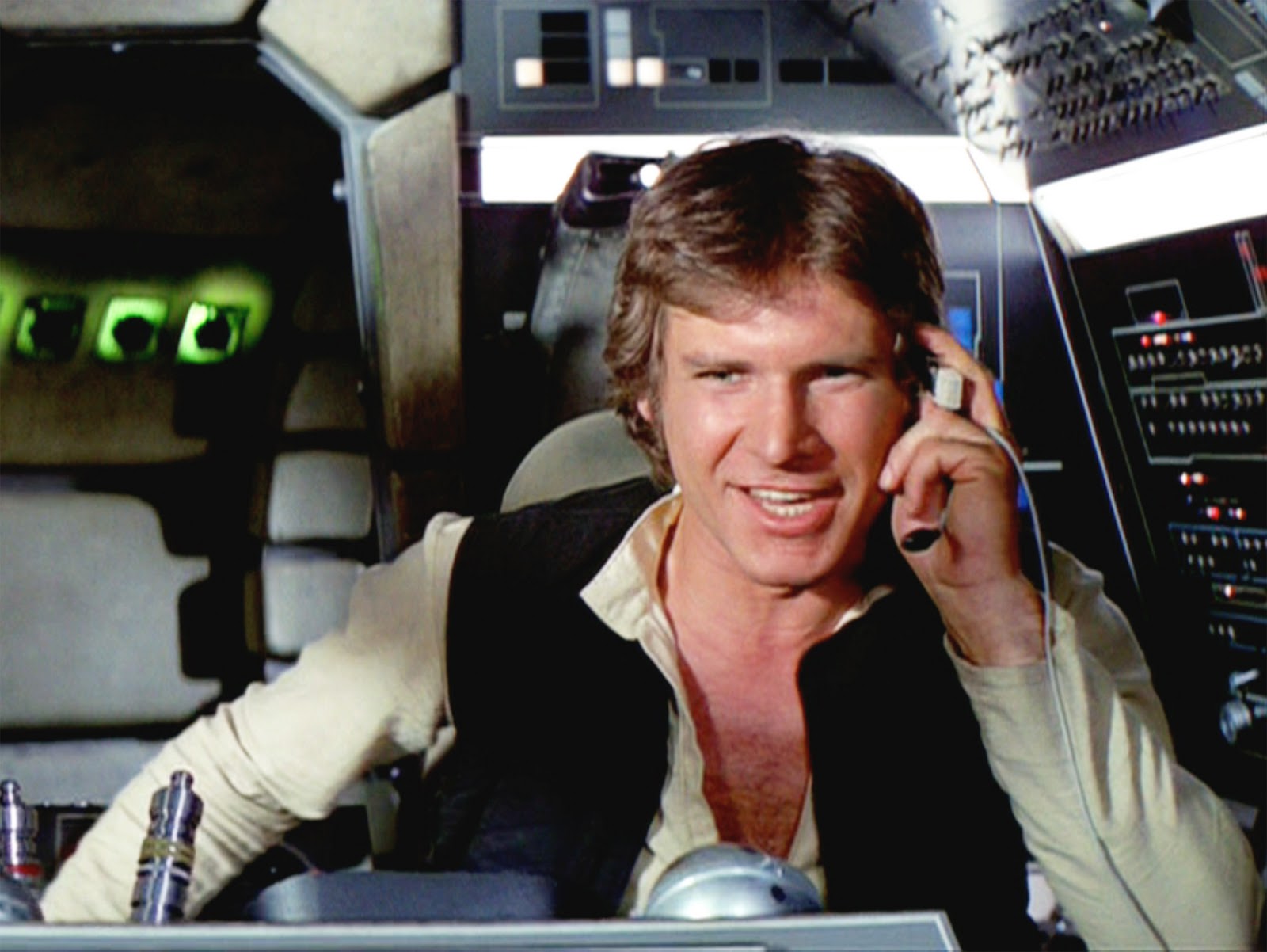 At the time, I was running a Star Wars fan site that created fan comics and fan RPG content for Star Wars D20. So writing was a hobby, and that led me to Columbia College Chicago, which had one of the few courses near me for writing comics. I would never have gone to that school if not for my military benefits.
But beyond resume lines, anecdotes, and tuition fees, the military has given me some unique experiences that often find their way into my work. For starters. The closest thing we have on earth to working on a giant star destroyer or battlecruiser is being on a naval warship. I spent some of my career on the USS Theodore Roosevelt, an aircraft carrier. That's let me write those characters and situations with a certain amount of authority and authenticity that other writers have to work harder to achieve.
The other great ability I have, through my training as an I intelligence specialist, is how to extract information from a map. I can look at a fictional map of a planet, galaxy, or Rokugan, or whatever, and suss out a lot of information about city locations, available resources, trade partners, base locations, defenses, etc. Most of my research and outline phases involve a good deal of looking at maps first.
Very cool! So Adventure Writing Academy, would you like to tell us what that's all about?
Sure! I co-founded the Adventure Writing Academy just last year, and we just finished up our first year of classes. Registration is open now for next year's courses, which begin in late September and October.
I've been writing in the RPG industry for something like five years now, and recognized that to my knowledge, there is no writing program in America that specifically teaches how to write for tabletop RPGs, which is really a shame, because there are some very unique challenges to crafting RPG content that all of us in the industry have had to figure out on our own, or depend on finding generous mentors to show us the ropes.
I was inspired by legendary comic book artist Joe Kubert, who faced a similar problem when he noticed the lack of schools who taught the unique skills for drawing comic book sequential art, and figured I'd just open my own school and fill the niche need.
I learned how to write at Columbia College Chicago, where I received a BA in fiction writing. They run an intense writing program using the brilliant story workshop method pedagogy. So I partnered with Maggie Ritchie, a former classmate who got her MFA in the program and has a lot of experience in the education field (and is also a great writer!).
We worked together to adapt the story workshop to an online Skype format tailored to writing genre material like science fiction and fantasy, as well as RPG content. As much as possible, we've selected readings and assignments we feel engage aspiring genre and RPG writers, without losing the important lessons and techniques that are hallmarks of story workshop writing.
The course is 11 sessions long, and each session is four hours. Ten sessions are run by one of our teachers, which guide students in discovering their own unique voice, largely through exercises, activities, and discussions that help writers connect their oral storytelling abilities with their writing.
Each of these ten sessions feature a guest student; someone working as a writer, editor, or developer in the RPG or fiction publishing industries. Guest students participate in class activities and provide a low stakes networking opportunity for students, and a chance to hear how things work in the industry right now. Guest students also provide a brief window for Q and A after class ends.
The eleventh session is a four hour seminar by a guest lecturer. This year we are welcoming back Jay Little, the designer of the Star Wars RPG, Mophidious' Star Trek 2d20,  the X-Wing Miniatures game, and much more. Jay provides a unique window into game theory and game design, as well as the business realities of working in the industry as a salaried staffer and as a freelance game designer.
Is this for would be professionals, actual professionals or GMs who just want to better their games? Or does it work for any of those people?
I think it works for any of those people. While our primary audience is aspiring professionals, our intro to creative writing course would help any GM or fan fiction author up their game.
Working professionals who got in on talent (be it natural or hard-won), but perhaps never received much formal training, might find they learn a lot, or at the very least get a way to name and understand all the things they taught themselves over the years (which can be supremely validating). And of course, we are always looking for working professionals to act as guest students. Our prices are also a fraction of what an equivalent college course might go for, and since were more targeted, industry professionals might find us an attractive option for furthering their education.
Full disclosure, you asked me last year to be a guest student but our schedules never aligned hopefully we do better this year. That said, an industry professional is interested, how can they contact you about becoming a guest student?
Www.adventurewritingacademy.com has a contact form. If they just list their credits (or the highlights) and provide their email address, we can work with them to set it up. We are also mulling over the logistics of a guest student residency program, which would allow a professional to audit our entire program as a guest student, bouncing from class to class.
Is the course system specific at all?
No. We have two actual courses. The first is an introduction to creative writing. There, the primary focus is developing core writing skills through the lens of genre fiction and RPG work. We discuss RPG writing in broader terms, but the intro class is more focused on the prose than mechanics. Of course, students are free to do their RPG homework in whichever system or style they prefer for intro.
We also are piloting our RPG Writing I class this year. In that course (which requires completion of the intro course unless given an exemption), each class spends some time covering a different system, so aspiring developers can learn a breadth of system mechanics. RPG I covers the ten systems hiring the most freelancers or providing the most third party self-publishing opportunities.
RPG I also examines prose in RPGs at a deeper level, and spends a bit more time talking about revising RPG work to hit specific word counts and squeeze out all extraneous words and such.
If there was one piece of advice you'd share with GMs what would you suggest?
RPGs are first and foremost interactive, collaborative, storytelling games. Learn how the game works, but then put down that core book, and just wing it more. Say "yes" more often when players do something unexpected and jump off the rails. The best games I've run or played in didn't follow the canned module, they veered off into unexpected territory.
Remember, rule one is, "always have fun!"
Thank you Keith for sharing the details of the Adventure Writing Academy with us today.
I'm excited by the prospects offered by both of these projects, and I'd like to once again thank Darcy and Keith for taking the time to join us on the blog today.