Third Party People is a twice monthly series on the people behind the third party publishers that innovate new options for the Pathfinder Roleplaying game, and provide hungry young freelancers a venue for their creations.
We kick off 3PP's return with the Know Direction Network's own Alex Augunas, the one man band behind Everyman Gaming. In addition to being a prolific blogger and a podcast co-host, Alex has made a name for himself as a frequent freelancer for Paizo and the designer of some of the most creative, balanced crunch in the third party scene.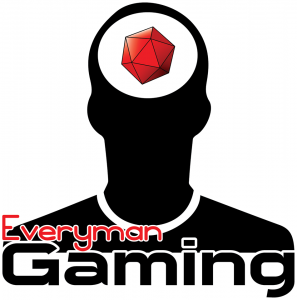 RC: What is Everyman Gaming all about? What lessons have your experiences taught you about publishing?

AA: Being publisher is like being king of a fantasy nation—you're in charge because you're the most skilled warrior. In the beginning you need the skills to do everything for your company: you're the author, the art director, the developer, the editor, and so on. Mind you, this isn't a great set-up long-term, but everyone's gotta start somewhere!
As a result, publishing is very freeing. There's no one above you to tell you that your dreams and ideas aren't compatible with the company's vision. In many ways, you define the company vision. That's the reason why many freelancers, even Paizo developers and designers, have their own smaller ventures—it is very freeing to be able to do whatever you want, whenever you want. To decide for yourself what your company is about.
Take Everyman Gaming for example. Everyman Gaming started because there was a rules set that I wanted to publish (my psychological maneuver rules) that no other publisher wanted to take a chance on at the time. Legendary Games was still young and very much entrenched in its AP support venture, Owen was in the process of transferring Super Genius Games to Rogue Genius Games, and was therefore very busy with legal ventures, and some publisher (I forget which) was interested in my psychological maneuvers rules, but wanted me to redesign major sections of it. Change it in ways that defeated my vision for the rules. Ultimately, I decided, "If no one else wants this, why not prove them all wrong by publishing this myself?" That's how my first product, Psychological Combat, was born, and it was very successful. (So much so that it was named an Endzeitgeist Essential product, and I ultimately reprinted and expanded the entire rules set in a future book, Ultimate Charisma.) That gave rise to Everyman Gaming's slogan—"innovation is never more than a page away."
RC: What three products embody Everyman Gaming's mission statement, and how?
AA: Well, Everyman Gaming's mission is to be a place where customers find innovative ideas that can define characters and campaigns. In my eyes, our shining jewels that capture this spirit perfectly are Ultimate Charisma, Childhood Adventures, and Microsized Adventures.
Ultimate Charisma is basically a remastering of how various Charisma-oriented character options and rules systems work. Things that have always been in the game (the Leadership feat, Fame, Relationships, Followers, and Cohorts), but have traditionally been their own, disparate thing. Ultimate Charisma is about changing how players and GMs look at those rules, making them things that work together rather than separately. Things like relationship, cohorts, fame, and more were redesigned and enhanced with streamlined rules lingo—it gives a bunch of traditionally isolated systems a real unified feel to them.
Childhood Adventures is a product I've wanted to do for a long time—a product dedicated to how young people function in roleplaying games. Our modern idea of what constitutes "old" and "young" as far as humans go is fairly recent, and in most fantasy worlds children would have been expected to play a much larger role than what the rules currently allow them to do, and that's mostly a byproduct of the fact that the rules system is adult-centric. Childhood Adventures supplies "required" things like new, younger age categories for a wide variety of creature types, but it also has rules that make the prospect of playing a young character intriguing. For instance, there's a huge system of rules that I wrote that handle physical growth for young characters, designed with a rather impressive amount of realism, if I do say so myself! As an aside, the book is also the first (and only) multiauthor book I've put out—literally half the Know Direction Network is in it. Andrew and Monica Marlowe both wrote sections on things like appropriate conduct with young gamers at the table and new mechanical options, and I consulted James Ballod heavily when writing the growth rules because he's a nutritionalist specializing in childhood development in real life. It's not only a book that explores a traditionally ignored aspect of living in a fantasy world, but it uses so much real-world science and experience that it always makes me proud to boast about it!
And then, of course, there's Microsized Adventures. You know, I strongly considered scrapping Microsized Adventures several times while writing it. It was the first-ever "weird" topic I ever did for Everyman Gaming. (I would move on to cover other "weird" topics like Childhood Adventures, but Microsized Adventures was the first.) I wasn't sure if people would like it because it was designed to completely depower the PCs, rather than empower them. The book is a "Honey-I-Shrunk-the-Kids" style book, which includes a simplistic-yet-far-reaching system designed to adjust the PC's stats for size change without rebuilding them. (A feat I accomplished with a nifty little mechanic called "special size bonus.") As the system grew and I started magnifying all of the little rules interactions that "broke" when you started messing with PC size, I realized something pretty quickly—EVERYTHING in the game is designed around Medium/Small characters. So a large part of Microsized Adventures turned into, "Let's redesign parts of the rules that disempower large or small characters," and as a result the combat modifications became the most popular part of this book. Sure, people loved the notion of being shrunk to the size of ants, but more than that they LOVED the fact that my rules, when applied to ordinary combats versus large creatures, made tarrasque-sized threats truly scary! Pardon the billions of puns in this response, but it really lets big monsters throw their weight around.
RC: How has Everyman Gaming separated itself from the other third party publishers?
AA: In terms of our products, we're one of the few companies that tries not to throw together, "class products," meaning a product who's only unifying thing is that all the options are for one, specific class. I've tried it before, and those products have generally been unsuccessful largely because SO many other publishers do that. So I largely try to design products around themes or feelings, and it's worked for me so far. For example, Childhood Adventures is filled with rules themed around childhood, while Paranormal Adventures is filled with rules designed around cult classic television and movies. I'm sure we'll do more class-centric stuff in the future, but certainly without the frequency that other publishers do it.
However, if we're talking aesthetics, I'm sure that the one thing that all of our customers notice immediately is that I use a LOT of kitsune artwork in our products. The tradition sort of started with Psychological Combat, our first product. I used my kitsune fighter, Kyr'shin, in actual games to playtest the psychological maneuver rules, and I REALLY like that character. (Besides being fun to play, I went through a rather dark bout with depression just before my notoriety exploded, and playing that game was one of the few things that got me through it.) As a result, I decided to have Kyr'shin illustrated in Psychological Combat, because "At least if my company fails and goes bankrupt, I will still have art of my character."
But Everyman Gaming ended up becoming fairly successful, and I kept getting kitsune pieces done for good luck—often of characters I was playing in Pathfinder Society. Using as many kitsune as I do in lieu of more traditional fantasy races (like elves or halflings) has been something of a contention point with my fans. I get a lot of, "I would have liked this book if not for your furry garbage!" comments and messages, which is something I honestly wouldn't have expected going in. (I've also gotten a lot of people loudly assert that I belong to the furry community because of my character building preferences, and then get furious at me when I refuted the statement.) Add that to my "lessons about publishing, come to think about it—people notice when you refuse to conform to their standard of "normal," and you need to be prepared to shrug it off when they come barreling at you about it.
RC: How do you get attention in the crowded Pathfinder third party publisher space?
AA: Ask any of the freelancers who work for me—I have REALLY high standards. I don't publish anything for Everyman Gaming that I wouldn't feel comfortable submitting to a Paizo developer or designer. (Though often what I write for Everyman Gaming is the kind of product that Paizo would be unlikely to ever ask me for.) People see my work and know that I'm selling comparable quality to the First Party publisher, and they appreciate that. Often times the icing is more important than the cake—you can have a perfectly designed new class, but GMs and players won't flock to it if your writing doesn't "sound" or "read' like Paizo's. Knowing that skill and expecting it in everything I publish has earned me a reputation for being a high-quality designer, and ultimately people pay for quality.
RC: What is your gaming background, and how did you come to be so invested in the Pathfinder RPG?
AA: Well, the first time I ever heard of Dungeons and Dragons was at Scout Camp. One of the younger scouts brought a 3.5 manual along with him (he was like 13 years old—kudos on that kid), but I was a HUGE jerk. I got bored and "roleplayed" that I ruined the game before peacing out. I had a pretty big stigma against roleplaying gamers at the time, and while the player and I would get together about a year later to try the game again in earnest, he lost me when it took me four hours to make my character. (He did that stereotypical 3.5 thing where a new player says they want to try, and you dump a stack of rulebooks 12 inches tall in front of them and the new player runs away, never to be seen again.)
A few years later, some guys my age told me that they played and invited me along. Again, I took too long building a character (about 3 hours for an elf druid) and we played one session. But everything changed with my close friend Justin joined that group. (They were college buddies; I was still in high school at the time.) Justin was a PRO. He's been playing old versions of the game since he was 8, and he got me hooked. Hopelessly, helplessly hooked. To the point where I went away to college and started trying to learn how to write my own rules and campaign setting on my own while I was away. I participated in design contests (like the Giant in the Playground Games' Prestige Class contests), wrote in articles, made fun of Pathfinder for being "too easy" for players when it came out—everything. (The more you get to know me, the more you'll realize is that my life is basically one big irony after another.) While at college I put my first gaming group together, and when I came home a graduate I used that knowledge to build my own game group, and I've been hopelessly stuck ever since.
RC: What are the greatest challenges you face as a third party publisher of the Pathfinder RPG?
AA: Despite the fact that I write for Paizo, there is a strong assumption that my work isn't "as good" if it doesn't have a purple golem stuck on it somewhere. It is a huge hurdle all of us 3PP face, though it is one that has gotten better with the rise of public reviewers like Endzeitgeist, and the fact that Paizo sometimes nabs monsters and other stuff we write. Getting exposure is REALLY tough at the beginning, and some gamers have crazy unrealistic demands for 3PP. One of the worst is, "I will only buy your product if you offer HeroLab support." Let me break this secret to everyone—getting HeroLab support as a 3PP is REALLY hard and takes a REALLY long time.
RC: How do you ensure the highest quality possible for your products, from game balance and the writing to the artwork and graphic design?
AA: I studied HARD to learn to write the way I do. Not design, mind you. Write. Writing in Paizo's voice and to understand why they use the phrases they do is the best way to create high-quality products for Pathfinder. I mean, they have a team of some of the game's best minds, edited by some of the business's most savvy editors. Why anyone would use their voice instead of Paizo's is beyond me.
When I say, "Use their voice," that means "phrase things the way Paizo does." For instance, Paizo never types things like, "You grant yourself a +2 circumstance bonus on all Stealth checks." The proper way to write that would be "You gain a +2 circumstance bonus on Stealth checks." Cutting unnecessary words and mastering the style is the best way to ensure high quality of the written word.
In terms of art, I hire artists who make art I like. I also hire artists who can work quickly and who communicate well with me. The dirty truth is that everything thinks that all gamers share their personal opinions on art, but art is subjective. Every artist I've ever worked with (Jacob, Jeff, and Brett) has been flamed publically for their art style—that's just how people on the internet are. In my experience, it is more important to have a consistent look about your products, and to create something that, at the end of the day, you would be proud to hand to a close friend for reading.
RC: How has being a third party publisher impacted your home game and other design work?
AA: A LOT of my content was born in home games, like I've mentioned. And I also think that the more you write, the better you get. So I'd say that being a 3PP has made me a better writer for my 1PP, which in turn gets more spotlight cast on my 3PP work.
RC: What comes first: an idea or a mechanic?
AA: Both. Sometimes, a mechanic niche will pop into your head, and you'll design an idea around that gameplay interaction. Sometimes an idea will pop into your head, and you'll want to design a mechanic that makes the idea work.
For example, when I wrote Ultimate Charisma, the mechanics for leadership perks came before the ideas. "I want a mechanic that will give you bonuses that make you a better leader as you level up that doesn't detract from combat power." But when I wrote Microsized Adventures, that was idea first.
A better statement would be "Inspiration always comes first in the form of an idea or a mechanic, and you fill out whichever one is missing in order to make the inspiration thing reality.
RC: What do you look for in a freelancer, and where have you found your strongest freelancers?
AA: I am not fair to my freelancers. I expect them to write like I do, so my strongest freelancers are often other established people. But I often do take greener blood, and in them I look for three things: 1) a head full of cool, original ideas, 2) an understanding of the importance of language in the writing of rules, and 3) a willingness to be developed / corrected.
It isn't fun to admit, but being developed (AKA having your work analyzed, reworded, and altered by another person) is a crucial part to making a good product, and it's something I ALWAYS do in order to ensure the highest quality possible in my work. Being brutally tight in terms of style is how I made Everyman Gaming popular, after all. People who complain about having their work developed by me don't work for me again. (Which, thankfully, has only ever happened one time.)
RC: If you could change one thing about Pathfinder, what would it be?
AA: Ooooooh, man. Ryan, this is practically content for Guidance! (4th wall shatters)
If I could change one thing about Pathfinder, it would be how the Combat chapter is handled. As written, rules are ALL over the place, and they aren't easily referenceable. Like, you would think that things like "base attack bonus granting iterative attacks," or the phrase "iterative attack," or "all of the status conditions you can be inflicted with" would be in the combat rules alongside combat, but they're not!
The Core Rulebook very much reads like "Player's Handbook taped to a Dungeon Master's Guide," and it could use restructuring and reorganization.
RC: What is a highlight of your experience as a third party publisher?
AA: Seeing Everyman Unchained: Fighters win the #1 most download spot at Paizo.com for three weeks in a row. I've never had such a momentous success before, and it was AWESOME! Thank you to everyone who bought the product; you made me tear up a little every week.
RC: What lessons have your experiences taught you about publishing?
AA: You will never make everyone happy with your products, and not every WANTS to be happy. Some people just won't like you because you're not "official." Others are jealous of your success and initiative and just want to tear you down a peg. Publishing demands endurance in every facet of being—physical, mental, and emotional.
RC: What was the best advice you received about publishing?
AA: Publish what you like, and you'll find you're never as along as you feel.
RC: What advice did you wish you'd received?
AA: Talk to Owen about teaming up with Rogue Genius Games sooner. Getting name recognition on your listing is AMAZING. (Granted, you kind of need experience before you can ask such things of Owen, so your mileage may vary.)
RC: One day you wake up and all your goals for Everyman Gaming have been met. What does that day look like, and where do you go from there?
AA: How am I supposed to know where I'd go on after the day of my funeral?.