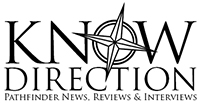 In Know Direction Pathfinder Podcast 99, we talk about what to expect in 2015 and 2016 for the Pathfinder Roleplaying Game.
News/Banter
2015 Predictions – An annual tradition. What's in store for the next year for Paizo and Pathfinder? What will be announced for 2016?
2015:
2016 Announcements:
RPG hardcovers
Adventure Paths
Other upcoming releases

Campaign Setting
Player's Companions
Modules
Tales
Miniatures/Pawns
Comics
ACG
Know Questions
Avenka Thalma asks via knowdirection@hotmail.com:
I have a situation and I don't know how to deal with it : one of the players in my campaign is a rogue, fine.  We play in an adventure path in which the party is expected to stay for a long time in a town and help them overcome many problems.  The party is composed mostly of neutral people, so you know, mercenaries, not heroes nor evil people.
In that kind of setting, where pcs are supposed to work for the town, what if the rogue wants to steal people in the streets ?  It's ok as long as he doesn't get caught, but if he is, what do you do then ?
I simply told my player that he could not steal in this campaign, because it would ruin it if he got caught, but I'm sure I could have come up with something better to deal with his class and let him do his thing.
Ben Adams via facebook.com/knowdirection
In the Pathfinder campaign setting what happens to the soul of a powerful character when they pass to the great beyond? Would a mythic BBEG be able to cut a swath through the lower planes even after death
David Gibson via facebook.com/knowdirection
http://www.d20pfsrd.com/classes/hybrid-classes/brawler
http://www.d20pfsrd.com/classes/hybrid-classes/brawler/archetypes/paizo—brawler-archetypes/shield-champion
Creating a shield brawler for PFS. My inner Captain American fan I guess. But upon reading the shield brawler I'm left questions:
Is the shield champion proficient with shields as weapons?
Normal brawlers are proficient with the close weapon group, so brawlers are proficient with shields as weapons but not as shields. The shield champion changes proficiencies to: "A shield champion is proficient with all simple weapons. She is also proficient with light armor, and with bucklers, light shields, and heavy shields. This replaces the brawler's weapon and armor proficiencies." It doesn't specify the shield proficiency as a weapon, so it would just be the armour proficiency. That means by RAW the brawler archetype that fights with a shield takes a non-proficiency penalty on attack rolls with shields. That doesn't seem right.
2, Are brawlers considered to have the Two-Weapon Fighting feat?
At 11th level the shield champion gains Shield Master as a bonus feat. However, they must meet the prerequisites. And one is Two-Weapon Fighting. However the class feature brawler's flurry says: "Starting at 2nd level, a brawler can make a brawler's flurry as a full-attack action. When doing so, a brawler has the Two-Weapon Fighting feat when attacking with any combination of unarmed strikes, weapons from the close fighter weapon group, or weapons with the "monk" special feature." A brawler would get no benefit from a Two-Weapon Fighting as any time they attack with two weapons they gain the feat. But it doesn't say they gain the feat for meeting pre-requisites and they don't have the feat when not attacking or just making a single attack.
3. Does the brawler get its AC bonus when using a shield as a weapon?
The ability reads: "At 4th level, when a brawler wears light or no armor, she gains a +1 dodge bonus to AC and CMD. This bonus increases by 1 at 9th, 13th, and 18th levels. These bonuses to AC apply against touch attacks. She loses these bonuses while immobilized or helpless, wearing medium or heavy armor, *using a shield*, or carrying a medium or heavy load." It looks like using a shield in any way causes them to lose the bonus, even if not gaining AC from it.
4. Does a thrown throwing shield with spikes apply its spike damage?
A throwing shield says: "Neither a shield's enhancement bonus to AC nor its shield spikes apply on your attack or damage rolls." But the throw shield ability says: "The thrown shield deals the same damage as a shield bash, and any damage increases from shield spikes apply to this attack." Which is the specific in this case?
Darran Caldemeyer via chat
Do you guys think we may see a return of the special product for PaizoCon?  Much like the blue GM Screen
Matt Harris via chat
Will Paizo Game Space ever come out?
Wrap Up and Shout Outs
Know Direction 100?! January 28th, 2015
PaizoCon 2015 – May 22-25, 2015, at the DoubleTree by Hilton Hotel Seattle Airport
Podcast: Play in new window | Download