PAIZO PREVIEWS OCCULT ADVENTURES FOR THE PATHFINDER ROLEPLAYING GAME AND ANNOUNCES OPEN PLAYTEST
In Time for Halloween, Publisher Releases First Otherworldly Details of New Book, and Calls on Gamers Everywhere to Join in the Open Playtest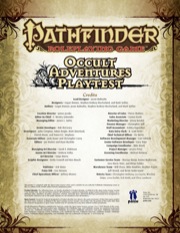 REDMOND, WA (October 28, 2014) – Paizo, Inc., leading publisher of tabletop roleplaying and adventure card games, announces today a special Halloween-spirited preview of next summer's major hardcover release, Pathfinder Roleplaying Game: Occult Adventures. A huge playtest preview of the book's six new classes is now live on paizo.com to kick off a month-long open playtest process that allows Pathfinder RPG players to share their experiences with the Paizo staff. Playtester feedback will be incorporated into the final book, which is slated for release in July, 2015.
 
Occult Adventures will feature six new classes for the Pathfinder Roleplaying Game, and an entirely new system for psychic magic. The 256-page hardcover book will have details on occult concepts, such as séances, aura-reading, and occult rituals, as well as tons of new spells, magic items drawn from occult legends, and ways to add psychic and occult elements to existing Pathfinder classes. The new 20-level base classes included in Occult Adventures are the reality-warping kineticist, the spirit-infused medium, the manipulative mesmerist, the relic-wielding occultist, the mind-master psychic, and the phantom-bonded spiritualist.
 
Participants in the playtest can download and review the six new classes, use them in their games, or otherwise test the power, balance, and overall clarity of the new classes. Via the paizo.com mesageboards, playtesters will directly communicate with the Pathfinder RPG design team and other players, helping to polish and refine the classes, while also taking part in surveys and brainstorms to help make Occult Adventures a fantastic new part of the Pathfinder RPG.
 
The playtest will open to all via a free download. To sign up for the playtest, visithttp://paizo.com/pathfinderRPG/occultAdventuresPlaytest.
 
About Pathfinder Roleplaying Game
The Pathfinder Roleplaying Game is the world's best-selling tabletop roleplaying game, in which players take on the role of brave adventurers fighting to survive in a world beset by magic and evil. The Pathfinder RPG is currently translated into multiple languages, with hundreds of thousands of players worldwide. Players need only the Pathfinder RPG Core Rulebook to play, but Paizo Inc. produces a wide range of books and accessories, from hardcover rules compendiums to complete campaigns to packets of beautiful, full-color maps. The Pathfinder brand has also been licensed for comic book series, graphic novels, miniatures, plush toys, apparel, and is being developed into a massively multiplayer online roleplaying game. For more information, please visit paizo.com.

About Paizo Inc.
Paizo Inc. is the leading publisher of fantasy roleplaying games, accessories, board games, and novels. Paizo's Pathfinder® Roleplaying Game, the result of the largest open playtest in the history of tabletop gaming, is currently the best-selling tabletop roleplaying game in hobby stores. Pathfinder Adventure Path is the most popular and best-selling monthly product in the tabletop RPG industry. Paizo.com is the leading online hobby retail store, offering tens of thousands of products from a variety of publishers to customers all over the world. In the eleven years since its founding, Paizo Publishing has received more than 50 major awards and has grown to become one of the most influential companies in the hobby games industry.