Announced today at the GAMA Trade Expo, Paizo, Inc is releasing two exciting "new" products in Fall 2016: a Curse of the Crimson Throne Hardcover Edition and "Pocket" versions of the Pathfinder RPG Core Rulebook and Bestiary! Read the product blurbs after the break: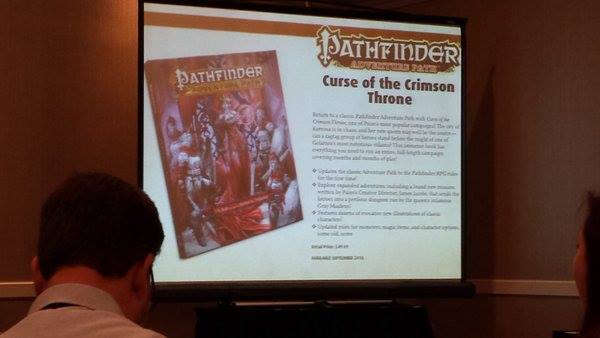 Return to a classic Adventure Path with Curse of the Crimson Throne, one of Paizo's most popular campaigns! The city of Korvosa is in chaos, and her new queen may well be the source–can a ragtag group of heroes stand before the might of one of Golarion's most nefarious villains? This immense book has everything you need to run an entire full-length campaign covering months and months of play!
Updates the classic Adventure Path to the Pathfinder RPG rules for the first time.
Explore expanded adventures, including a brand new mission written by Paizo's Creative Director, James Jacobs, that sends the heroes into a perilous dungeon run by the queen's infamous Gray Maidens!
Features dozens of evocative illustrations of classic characters.
Updated rules for monsters, magic items, and character options, some old, some new.
Retail Price: $49.99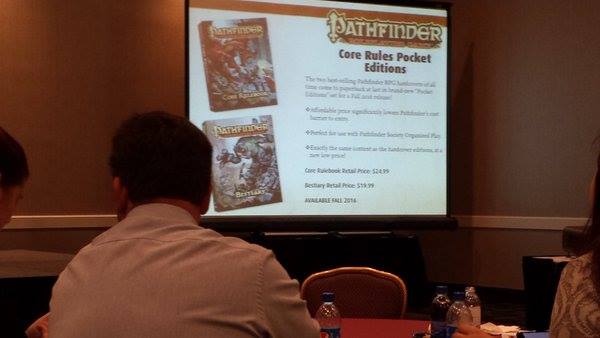 The two best-selling Pathfinder RPG hardcovers of all time come to paperback at least in brand-new "Pocket Editions" set for a Fall 2016 release!
Affordable price significantly lowers Pathfinder's cost barrier to entry.
Perfect for use with Pathfinder Society Organized Play.
Exactly the same content as the hardcover editions, at a new low price!
Core Rulebook Retail Price: $24.99
Bestiary Retail Price: $19.99 
Credit for the pictures goes to the Uncle's Games Twitter page.