Friends, we are proud to announce some of the biggest changes to the Know Direction Network ever. So big, in fact, that we're forced to divide the announcements into two parts as the news that's ready to go is too big to wait for more news that will be ready early next month.
We Finally Have a Patreon
First of all, by popular demand, Know Direction has a Patreon.

We've been told too often –most recently and publicly by Erik Mona- that we need a Patreon. We are no longer ignoring the fans who tell us they would donate money if they had a way. Everyone will benefit as we upgrade equipment for our regular recordings, are able to launch new projects that we couldn't afford before, and send more staff members to more conventions to meet more of you and record more convention coverage. Patrons will specifically benefit with never before granted access to planning documents and opportunities to interact with network staff members.
New Bloggers Join the Team
Second of all, we have two new bloggers joining the network: Randal Meyer and Andrew Hoskins to write about setting and adventure design, respectively.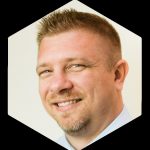 Randal Meyer is a familiar name to anyone in the Know Direction Discord channel. He is an active chatter, a diligent curator of Pathfinder 2e news when it was announced, and the owner of the Half Mug Tavern Pathfinder blog. Randal will be filling the shoes of the discontinued Create Demiplane blog, writing the Groundbreaking blog starting April 3rd and every other Tuesday thereafter.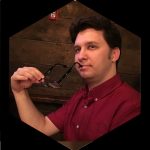 Andrew Hoskins is a regular Paizo freelancer and author of, among other things, PFS scenarios 8-99 (A and B) The Solstice Scar -the first modular special- and 8-07 From the Tome of Righteous Repose -the first evergreen 3-7 scenario. Hoskins bring his expertise with adventure writing to a new blog: Craft (Adventure)! You can look forward to improving your approach to adventures starting April 4th and every other Wednesday thereafter.
Two New Podcasts join the Network
Finally, we are excited to announce two new shows: Know Direction: Adventurous and RPG Design Club.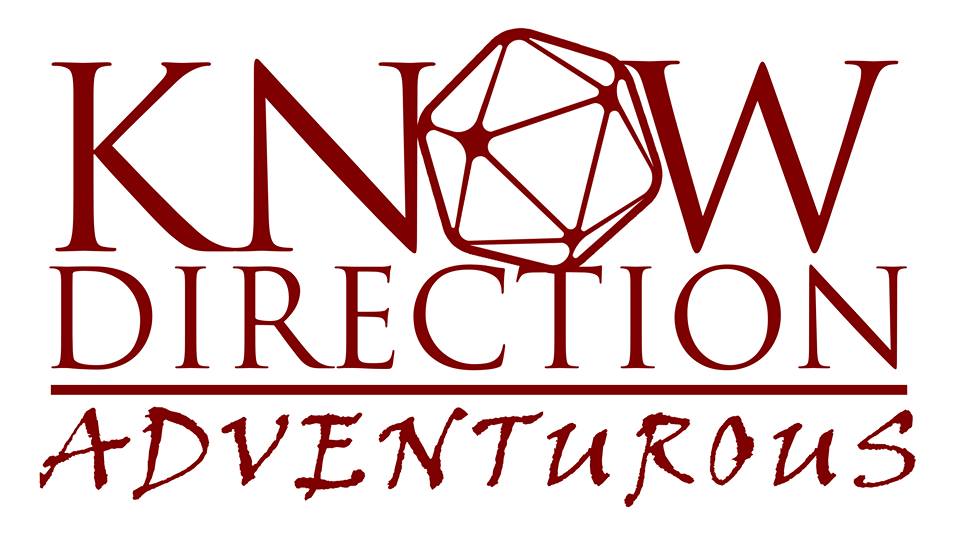 Know Direction: Adventurous
The Know Direction Network is partnering with virtual tabletop Roll20.net to bring you Know Direction: Adventurous, an actual play podcast of the War For The Crown Adventure Path! There's nothing I can tell you about it that will get you as excited as showing you the cast: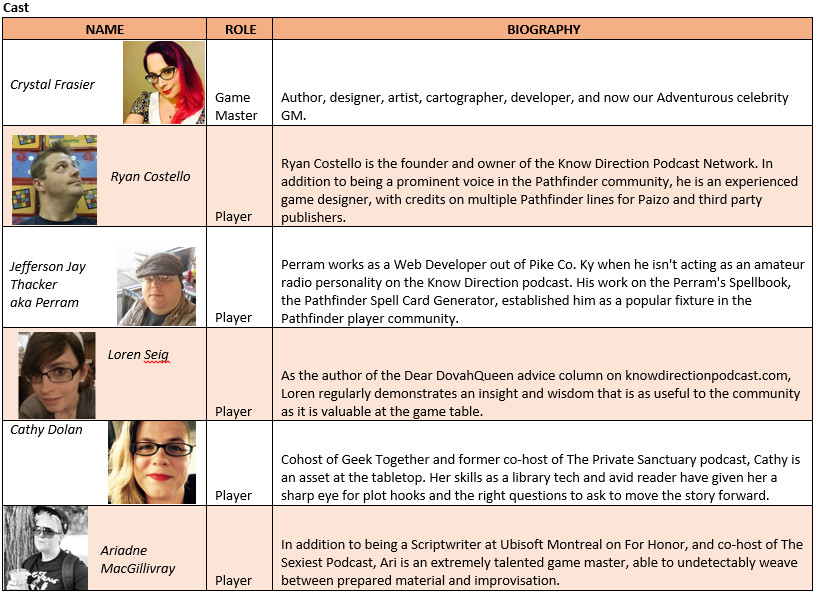 We are thrilled with the team we've assembled. Players are currently working with our GM -who I can't say with enough excitement is CRYSTAL FRASIER!- to put our characters together. We'll lock down a date for our first session soon. The show will record live in 5 hour stretches, and be released in 1 hour audio and video installments on our YouTube channel, iTunes, and our Audio RSS feed.
For everyone out there high fiving and saying "Wow, that secret project was worth all the hints," Know Direction: Adventurous is not the secret project we've been hinting at for a few months now. That would be RPG Design Club.

RPG Design Club
In RPG Design Club, the new weekly show joining the Know Direction Network, Alex Augunas and Jefferson Jay Thacker (aka Perram) will be joined by RPG design legend, Owen KC Stephens, to show you just how real game projects are made from beginning concept to the store shelf. They'll go over important concepts and walk through the development of each of their projects, with input from the you the whole way! If you've ever considered dipping your toe into game design, or just want to see how your favorite games come together, this show is for you.
Also, we know the timing isn't ideal for big announcements like this, so just to be clear: This is not the follow-up to last year's April Fool's joke. Everything in this post is 100% the truth. The same can't be true for any posts made this Sunday…